Savor the Flavors of Old San Juan on a Guided Food & Walking Tour
1/13/21 They are open and running tours with special COVID-19 precautions!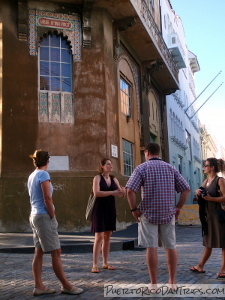 Exploring Old San Juan is one of the "must do" things for any visitor to Puerto Rico. There are many ways to tour Old San Juan, but walking around on foot gives you the most flexibility. And all this exploring works up a real hunger and thirst.
So, when we heard about the OLD SAN JUAN FOOD TOUR (from the GlobalFlavors, Flavors of San Juan people), which is a walking and food-tasting tour of Old San Juan, we knew that we would have to check it out.
Ray and I have been to Old San Juan many times, and we have walked around and explored much of this town and its restaurants. We know we don't know everything about the old city, but we have a pretty good knowledge of the area. We knew that a guided tour would be a good way to increase our knowledge. Besides, finding new places to eat and drink is always fun.
Our Tour
We met Leslie Padró (the tour guide and owner of Flavors of San Juan) for the tour at Plaza de Armas, and we knew right away she was very friendly and down to earth. Leslie is a "transplant" (like ourselves) and she lives in Old San Juan. She was able to give some personal insight into living and working on the island as seen by an "outsider", but also info about her own personal experiences in Old San Juan. We were also delighted to meet the other couple on our tour (Dave and Cindy) who were in Puerto Rico for their first time. This tour would be their first taste of Old San Juan and seeing it all through (their) new eyes gave us another way to experience this trip.
I believe there is a maximum of 16 people per tour, but having a small group was fantastic. We could all gather around in a small group to hear & see everything, and take the time and get to know each other and have some more unusual discussions.
Our tour started off in the heart of Old San Juan, we walked down toward the bay and then back up into the city again. Leslie told us about a bunch of stuff — describing the history of Puerto Rico and Old San Juan, the architecture, cobblestones, buildings, monuments, historical figures and other sights along the way.
In addition to the historical information, we stopped in local stores to see & learn about antique, wooden carved Santos and other typical Puerto Rican crafts, like vejigante masks and various musical instruments.
She touched on a little bit of everything, from the thinnest apartment to the last remaining city gate in Old San Juan, old history and new stuff in the making. We stayed in the western part of the town, and really only covered about 10 blocks. We stopped along the way a lot, so no one was tired from the walk.
I am sure Leslie must have a "tour script" of stuff she wants to talk about, but she was very open to questions about anything. So we also ended up discussing more local things like politics, crime, the cost of living, where to find certain items, tipping and what it is like to live here (the types of things that I know many tourists are very interested in). Leslie's husband and his family are Puerto Rican, and she shared a number of stories her in-laws told her about "back in the olden days when we were young …". It made the tour much more personal.
The Food & Drinks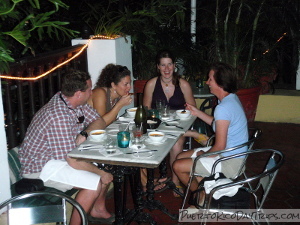 Note- The tour has been changed a bit from when we went, the exact stops and food tastings vary. They currently make 6-10 stops at different places to taste things. You may even get some hands-on experience making something! But this will give you an idea of the experience.
Our tour started at 4:30pm (now times have changed), and as usual, we were ready to eat. Each place we went to had tables & chairs waiting for us, and the food and drinks appeared right away. Each stop was different, some of the food is served family style, where everyone gets to try some off a larger plate.
Our first stop was for a really tasty Piña Colada. The on-going feud over the "original" creator of the Piña Colada does make me chuckle — but the drink still tastes good, no matter who invented them! Then we went to a small restaurant where we had a delicious mango frappe and mini mofongos. And my favorite — a really good rice and beans (arroz con habichuelas). It was neat, Leslie actually showed us some of the local fruits and vegetables they use to make these local dishes, so we could all see them.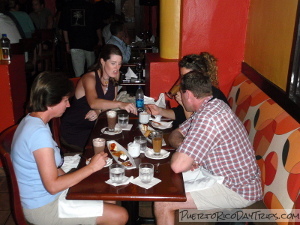 Next, we went to El Picoteo in El Convento Hotel (which is a bit more "upscale" and, as always, beautiful and delicious) where we had tapas. Our last food stop was for a yummy local dessert.
Of course, the restaurants and food offerings may vary from tour to tour. Though, I am sure you will enjoy where you go and what you have just as much as we did. From local coffee, to tasting the local seasonings, to hardy main dishes like rice and beans and mofongo, to the local desserts- yum! We all felt satisfied with the quantity of food, though you are always welcome to purchase additional drinks and/or food choices during the tour if you wanted.
Some Final Thoughts
I thought it was a really nice tour. Leslie said she is constantly doing more research and meeting with more people "in the know" to get more information about Old San Juan. Even with our knowledge of the place, Leslie was able to show us and tell us a thing or two we didn't know.
The food was very good, and we were able to try a few restaurants that we had yet to try on our own. So, we thought it was a very worth the time and money. I think this tour is a good primer for continued exploration of Old San Juan on your own at a later time.
I contacted Dave and Cindy after the tour to get their impression. Dave said
"As a tourist, I found the tour met my expectations perfectly at what I would consider a very reasonable price. I think the length of the tour was perfect as well; Not too long or too short in that it would also allow any tourist time to continue their sightseeing after the tour. All in all, I would say that the tour was the highlight of all the activities we did."
So there you go … everyone agrees!
Details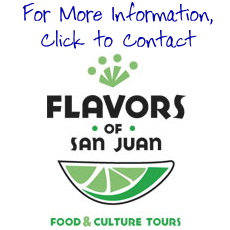 Check their webpage for current prices. The price includes all food & drink tastings combined with an historical tour.
If you're happy, let them know it — Don't forget to tip your your bartender, tour guide or trip operator if you enjoyed yourself. Gratuities are appreciated and typically aren't included in the price they charge you.
Daily. Exact times vary by season, but tours are offered a couple times a day, in the morning (10am) and in the afternoon (3pm ), sometimes in the evening (starting at 5pm) local time. Rain or shine. When you reserve, you will know the exact tour time. Private and/or custom tours can be arranged.
Tours are given in English and Spanish.
This is a walking tour. Wear clothing and practical shoes that are comfortable for walking the cobblestone streets in Old San Juan. No high heels!
Allow 3 hours for this tour.
You can call them at 787-964-2447 for more information.
You can visit their web site for more information or to make a reservation.
Tour size is up to 18 people maximum.
Tours starts outside of the Banco Popular building at the corner of Recinto Sur and San Justo Streets in Old San Juan.
PuertoRicoDayTrips.com assumes no responsibility regarding your safety when participating in the activities described in this article. Please use common sense! If your mother or that little voice in your head tells you that you are about to do something stupid … then don't do it!