Sample Locally-Sourced Food on Frutos Del Guacabo Tour
Agrotourism (or agritourism) is a wonderful way to help support local agriculture businesses. Puerto Rico imports most of the food consumed on the island, so increasing local agriculture is very important, and a primary goal of Frutos del Guacabo. This company provides a unique opportunity for visitors to learn about sustainable farming practices, and then taste how good locally-sourced food is!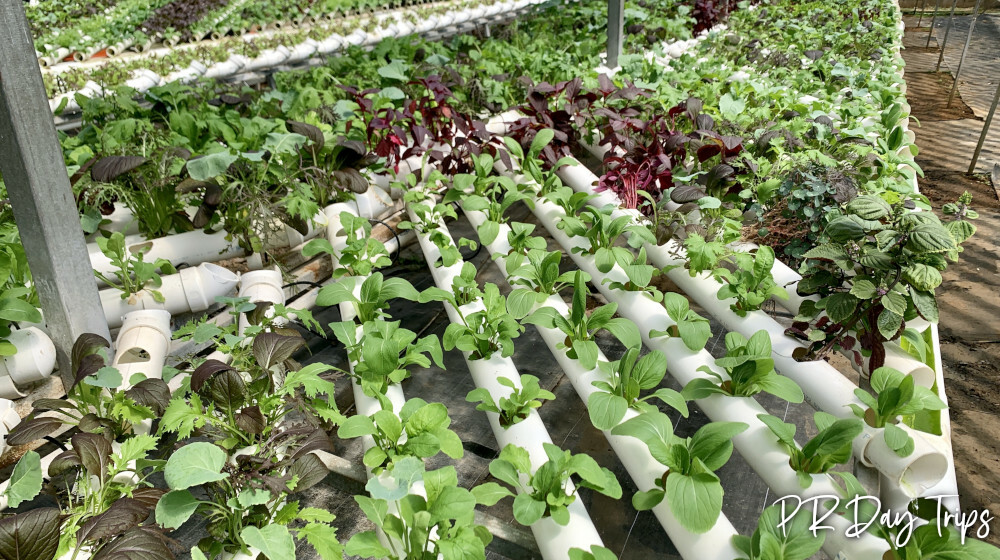 Puerto Rico has much to offer visitors, including beautiful beaches, historic landmarks, and unique culinary experiences. One of the more memorable experiences available on the island is a tour of Frutos del Guacabo, a family-owned and operated farm located in Manatí, just 35 minutes from the San Juan area. To be honest, when you arrive at the farm, it is really small, and the area looks a bit run down. But you will be impressed at how much they can do on such a small property!
Frutos del Guacabo is a family-run business that started out small, but has grown, even with the devastation caused to the farm by Hurricane Maria in 2017. We met the owner, Efrén Robles, and he told us about their shift in focus from a small, hydroponic farm to one of trying to increase local food independence. He started a teaching endeavor, encouraging other local farmers to join him to grow crops and livestock organically.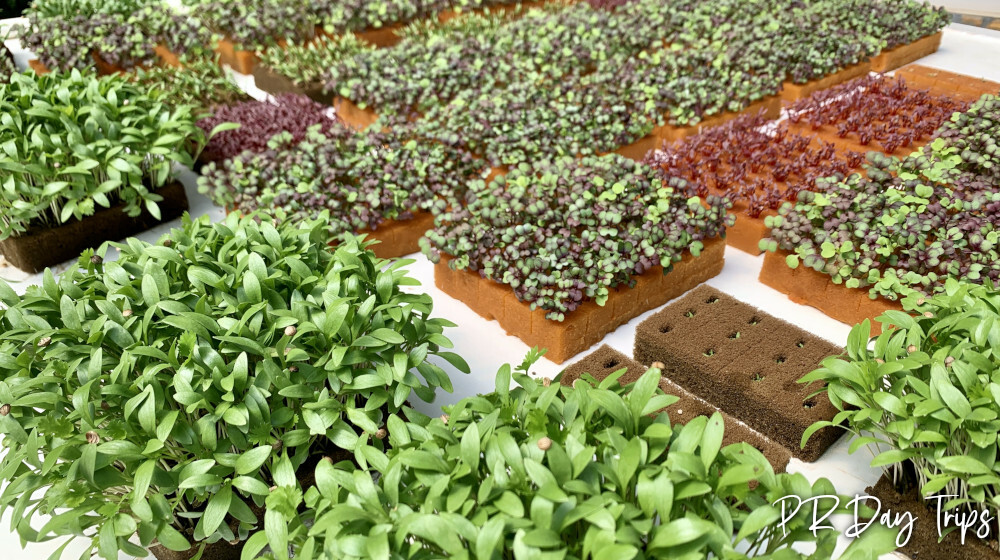 They formed a co-operative of growers and farmers, to increase supply of locally-grown products to meet the increasing demand for locally-sourced food. The co-op then sells their produce to local chefs and restaurants. It is win-win for everyone! Fresh produce, more jobs, and sustainable practices.
He opens the farm up to visitors to encourage everyone to think about growing food. This farm really shows how you don't need a lot of room to grow a lot of edible things. And you can do it healthily, using natural fertilizers and pest control methods that they promote.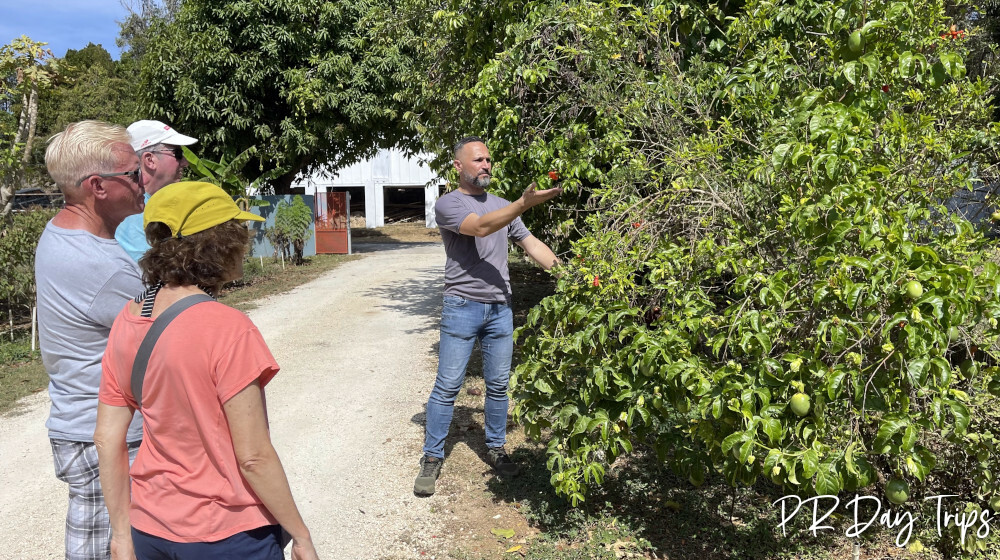 Our Tour
Carlos was our tour guide, and he showed us all the edible and intersting things they have planted up and down the driveway. This was super impressive and interesting — edible flowers, fruits, herbs, leaves, and grains. A sensation for the nose and mouth. Just exploring the plants along the driveway lasted about an hour.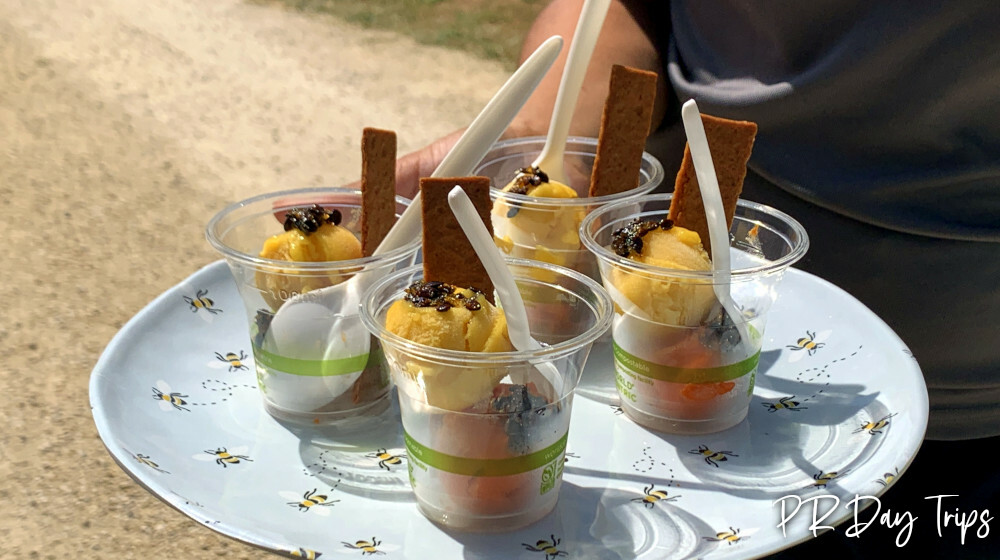 He told us how they grow the plants, how to maintain them, why they choose certain plants to go in different areas — all in an effort to reduce the need for chemical fertilizers and pesticides. Half-way through the "driveway tour", they brought out home-made fruit sorbet for us to cool us off in the hot sun.

After that, they had a spread of tapas, all made with local products (from their farm or from one of the co-op farms). Even blue Butterfly Pea flower infused water! Everything was really delicious.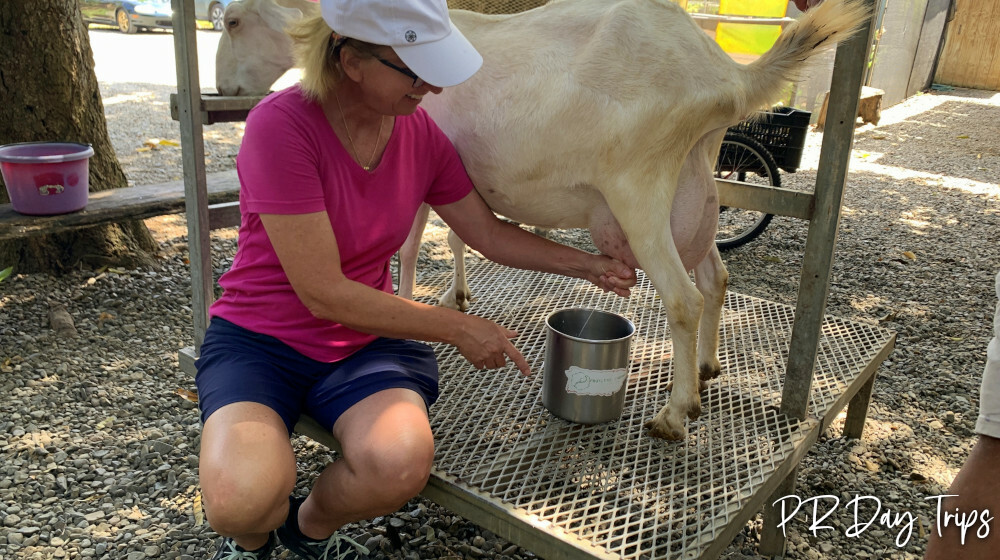 Then on to the green houses, which have a variety of lettuce, microsprouts, and other plants in all stages of growth. They explained all about how they grow things, without soil, and hydroponically, even the time line from seed to harvest. They are even experimenting with aquaponics! Super interesting. Then on to the animals – goats, from which they produce their own cheese, and rabbits (for meat). We even got to milk a goat!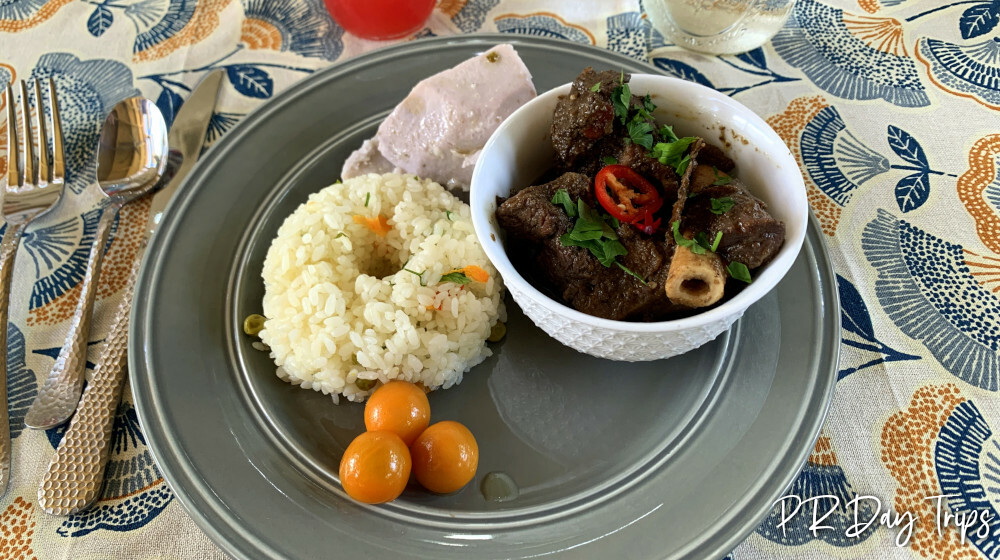 Next, it was time for lunch. This is seriously farm to table! All locally-grown products freshly prepared by the chef. Fresh fruit juices, the salad is directly from the greenhouses we just visited, so crisp and fresh. And the main course and dessert were traditional local food that was all delicious!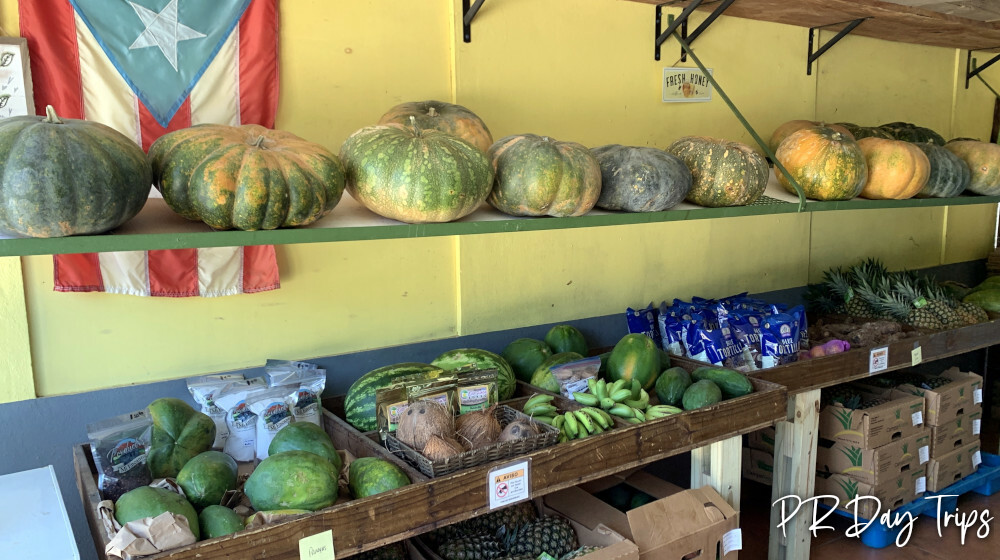 They have a small store on site, that is open for anyone to come and buy fresh produce from members of the co-op. From flour and spices, fresh fruits, veggies and honey, meat and sausages, coffee, snacks … something for everyone!
Honestly, this the most interesting and delicious farm tour we have been on! I highly recommend it!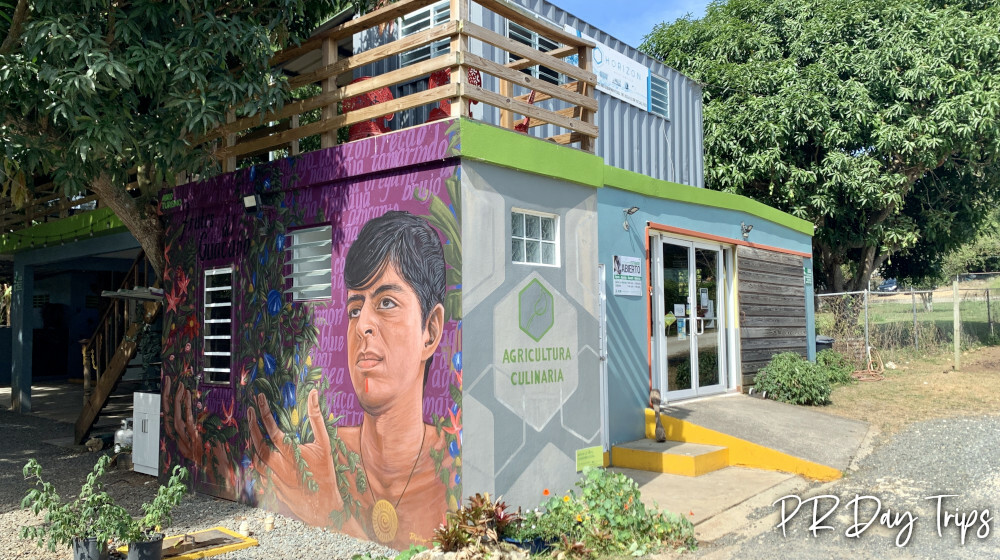 Details
They offer tours with lunch, and other events from time to time.
They offers tours on Saturdays, and some weekdays. Reservations are required. You can make a reservation by phone (787-884-4216) or email (guacabo.tours@gmail.com).
On this tour, you will be in sun during much of the time, so a hat and sunscreen are recommended. Comfortable (closed-toe) shoes are recommended. No flip-flips.
Allow 2 to 2.5 hours for this tour.
You can visit the Frutos del Guacabo web site or their Facebook page for more information.
You can contact them via email (frutosdelguacabo@gmail.com) for more information.
The farm is located off of road PR-686. Look for their sign on the driveway gate.
The farm is located about 35 minutes from the San Juan area.
Click on a placename below to view the location on Google Maps ...
PuertoRicoDayTrips.com assumes no responsibility regarding your safety when participating in the activities described in this article. Please use common sense! If your mother or that little voice in your head tells you that you are about to do something stupid … then don't do it!