Geocaching – Hunt for Hidden "Treasure"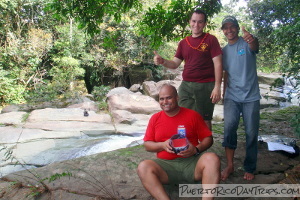 Everybody likes the thrill of the hunt — from scavenger hunts and Easter Egg hunts as kids, to finding that great bargain at the mall or on ebay, to deep sea recovery of sunken ships or the lure of buried pirates' treasures. It comes from knowing that something is out there just waiting to be found.
What do you get when you cross treasure hunts with GPS technology? The "sport" called Geocaching. So for some fun and adventure, you can grab your GPS unit or GPS-enabled cell phone, put on some hiking shoes and try to find one of the many treasures hidden around Puerto Rico. I bet you will be pleasantly surprised by what else you discover about the island during your hunt.
A Confession
OK … I have to admit … I kind of made fun of the first person that I met who was into Geocaching. I mean … how geeky! Of course, it was about a year ago and I didn't really know much about it. Once I read a little about it, I thought it sounded kind of neat. It is like a world-wide scavenger hunt.
Then when got his iPhone and installed a GPS app … I suddenly was able to see the appeal and started looking into it. Puerto Rico has about 350 hidden treasure (geocaches) around the island. I decided I needed to find some!
About Geocaching
Geocaching is a "sport" (created in 2000) in which you use GPS navigation to find a hidden item (or geocache). Geocaching is global. From what I have read, there over 1 million geocaches registered and hidden around the world — with more being hidden every day. Many are hidden in beautiful/historic/naturally wondrous places.
The geocache typically is some kind of waterproof container with a small notebook inside (and maybe some goodies). The person that hides the container notes the GPS coordinates of the hidden container (geocache). Once the geocache is hidden, it just sits there waiting to be found by someone.
There is a free Geocaching web site where the geocache's GPS coordinates and other pertinent information are listed — like the size of the hidden container, how difficult the terrain of the search area will be, and (thankfully) sometimes clues. Then, anyone who is interested can go to this website and get the information and GPS coordinates, and go search for the object.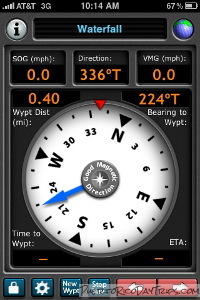 All you need to get started is a GPS unit (a GPS-enabled cell phone will do), coordinates of a geocache from the Geocaching web site, and a sense of adventure. I think the fact that so many cell phones have GPS has really opened this up to a lot more people.
But it is not quite as "simple" as it sounds. Technology is involved, and that always makes things easier and more complicated at the same time.
Since a GPS unit receives signals from satellites, and it has to receive a signal from at least 4 satellites simultaneously, the ability of a GPS unit to calculate your position can be compromised by objects around you.
In order to work properly, a GPS unit must have a clear "view" of the sky. That means that overhead tree branches, buildings, steep canyons, bridges and overpasses can all block the satellite signals — reducing the accuracy of your GPS unit. And, no matter how much you spend, no GPS unit has 100% accuracy all the time.
All of this means that your GPS unit will not lead you to the exact spot. It will get you close, but then you will still have some good, old-fashioned searching to do. When you finally do find the geocache, you sign the notebook, and you can take or leave something in the container marking your visit.
That is just about as "simple" as it gets. There are a number of more complicated types of Geocaching, but I am still a beginner, so I will stick to this simple stuff for now!
Our Little Adventure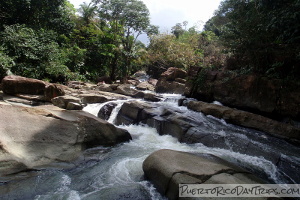 We set out to Las Paylas (sometimes spelled Pailas, depending on what you're reading) to do the natural water slide (that's a topic for another article). But, due to the excessive amounts of rain we'd had recently, the current was too strong to safely play in the water. Luckily, I had looked into a geocache in the area, so that is what we decided to do instead. As luck would have it, minutes after we arrived, 3 Eagle Scouts showed up and I noticed them walking down river checking their GPS units. I asked if they were Geocaching and they were, and we teamed up.
To celebrate their 100th anniversary and to help promote scouting, the Boy Scouts of America are introducing a number of new merit badges in 2010, including robotics, geocaching, SCUBA diving and scouting heritage. The requirements for the geocaching merit badge were announced in mid-April 2010. Daniel, Anibal and Armando, from the Carolina Boy Scouts, had their GPS coordinates and this was the first in a series of geocaches they have set out to find in the coming weeks.
This particular geocache required us to cross the river, which was very swollen and swift from recent rains. This was the most treacherous part! Ray and I had swimsuits on, so we went further down river and swam across a natural pool. The guys managed to get over the slide part without getting too wet. Then the search began. And it took a long while. Without the guys, we would have given up and gone home.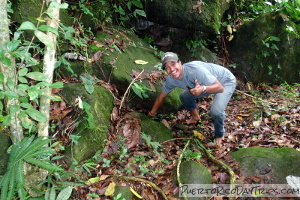 Luckily, the page I had printed out from the Geocaching web site had an encrypted clue on it. The guys (being ever-prepared Scouts) decrypted the clue, and it helped … a little. The clue was basically "The box is hidden behind the big boulder". Now, if you were to see this area, you'd notice that there are about 1000 "big boulders" along the river!
Our big break came when Ray was finally able to get an internet signal on his iPhone. We went onto the Geocaching web site to look at some of the photo clues for the geocache we were trying to find. It was only after we had those additional hints that we were able to find the treasure!
So we cheated a little. But we did it and it was our first! I added our names to the notebook, and when I got home went on the Geocaching web site and logged my first find! I guess I am now officially a geek, and I am kinda into finding some more geocaches!
Some Other Thoughts
Even if you are not into the whole idea of Geocaching, but you are into finding off the beaten-path places, this is still something that you should look into. Many of the geocaches are hidden in some beautiful and unusual places, and the Geocaching web site has pretty decent directions and coordinates to get you there. So, maybe for you, it's the journey that makes the trip worthwhile. Just explore carefully and stay safe!
To find the available geocaches in a particular area on the Geocaching web site, I found it easiest to either put in the ZIP code of where I will be or just bring up the whole map with the geocaches noted and then zoom in on the area I wanted.
Some of the descriptions and information for the geocaches here in Puerto Rico are written in Spanish only. In those cases, use a web site like Google translate to help with the translation. Or, you might even consider asking a local to help with the translation of the hints.
Watch out for geo-muggles, who are non-Geocaching people who may see you returning the geocache to its hiding spot and take it after you've gone.
It is always smart to be aware of a new area you are going to explore — we encountered a raging river, the local stinging nettles (Ortiga) and fire ants while searching this location. Review the local "dangers" before setting out.
PuertoRicoDayTrips.com assumes no responsibility regarding your safety when participating in the activities described in this article. Please use common sense! If your mother or that little voice in your head tells you that you are about to do something stupid … then don't do it!