Get Married or Renew Your Vows in Puerto Rico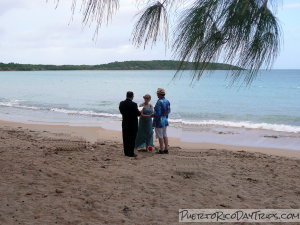 Getting married on a tropical island, on the beach, with the sun setting behind you … How romantic!
Or how about getting married in a garden surrounded by tropical flowers … or in the rain forest … or just about anywhere your heart desires! If that is what you are looking to do while visiting Puerto Rico, you have many options.
We recently had a couple stay with us and did just that. Let me tell you about their experience.
A Casual Beach Wedding
Kathy and Jim are an older couple, with grown children, thus they have large extended families. The original wedding plans, to have a small wedding in Canada, were getting out of hand – too big for their taste. So Kathy and Jim decided they should run off to paradise to get married on the beach. And that is how we met them.
Kathy went on line and somehow found Reverend Aran Santana. She also found out all of the requirements for getting married legally here in Puerto Rico.
You can obviously do all the legwork yourself, or hire someone to do it for you. Kathy told us that the Reverend was able to get through the lines and paperwork quickly, and he knew exactly what had to get done and where to go to do it. He went with them to all offices and took care of it all. He took a lot of worry out of the business-end of the wedding.
Kathy and Jim decided to get married on the beach, so they checked-out a few local beaches, and decided to have their wedding at Seven Seas Balneario in Fajardo. As it turns out, that was a good choice because it was mid-week during to winter, so the beach was almost empty.
So there they were, getting married in paradise, on the beach with a few friends there to witness the joyous occasion. Kathy picked flowers from our yard for a bouquet and Jim looked very tropical in shorts and a Hawaiian shirt. Reverend Santana did an really nice job with the ceremony too. It was so peaceful and beautiful. And once they were married, Jim picked his new bride up and carried her into the ocean for a swim!
Kathy thought ahead, and after the ceremony they had a mini reception while we were all at the beach, complete with champagne and cake. Everyone was happy and chilling out on the beach!
This was their relaxed wedding, but you can get as formal, or even more casual, as you want. There are all types of locations for the ceremony and plenty of locations for receptions of all sizes.
A Vow Renewal in Old San Juan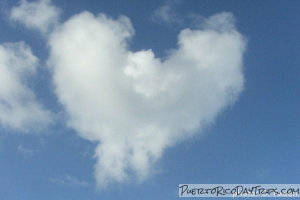 I also "met" Carrie on-line and she also used Reverand Santana for her vow renewal (no paperwork required). She and her family were in port for the day on a cruise, and she and her husband had their ceremony along the Paseo de la Princesa in Old San Juan. She had her "reception" at El Picoteo in Old San Juan and thought the whole thing was "so beautiful!!!".
In Puerto Rico, you can officially be married by a judge, or any clergyman registered and authorized to perform marriage ceremonies by the Demographics Registry office. The only one I personally know is Reverend Santana, but there are loads of them. Or you can a contact wedding planner who can take care of almost all of the details for you. Your heart's desires – big or small, they can help with. Do a search on-line, or here's a recommendation that I got from a friend for a local company called Tropical Weddings Puerto Rico.
Marriage License Information
Documentation you will need
Official DEMOGRAPHIC REGISTRY requirements.

Original birth certificates, with raised seal.
Government-issued photo id – US citizens can use a driver's license, passport, or state-issued id card; Non-US citizens need their passport, visa or green card.
All the labs and a medical certification from your own Doctor that says that you have gotten all the lab tests and requirements needed to comply with your state of residence's marriage requirements. It is valid for only 10 days, so it must be dated within ten (10) days of visiting the Demographic Registry office in PR.
You need a notarized affidavit letter that stipulates that: that you are not resident of Puerto Rico, and that it is your intention to get married in PR (and for foreign citizens: that you will not remain in Puerto Rico more time than permissible by immigration rules). For US citizens, this affidavit must be accompanied by certification of your state's county clerk. For others, these affidavits need the Apostille seal of the Hague Treaty of 1961.
If either party was previously married, they will need the original copy of the finalized divorce decree or death certificate with a raised seal.
Once you're here in Puerto Rico
To make life easier- for brides and grooms who do not reside in Puerto Rico and wish to marry here, can call and make an appointment to visit one of the Demographic Registrar´s Office. Both parties need to appear in person at the Marriage License Bureau of Demographic Registry Office with all of the above documentation/certifications, the license fee (For Destination Weddings ( $150 total payable at the Demographics office) and then fill out a marriage license application. You can go to any Demographic Registry Office. There is a special Demographic Registrar's Office exclusively for destination weddings in Old San Juan, at Ochoa building on 500 Calle Tanca. It is open Monday – Sunday 9:00am – 5:30pm. Phone: 787-721-2400 Ext. 3210, 3211. There is also a Demographics Office on the 3rd floor at the Plaza Las Americas Mall in Hato Rey PR which is open M-F 8am- 9pm, Saturdays 9am-9pm and Sundays, 11am – 7pm. Call for a reservation 1-800-866-7827.

They will then give you the signed marriage certificate and issue you a license to get married and then you are ready for "The Big Day"!
And on to your big day
After you have jumped through all of the above hoops, you're ready for your big day in paradise. Enjoy yourself! (Note: If either party is under 21 years of age, they will need to have all their parents or legal guardians present to sign the Marriage Certificate.
Once the judge or minister performs the ceremony , the signed paperwork (the certificate, marriage license and all other attached documents) gets delivered to the Demographic Registry within 10 days after the marriage by your officiant. It may take about 10 more days for your official marriage certificate to be issued. You will need to pick it up or have your officiant pick it up and send it to you.
PR Residents still are required to obtain lab tests and a "health certificate" from a local physician within 10 days of filing for the marriage license. See full : PR resident Marriage rules.
Resources
You can contact Reverend Santana via email at santana_ministries@yahoo.com, or you can call him at 787-435-3145.
Puerto Rico Destination Weddings is a local wedding-planner who can handle everything (from officiating to paperwork to planning) for your dream wedding. They offer elopement and "barefoot on the beach" packages. You can contact them via email at info@prdestinationweddings.com, or call them at 939-238-3664.
Tropical Weddings Puerto Rico is a local wedding-planner who can handle the planning for your wedding. You can contact them via email at tropicalweddings@yahoo.com, or call them at 787-671-1690.
PuertoRicoDayTrips.com assumes no responsibility regarding your safety when participating in the activities described in this article. Please use common sense! If your mother or that little voice in your head tells you that you are about to do something stupid … then don't do it!