Get Married or Renew Your Vows in Puerto Rico- Destination Weddings!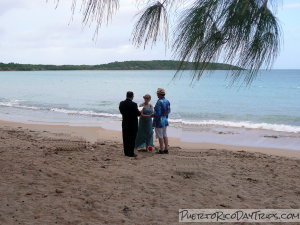 Getting married on a tropical island, on the beach, with the sun setting behind you … How romantic!
Or how about getting married in a garden surrounded by tropical flowers … or in the rain forest or in a beautiful old hacienda … or just about anywhere your heart desires! Do you want a large, super formal wedding or a super casual wedding? You decide. If you are looking for somewhere to have a destination wedding, you should check out Puerto Rico! Here, you can have the wedding of your dreams. There are all types of locations for the ceremony and plenty of locations for receptions of all sizes.
Unlike most other destination wedding locations, there is no waiting period to be married in Puerto Rico. With a little pre-planning (and some help with the paperwork), it is even possible to be married while on a cruise, on your day in port! And gay weddings are 100% legal in Puerto Rico. Puerto Rico is for lovers!
We have been invited to a few wedding experiences over the years (even a few proposals and vow renewals too!). The weddings ranged from a super casual beach elopement wedding, to a couple large elegant weddings. They were all beautiful, Puerto Rico makes a beautiful backdrop to a beautiful event.
Of course there are certain requirements you need to do ahead of time…the paperwork. And you need to find someone to perform the ceremony. In Puerto Rico, you can officially be married by a judge, or any person or clergyman registered and authorized to perform marriage ceremonies by the Demographics Registry office. They are called Officiants, and depending on their experience and services they provide, they can make this process a breeze. Or you can contact a wedding planner, who can walk you through all the paperwork and take care of all the details for you, including finding a local officiant. The way I see it, you can try get all the current information and take care of the paperwork yourself but since you have to hire an officiant anyway, hire someone that knows all the requirements and will take care of all the details.
Marriage License Information for Non-Residents (Destination Weddings)
Documentation you will need to submit to the Demographic Registry
copies of your birth certificates. If there has been a legal name change from what is on the birth certificate, bring change-of-name evidence.
A valid, current Government-issued photo id – US citizens can use a driver's license, passport, or state-issued id card; Non-US citizens need their passport.
laboratory/blood test results for the STDs of syphilis, chlamydia, gonorrhea, and HIV dated within 24 days of your wedding date. This can (and probably should) be completed at home in the USA.
You need a marriage license signed by a Puerto Rican doctor. Again, this is only valid for 10 days, so it must be dated within 10 days of your wedding date.
If either party was previously married, they will need the photocopy of the divorce decree or death certificate .
Now what?
Now to submit everything to the Demographic Registry office. There is a license fee for Destination Weddings of $30 and you have to fill out a marriage license application. Due to Covid-19 restrictions, as of August 2020, all paperwork is submitted online at www.renovacionesonline.com. Ok, honestly, this is where it gets really confusing, since the website is all in Spanish and things are changing so quickly. You are going to have a local officiant (and/or wedding planner) anyway, so it is really easiest all around to just let them take care of all of this!

When all the paperwork is submitted and approved, they issue you a license to get married and then you are ready for "The Big Day"!
And on to your big day
After you have jumped through all of the above hoops, you're ready for your big day in paradise. Your officiant will handle all the signatures and paperwork from here on out, so all you have left to do is enjoy yourself! (Note: If either party is under 21 years of age, they will need to have all their parents or legal guardians present to sign the Marriage Certificate).
Once the officiant performs the ceremony, the signed paperwork (the certificate, marriage license, and all other attached documents) is submitted delivered to the Demographic Registry (by your officiant).
Even if only one partner is a PR Resident, the rules are different. Both parties are required to obtain lab tests and a "health certificate" from a local physician within 10 days of the wedding date. I believe these are the most current rules : PR resident Marriage rules.
Of course, if you just want a vow renewal, you don't have to worry about any paperwork. But you may still need help with the details. You know, like where to have it, any rules for photos or location, etc. A wedding planner or Officiant can help you with that.
Resources
Puerto Rico Destination Weddings Inc. is a local wedding-planner who can handle everything (from officiating, to paperwork to planning) for your dream wedding. They offer elopement and "Barefoot on the Beach" packages. You can contact them on their webpage or email them info@prdestinationweddings.com, or call them at 939-238-9984.
Tropical Weddings Puerto Rico is a local wedding-planner who can handle the planning for your wedding. You can contact them via email at tropicalweddings@yahoo.com, or call them at 787-671-1690.
I found this website with a list of wedding officiants. I hope it is pretty up to date! Remember, some religious ones may not be gay friendly. PR Wedding Officiants.
So much thanks to Ashley Wright from Puerto Rico Destination Weddings Inc. for helping me update this article! Things change so quickly (especially now with Covid), she knows all the current rules and guidelines.
PuertoRicoDayTrips.com assumes no responsibility regarding your safety when participating in the activities described in this article. Please use common sense! If your mother or that little voice in your head tells you that you are about to do something stupid … then don't do it!