Tiny Island, Fun to explore on Gilligan's Island
3/23, As far as I know,the island is still officially closed. So no tour boats can take you there. You can go over privately, on a kayak or boat. It lost a lot of area due to ground shift from the earthquakes, so it is in really bad shape and there are no facilities open anymore. It is kind of sad. I will update when /if they reopen.
While doing research for a trip to the south-west of Puerto Rico, I found that a day trip to Gilligan's Island was on everyone's "must-do" list. Gilligan's Island (the official name is Cayo Aurora) is a little speck of land about a mile off the coast of Guánica. It's popular with locals and tourists who want to "get away" from civilization for a few hours.
The Island
Gilligan's Island (sometimes referred to as Guilligan Island by locals) is a small island managed by the Departmento de Recursos Naturales y Ambientales (DRNA) — that's Puerto Rico's Department of Natural Resources. The island is part of the Biosphere Reserve of Guánica.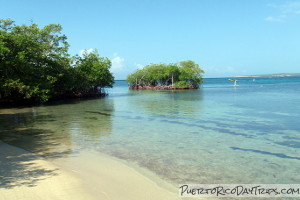 It has a few SMALL, sandy beaches, but it is mostly covered with mangrove trees. There is a small beach on the north-west side of the island that has a roped-off swimming area that is marked with buoys to protect swimmers and snorkelers from watercraft. Note: there are no life guards, so you swim at your own risk. This area has some nice coral formations and we found it good for snorkeling. The water around the island is crystal clear and warm. The bottom is sandy and people can swim all around and through the mangrove channels.
There are a number of picnic pavilions (all pretty close to one another) on the north side of the island, some with BBQ pits, changing huts, a composting bathroom and trash cans. There is a pier for boats to tie onto when loading/unloading passengers. And there are millions of hungry mosquitoes — bring bug spray and apply generously!
Our Trip
We decided to kayak over, so we rented kayaks in Guanica, and started off. It took us about -30 minutes to kayak to the island. The day we went, kayaking was not difficult as there are not large waves or anything between the mainland and the little out-islands. But realize the weather the day you go…it can be hard, especially with waves or wind! When we got to Gilligan's island, there were some DRNA employees there, but no one else. We had the island to ourselves. We left our kayaks right at the pier and began exploring.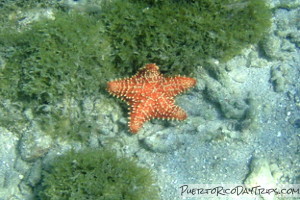 Our exploration lasted about 5 minutes — there are only a couple trails through the trees and very few open areas where you could set up your beach camp. After applying copious amounts of bug spray, we spread out our beach blanket on the small beach to the right of the pier (the north west corner of the island).
We went snorkeling off that corner of the island and along the western side. It was really nice — the sea floor was covered with underwater hills of finger coral. Tons of it! All alive and healthy. There were a decent number of fish here, also — puffer fish, barracuda, and those big red starfish. We snorkeled up and down this side a few times, just enjoying the experience.
We did notice a few fishermen in boats, conch hunters and spear fishermen right in the reef areas where we were snorkeling. It was a little sad to see they were not conserving the waters around this natural spot.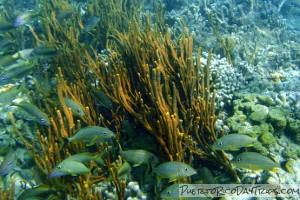 We set off in our kayaks to see the other side of the island. We kayaked through the channels to explore the southern side of the island and found more sea grass on that side. There was a reef on the south side, but the Caribbean sea crashing on it and it didn't look like an ideal spot to try snorkeling.
After checking out the south side, we kayaked over to see the other little islands out there (Isla Ballena and another smaller one) and then kayaked back home. All in all, we spent about 4 hours on this excursion.
Logistics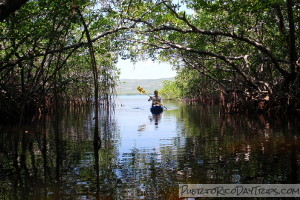 2023- last I heard, the only place to rent kayaks close by is Copamarina resort (but really, there are locals that also do it…just drive down the road and look for signs!). I would suggest you call Copamarina and ask, they may only rent to their guests if it is busy.
There is an hourly ferry that departs from San Jacinto Restaurant (located just after turn onto rt 333) for about $10/person round trip (additional $$ for cooler/chairs and tax etc). This restaurant will deliver a lunch to you on the island if you want. Their phone number is 787-821-4941. There are also a few other places in that area that offer boat trips during busier periods — just look for their signs.
Other Info & Some Thoughts
It was a bit unnerving to be snorkeling with the fishing boats and spear-fishermen hunting right there. But they were aware of us and moved through the area slowly. I would like to see the DRNA section this area off to protect the snorkelers and conserve the fish & coral formations.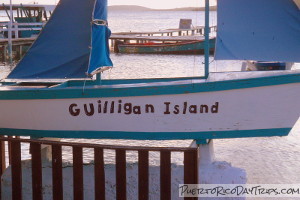 We went on a Tuesday morning during low season and the island was basically empty. But on weekends, and especially in the summer and on holidays, it must be a ZOO! The island has limited space.
There are mooring buoys for boats to tie onto right at the island.
The island was clean. Please help keep it that way -take all your trash home with you at the end of the day.
Some people we talked to snorkeled in the mangrove channels and saw just a few fish. They have placed artificial reefs in the channels to encourage more fish/marine life.
You have to bring everything you want to eat/drink/use while you are there as there are not shops nor restaurants. Glass containers are not permitted on the island. There are no lifeguards.
Bottom Line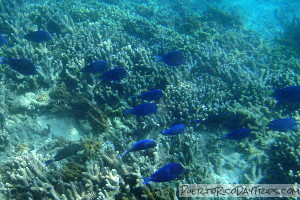 Though Gilligan's Island was nice, personally, I don't see what the attraction would be for non-snorkelers or non-kayakers. There are many more beautiful beaches and even better snorkeling areas, in the south-west.
Details
Gilligan's Island is open daily from 9am – 5pm. It's closed Mondays (except holiday Mondays, when it is open).
Take Route 333. Go past Cana Gorda and make the right turn after passing CopaMarina resort. Just a bit down on the right is San Jacinto ferry launch. Go further and follow the signs for MaryLee's by the Sea if you want to rent kayaks or get their motorboat ride over.
Click on a placename below to view the location on Google Maps ...
PuertoRicoDayTrips.com assumes no responsibility regarding your safety when participating in the activities described in this article. Please use common sense! If your mother or that little voice in your head tells you that you are about to do something stupid … then don't do it!