Anyone Up Fore Golf?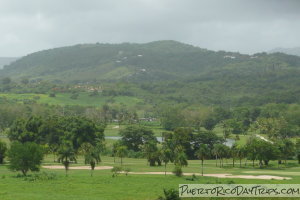 Everyone comes to Puerto Rico for a different reason. If you are an avid golfer, Puerto Rico's many golf courses might be reason enough! If you can't decide which ones to go to, watch out, there are more courses are in the works.
There are courses for all types of players, from beginner to the best of the best. Even the Pros come here to play every year at the PGA Puerto Rico Open at the Trump International Golf Club at Coco Beach.
Personally, I do not golf, but I have visited these courses, and the views from some of these greens are fantastic – the sun, breeze, palm trees, the blue ocean and light sand meeting the green of the course. I can see the appeal of spending a few hours out there!
Many of the courses in Puerto Rico have been designed by golf legends or illustrious designers. For example, Robert Trent Jones Jr. designed the Bahia Beach courses, Tom Fazio designed the course at Rio Mar, Tom Kite designed the four 9-hole courses at Coco Beach in Rio Grande … just to name a few.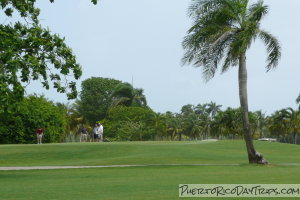 As everyone knows, golf is not an inexpensive sport. You will notice the greens fees here vary greatly. Some courses are very affordable at about $65, while others can be $225 and up.
Here are some hints to help you save some money: high season is more expensive than low season, and morning tee times are more expensive than afternoon tee times. Also ,having the "resort" amenities on site (you know — things like saunas, massages, or a gourmet meal) will raise the price of the greens fees. Guests staying at the resorts and local residents usually get reduced rates.
There are two types of courses here in Puerto Rico: Resort courses (owned by, or associated with, a resort) and Independent courses (not associated with a resort).
Independent Courses
In general, the golf courses that are not part of a resort offer fewer amenities, but they cost less and are used by more local golfers. Examples are Rio Bayamon Golf Course in Bayamon, Club Deportivo in Cabo Rojo, Aguirre Golf Club, Dorado del Mar in Dorado, Caguas Real Golf Club in Caguas, Las Bambuas in Gurabo and Punta Borinquen in Aguadilla.
Resort Courses
Courses linked to a resort hotel will pamper their golfers with well-stocked pro shops and nicer clubhouses. They will have upscale restaurants and other luxury resort amenities like spas. North-eastern Puerto Rico has the highest concentration of resort courses: Coco Beach Golf & Country Club, Wyndham Rio Mar Beach Resort & Golf Club, and Palmas del Mar Resort.
So Where to Go?
One thing to note is that you must make advance reservations for tee times.
You can find out current fees and make Tee-time reservations by either calling the courses directly or using Caribe Golf, a free reservation service.
NorthEast
San Juan/metro/central Area

Rio Bayamon Golf Course

Location: Carr. 177, Bayamon
Phone: 787-740-1419
Hours: Monday- Sunday from 7:00am – dark
Holes:18
There is also a driving range open Mon: 11:00 am – 10:00 pm, Tues-Sat: 7:00 a.m. – 10:00 p.m. Sun: 7:00 am – 8:00 pm
Restaurant, rental equipment and Lessons available
North Coast- North West
Dorado del Mar Golf Club- Temporarily Closed

Location: Dorado
Phone: (787) 796-3065
hours:7 days/week 6am-6pm
Holes: 18
Also a Driving range and a snack bar

Dorado Beach Golf Club at the Ritz

Location: Dorado
Phone: 787-626-1001 ext 7209
hours:7 days/week 7am-6pm
Holes:18 on 3 courses- "East", "Sugarcane", "Pineapple"
Webpage: Dorado Beach Golf

Royal Isabela

Location: Isabela
Phone: (787) 609-5888
hours:Mon 12p-5p, Tues-Sun 8am-5pm
Holes: 18
Resort Guest, members or by invitation only!

Punta Borinquen Golf Club

Location: Aguadilla
Phone: (787) 890-2987
hours:7 days/week 6am-6pm
Holes: 18
Pro Shop and Practice Range , snack bar, lessons available
South Coast- South West
El Legado Golf Resort

Location: Rt 713, Guayama
Phone: (787) 866-8894
hours:Tues- Fri 7am-6pm , Sat and Sun 6am-6pm, closed Mondays
Holes: 18

Costa Caribe Golf and Country Club

Location: Ponce
Phone: (787) 812-2650
hours:open 7 days/week 7am-7pm
Holes: 18
Driving range, golf shop,

Club Deportivo del Oeste

Location: Carr. 102 Km 15.4, Cabo Rojo
Phone: (787) 254-3748
hours:7 days/week 7am-5pm No -Tee time needed, just show up.
Holes: 18
snack bar available

We are in the process of updating the maps we use on our web site. While we're working on that, you can click on the GPS coordinates below to view the location on Google Maps ...

PuertoRicoDayTrips.com assumes no responsibility regarding your safety when participating in the activities described in this article. Please use common sense! If your mother or that little voice in your head tells you that you are about to do something stupid … then don't do it!