Trek to Gozalandia Waterfall in San Sebastian
9/2021- The parking/trails and waterfalls are open.Very popular, so go early to avoid the crowds and get parking..
2015 – There have been many improvements since this article was written- they now have some actual stairs leading down to the falls. With parking very close to the falls too. We will be going back in a few weeks to check it out and get GPS and info for the second falls.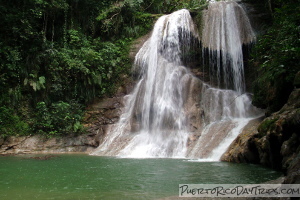 Waterfalls (cascadas or saltos, in Spanish) are one of those natural beauties Ray and I try to find as we travel around Puerto Rico. We know there are loads of them in Puerto Rico, but very few of them are very well known and easy to find.
Gozalandia or Las Cataratas or El Roble Waterfall in San Sebastian is sometimes called the secret waterfall even though it is actually on a couple of the official Puerto Rico tourism maps. I guess it is not that secret after all!
But, actually finding it is not that easy and one has to be a little adventurous. With the help of some people on the TripAdvisor.com Puerto Rico forum who provided the initial directions, we set off to find this secret treasure! Note- 1/14- things have changed a lot since we went in 2010! Not hard to find at all but still a bit tricky, still not for everyone. It can be slippery to get down to the actual falls/river. The owner calls them "La Cascada del Guama"on his sign.
The Waterfall
Located in the town of San Sebastian, this waterfall is really pretty. Not only is the waterfall pretty tall (about 50 feet, I would guess), it was also kind of wide (about 20-30 feet). There was a pool at the bottom of the falls that people swim in that was deep and clean. This beauty has even been in a few movies (most recently "A Perfect Getaway")!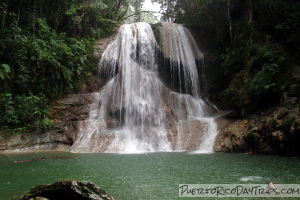 The pool is deep enough that, some people jump off of the rocks into the water. There is also a small underwater "cave" on the right of the waterfall that people swim into. I hear there is a good-sized air pocket above it where one can surface and breathe. I have seen pictures where a couple of people fit inside there. Pretty cool. Unfortunately, we didn't have the time to play and explore as just minutes after we got to the falls, it started to downpour.
A word to the wise — leave any stream or river during rain storms. Flash floods happen often and are very dangerous. So, once the pouring rain started we knew that we had to leave right away. But we will be back to play! Note- 3/12- we did go back and enjoyed the pool and underwater cave. It was truly magical!
2015- We went back again and now there are parking attendants, and paved steps and pathways to both falls. The upper falls are upriver- take the path that goes to the right. It is about a 10 mins walk that follows the river,so if you get hot walking, hop in and cool off. This upper falls is really nice too, and it has a large pool and a rope swing. Really fun!
Getting There
Look for the large gate on the left, this leads down the hill to the parking area for $5! Yea!
Gate open from 10am – 6pm.
It road goes up and down pretty steeply in spots. Once Parked, walk toward the man-made pond with pavilion around it.
You will find some paths into the forest (we were able to hear the river and falls below). Gozalandia Falls has a path either to the left or just straight down. This whole trip takes maybe 10 minutes on the way down. The path to the right leads to the upper falls.
Details
This is how we go there- Once we were on Route 111 in San Sebastian, we turned north onto Route 446. We took this a short way until a large bridge on the right. We turned right, went across the bridge and drove up the road about 0.6 miles. You will see a large gate on the left. Go in. Th parking lot guy will be at the bottom..
Click on a placename below to view the location on Google Maps ...
PuertoRicoDayTrips.com assumes no responsibility regarding your safety when participating in the activities described in this article. Please use common sense! If your mother or that little voice in your head tells you that you are about to do something stupid … then don't do it!