Trek to Gozalandia Waterfall in San Sebastian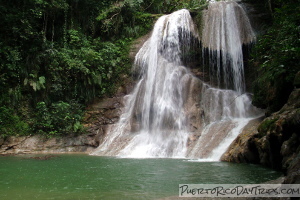 Waterfalls (cascadas or saltos, in Spanish) are one of those natural beauties that almost everyone likes. Make it easy have easy access and other convienences and it is a day trip that the whole family will enjoy.
Gozalandia or Las Cataratas or El Roble Waterfall in San Sebastian used to actually be a secret…when we first went in 2009, we had to walk through a cow pasture to get to it. But now it has been developed and improved, one of the prettiest and most popular attractions in the area.
The Waterfall
Located in the town of San Sebastian, Gozlandia is really a couple of waterfalls connected by a nice river with many little pools. From the parking area, it is about a 5 minute walk down a cement pathway and steps to the first main fall. The main waterfall is pretty tall (about 50 feet, I would guess), it was also kind of wide (about 20-30 feet). There was a pool at the bottom of the falls that people swim in that was deep and clean. This beauty has even been in a few movies (like "A Perfect Getaway")!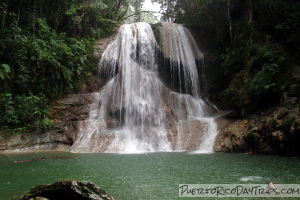 The pool is deep enough that, some people jump off of the rocks into the water (be careful!). There is also a small underwater "cave" on the right side of the waterfall that people swim into. There is a good-sized air pocket above it where one can surface and breathe. I have seen pictures where a couple of people fit inside there but it is a bit tight with more than 2 people!. Pretty cool
Back up the steps you will see the cement path continues (it is to the right as you come down from the parking lot), This pathway goes along the river. You can stop and enjoy any of the pools you come too. If you keep going, you will eventually end at another "upper" waterfall. It is maybe at 10 minute walk. You need to scramble up and over a rock, but it is worth it. This fall is thinner, but still nice. There is also a nice pool at the bottom. And there is a rope swing on the left that you can use to swing into the water. You might be able to make your way up and almost behind the falls…just be careful on the rocks getting back there!
Getting There
This is how we go there- Once we were on Route 111 in San Sebastian, we turned north onto Route 446. We took this a short way until a large bridge on the right. We turned right, went across the bridge and drove up the road about 0.6 miles. You will see a large gate on the left. Go in. The parking lot guy will be at the bottom..
Details
Gate opens at 9 ish (maybe 10am) – 6pm. There is plenty of parking ($10 per car)…the parking attendants to tell you where to park and where the path to the falls are. There are also bathrooms available on the far side of the pond by the restaurant. No coolers allowed. There is a sign on the entrance. There is also a restaurant Sha's, which is the restaurant/bar located right there. The pathway and steps may be slippery, be careful!
Click on a placename below to view the location on Google Maps ...
PuertoRicoDayTrips.com assumes no responsibility regarding your safety when participating in the activities described in this article. Please use common sense! If your mother or that little voice in your head tells you that you are about to do something stupid … then don't do it!