Trek to Gozalandia Waterfall in San Sebastian
11/2020- The parking/trails and waterfalls are open.Very popular, so go early to avoid the crowds and get parking..
2015 – There have been many improvements since this article was written- they now have some actual stairs leading down to the falls. With parking very close to the falls too. We will be going back in a few weeks to check it out and get GPS and info for the second falls.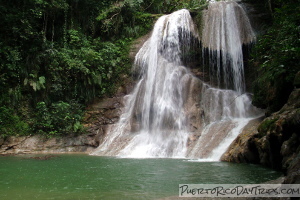 Waterfalls (cascadas or saltos, in Spanish) are one of those natural beauties Ray and I try to find as we travel around Puerto Rico. We know there are loads of them in Puerto Rico, but very few of them are very well known and easy to find.
Gozalandia or Las Cataratas or El Roble Waterfall in San Sebastian is sometimes called the secret waterfall even though it is actually on a couple of the official Puerto Rico tourism maps. I guess it is not that secret after all!
But, actually finding it is not that easy and one has to be a little adventurous. With the help of some people on the TripAdvisor.com Puerto Rico forum who provided the initial directions, we set off to find this secret treasure! Note- 1/14- things have changed a lot since we went in 2010! Not hard to find at all but still a bit tricky, still not for everyone. It can be slippery to get down to the actual falls/river. The owner calls them "La Cascada del Guama"on his sign.
The Waterfall
Located in the town of San Sebastian, this waterfall is really pretty. Not only is the waterfall pretty tall (about 50 feet, I would guess), it was also kind of wide (about 20-30 feet). There was a pool at the bottom of the falls that people swim in that was deep and clean. This beauty has even been in a few movies (most recently "A Perfect Getaway")!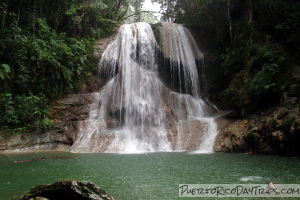 The pool is deep enough that, some people jump off of the rocks into the water. There is also a small underwater "cave" on the right of the waterfall that people swim into. I hear there is a good-sized air pocket above it where one can surface and breathe. I have seen pictures where a couple of people fit inside there. Pretty cool. Unfortunately, we didn't have the time to play and explore as just minutes after we got to the falls, it started to downpour.
A word to the wise — leave any stream or river during rain storms. Flash floods happen often and are very dangerous. So, once the pouring rain started we knew that we had to leave right away. But we will be back to play! Note- 3/12- we did go back and enjoyed the pool and underwater cave. It was truly magical!
2015- We went back again and now there are parking attendants, and paved steps and pathways to both falls. The upper falls are upriver- take the path that goes to the right. It is about a 10 mins walk that follows the river,so if you get hot walking, hop in and cool off. This upper falls is really nice too, and it has a large pool and a rope swing. Really fun!
Getting There
When we first went in 2010, it was difficult — one had to cross private property to get to it. New info 1/14- the owner has opened it up and now provides parking for $10! Yea!
There is a driveway/road on the left just at a curve in the road. Look for the parking sign and park in a lot for $10 plus IVU (sales tax). Gate open from 9am – 6pm.
It road goes up and down pretty steeply in spots. Once Parked, walk toward the man-made pond with pavilion around it.
You will find some paths into the forest (we were able to hear the river and falls below). Gozalandia Falls has a path either to the left or just straight down. This whole trip takes maybe 10 minutes on the way down.
Details
This is how we go there- Once we were on Route 111 in San Sebastian, we turned north onto Route 446. We took this a short way until a large bridge on the right. We turned right, went across the bridge and drove up the road about 0.6 miles. You will see a large gate on the left. Right around that area, we noticed places on the sides where others have parked but we would recommend you park in the lots for $10.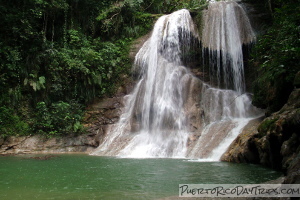 Ray y yo tratamos siempre de buscar bellezas naturales tales como cascadas y saltos de agua cuando viajamos alrededor de Puerto Rico. Sabemos que hay muchas en la isla aunque muy pocas son conocidas o fáciles de encontrar.
Gozalandia es otro nombre para Las cataratas de San Sebastián. Son también conocidad como Las cataratas secretas a pesar de que están en algunos mapas turísticos de la isla. No creo que van a ser tan secretas después de este relato.
Encontrarlas, sin embargo, no es tan fácil y uno debe ser algo aventurero. Con la ayuda de algunas personas del foro de Trip Advisor, nos dimos a la tarea de encontrar este tesoro escondido!
LA CASCADA
Esta cascada esta localizada en el pueblo de San Sebastián del Pepino y es realmente bella. Mide cerca de 50 pies de largo y entre 20–30 pies de ancho. Abajo hay una charca limpia y honda. ¡Algunas escenas de películas han sido filmadas en este bello lugar (mas recientemente "A Perfect Getaway")!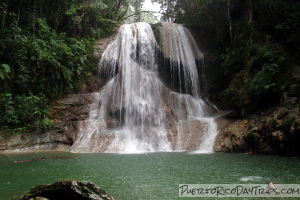 La charca es tan profunda que algunas personas saltan al agua desde las rocas. Hay también una pequeña cueva subterránea a la derecha de la cascada donde la gente también salta. He escuchado que hay una burbuja de aire dentro. Interesante. Desgraciadamente no tuvimos el tiempo para explorar y juguetear en el agua ya que a solo minutos de llegar, comenzó a llover copiosamente.
Un consejo a todos– Abandonen los ríos y cascadas cuando hay tormentas eléctricas. De modo que una vez comenzó el mal tiempo sabíamos que debíamos salir del agua inmediatamente. ¡Pero, volveremos a juguetear allí algún día!
COMO LLEGAR
Ahora viene lo bueno — para llegar a la cascada hay que cruzar una propiedad privada. Obviamente todo el mundo nos dijo que no había problema, pero no se quien es el propietario del terreno así que nunca pudimos pedirle permiso. ¡Espero que a él no le importe!
Tuvimos que pasar por debajo y por encima de una cadena la cual sujetaba un portón que estaba cerrado. Luego continuamos por un camino de lodo entre un rebaño vacuno. Al principio tuve un poco de recelo al ver a los toros sueltos, pero resultó que ellos tenían más miedo y se apartaron dejando el camino libre. Continuamos camino abajo y llegamos a un estanque rodeado de un pabellón. Me sospecho que esta área se esta preparando para una construcción o para ser desarrollada.
Seguimos caminando por la vereda, la cual se ensanchaba en este lugar, adentrándonos en la maleza y ya comenzábamos a escuchar el rio y la cascada abajo. Luego comenzamos a buscar el camino que nos llevara a la chorrera. (Estaba a la izquierda). El sendero se ve que se utiliza mucho e incluso tiene unas barandas de seguridad y también sogas las cuales nos permitieron bajar por el camino resbaladizo hacia los chorros. De ahí en adelante se tomarán cerca de 10–15 minutos en llegar.
Para subir nuevamente– como les indiqué, llovía copiosamente– el camino se convirtió en un salto de agua enfangada. Cuando llegamos al carro, estábamos empapados y llenos de lodo, pero valió la pena.
DETALLES
Así llegamos al lugar– En la ruta 111 en San Sebastián, giramos hacia el norte en la carretera 446. Tomamos este atajo hasta encontrar un puente grande a la derecha. Doblamos a la derecha, cruzamos el puente y continuamos directo por cerca de 0.8 millas. Hay una casa a la derecha de la carretera la cual tiene un gran hangar de metal. Una vez ahí, notamos un lugar a la derecha donde estaban estacionados algunos carros. Hay una cerca con una abertura pequeña la cual estaba cerrada con una cadena. Nos resulto fácil pasar por debajo y por encima de la misma.
We are in the process of updating the maps we use on our web site. While we're working on that, you can click on the GPS coordinates below to view the location on Google Maps ...
PuertoRicoDayTrips.com assumes no responsibility regarding your safety when participating in the activities described in this article. Please use common sense! If your mother or that little voice in your head tells you that you are about to do something stupid … then don't do it!