Walk on the Dry Side in Guanica
2/22- if the main entrance/parking area is closed , You will need to use th trailheeads off of RT 333.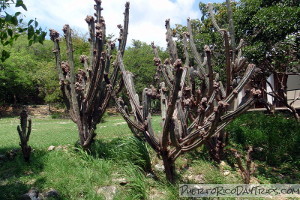 I have mentioned before how wonderfully diverse the terrain is in Puerto Rico. The Guánica Dry Forest is another example of one of the extremes.
The Guánica State Forest & Bioshpere Reserve (Bosque Estatal de Guánica, in Spanish) is an great example of a dry forest, as compared to the rain forests found elsewhere on the island. It gets only about 30 inches of rain per year. Compare that to the 200+ inches that fall on El Yunque annually.
When I heard dry forest I assumed it would be all desert-like and brown. What a surprise! It is actually kind of green (we went in September), and full of plants and other wildlife.
The forest encompasses almost 1000 acres and is maintained by the Departmento de Recursos Naturales y Ambientales (DRNA, or Department of Natural Resources) a safe home for many species (many of which are endangered. Due to it's ecological importance, it has been designated as a United Nations International Biosphere Reserve in recognition of the efforts to conserve natural processes and resources in the forest.
The forest offers many well-maintained trails and is a bird-watcher's paradise.
Our Hike
We arrived at 12:45pm (yes, I know the hottest time of the day). And believe me — it was hot! We planned to hike the Fort Trail, which is called Fuerte on the map. This trail starts just a little bit back up the main road from the parking lot. It is 5KM each way or about 6 miles round trip. The "trail" is actually a packed dirt/rock road (I guess for the electric company), so it is wide and pretty well maintained. So while it is easy walking, the trail is not shaded. We were glad we had our hats and sunscreen (and lots of water).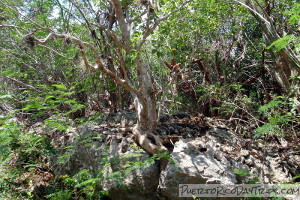 Being used to hiking in the rain forest, I was expecting the dry forest to be a barren place. As I already mentioned, I was surprised how green it was. Actually, we visited the forest during wet season, so that had some impact on the plants. I have read that during dry season, many of the trees lose their leaves.
Plant life includes trees (though mostly shorter ones) and shrubs mixed in with cactus and other plants that thrive in drier conditions. We also saw many birds along our way. Some of the plants had dug their roots into the rock, or any other place where they could get a hold and some water, making for some great photos.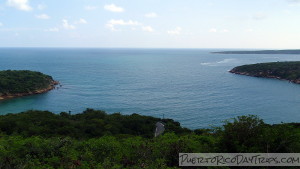 There seem to be a few short trails that go off of the Fuerte trail, but our goal was the fort, so we kept going straight. Now here is a hint if you're looking for the fort — you will come to a Y in the road (after the flag poles) — take the fork to the left and head up-hill. We, unfortunately, went down-hill to the right and got lost for about an hour searching for the fort! I joked that the large turkey vultures that were flying overhead were just waiting for us to collapse!
Once we realized our error (and with some help from Google Earth on our iPhone) we backtracked, and the fort was very close. The good news in all of this is that we got a very nice view of the nearby bay. If you are not into a long hike and still want to see the fort, you can park roadside on RT 333 at 17.9545296,-66.904332 and follow the path up. It is about a 10 min walk.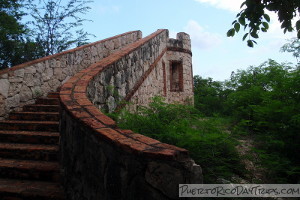 The fort is named Fort Caprón. It was probably more of a watch or signal tower than an actual fort. It was small, but pretty and offered great views (and some nice pictures). Of course it has been "decorated" by the local kids, but it still was nice to see.
This trail took us about 1 hour to get back. It is a bit hilly, but otherwise easy to walk. Bring lots of water, sun screen and mosquito spray.
The side trails off of Fuerte trail are Ojo de Agua (which is actually a green, forestry area year round due to freshwater springs), El Ver, Picua and Hoya Honda. Update: I have heard that you can easily get to the Fort if you park on Rt 333 at km 3.1. This way it is only a 30 min hike each way!.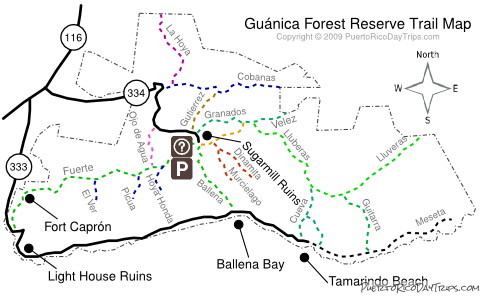 Other Forest Trails & Things to See
There are about 12 trails to chose from in the Guánica Forest Reserve. Some of the more "interesting" ones, in my opinion, are
The Ballena Trail (about 2½ miles round trip) takes you down to the water at Ballena Bay (it ends at an unmarked green gate). However, this beach is not a good swimming beach — it has considerable undertow and surf breaks. The trail head is just up the road a bit from the parking area/info center. If you take a short side trail off this one, you will see a 700 year old Guayacan tree.
The Lluberas Trail begins at the parking lot area. It is 8KM one way (or about 10 miles round trip). This trail goes through all the types of vegetation in the forest — from dry to evergreen.

The Cueva Trail veers off Lluberas Trail and goes past some small natural limestone caves. To legally enter caves, you must have permission of DRNA. For a shorter walk to the caves, you can also access the other end of this trail near the end of Route 333, at the entrance to Playa Tamarindo — but it is unmarked.
Right in the parking area / picnic area are some old sugar mill ruins. There are only foundations left of the mill, but close by is the Cueva Cal (small caves) which are closed to the public.
The Meseta Trail (about 4½ miles round trip) begins at the end of Route 333 at the gate where the road stops, far from the official parking area. This is Tamarindo Beach. You can park at the end of Route 333 and there are some trails that go along the coastal dry forest. Great views of the Caribbean Sea and sea birds.
Details
There is no charge to access the Guánica Forest Reserve.
The forest is open Tuesday- Sunday from 730am until 4pm but the Information Center is closed from noon to 1pm for lunch time.
It is HOT! Take PLENTY of water. Bring good, sturdy shoes for walking. The mosquitos are vicious — bring bug spray and reapply often!
There are restrooms available near the information center. Bicycles are allowed on some trails.
The trails/routes are not marked well, there is usually a trail head sign, by nothing else. Make sure you get a map, though they are hard to read and, perhaps, less than accurate. I would stick to the trails I mentioned above, the smaller may not be well-maintained.
You can call 787-772-2009 y 787-772-2030 for more information.
Driving directions: From Route 116, take Route 334 all the way into the forest. There are no signs along Route 334 for the forest. Whenever you come to a questionable Y in the road, take the fork that goes up and to the left. Eventually, you will come to a Welcome to the Forest sign. Follow the road until you come to the parking area. The forest is located on Route 334 at KM 6 in Guánica.
Click on a placename below to view the location on Google Maps ...
PuertoRicoDayTrips.com assumes no responsibility regarding your safety when participating in the activities described in this article. Please use common sense! If your mother or that little voice in your head tells you that you are about to do something stupid … then don't do it!