Enjoy Lechon & Local Music in Guavate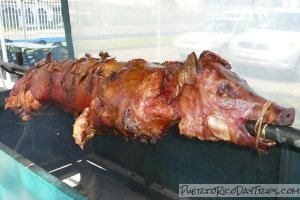 Weekends in Puerto Rico are a family affair, especially Sundays. Locals love to get together for meals and family activities. Places that offer cooler temperatures, great food and live music are always popular with locals looking for some fun. If you, as a tourist, want to experience some of that fun and flavor, you can join them and head to the famous lechoneras in Guavate. Lechoneras are outdoor restaurants that specialize in seasoned whole-pig, slow roasted over an open fire. This makes the pork flavorful and delicious. Even Anthony Bourdain, of No Reservations and Andrew Zimmern from Bizzare Foods on the TravelChannel, came to Guavate on their trips here to taste this specialty.
Families make the trip in droves, not just for the lechon, but also for the various side dishes like rice and pigeon peas, cassava, breadfruit, sweet potato, blood sausage, and yellow or green plantains. Of course, besides the delicious pork, there are turkeys and chickens cooked and seasoned in a similar way. Those are really good, too! And not only is the food a draw, but also the live music and the cool mountain air. It is a daytime activity – most people leave before sundown.
We have been to Guavate a few times. It is a tasty and interesting place. The live music gets people dancing and singing, and everyone is eating and drinking. The area is really like a multi-mile long block party. Children play in the streams and forests behind the restaurants. Older people hang out and talk, eat and dance. Young adults just drive up and down this congested area, just scoping out, looking for people they know. It's a place to be seen.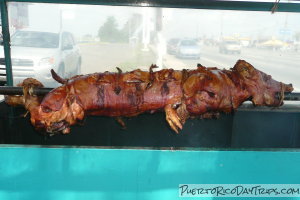 The road up is just lined with lechoneras. Everyone you ask will have their favorite place. Some people like the first ones you come to on the road – easy in / easy out, and delicious! But you can keep going up and up. The road eventually tees at Road 763. Turn right and then you will start getting into the serious lechoneras. Here is where the street party is – tons of people, bands and food! My way of finding the best place is to look for the crowded ones – then you know you have found the best!
Once you find a crowded one and find some parking (most likely along the side of the road or in one of the pay lots near the lechoneras), walk up and get in line. These are "cafeteria style" places. The food is already prepared in warming trays behind glass. You will need to decide what you want to eat, and then point. When we were "newbies" we would just ask if anyone in line knew English, then ask for explanations and recommendations. People are always willing to help initiate a tourist into the flavors of the island. Or for the more daring, you could always just point to what looks good to you!
I always enjoy just watching as they hack up the pork with a machete. The cutting boards are all concave from years of hacking. It is quite the spectacle! And very reasonably priced. You will have a plateful for about $10-12.
The road up is winding and crowded. The road ends at the Carite Forest Reserve. There are vendors along the roadside selling all sorts of things like plants, honey, seasonings and Puerto Rican souvenirs.
You need to go on a Saturday or Sunday to get the most if this event. Get there early – arrive before noon. After that the road up and down becomes bumper to bumper. Of course, that is part of the experience! So many people enjoying life. So come and enjoy and leave your diets, and timetable, at home!
If you absolutely can't make it on a weekend, some of the lechoneras are open during the week. There just isn't the party atmosphere or the live music. But the food is still delicious! Friday has more places open than other weekdays. We usually go to El Rancho Original since we like the tables by the stream. It is open M-F 9am-4:30pm, Sat and Sunday 9am-6pm. Others like El Mojitos and El Nuevo Rancho are also open 7 days/week usually from around 9am until about 7:00pm. Los Pinos is also very good and is open daily 7a-7pm.
A number of places are open on holidays also, many with extended hours during Christmas season.
It also is generally available all around the island from Friday through Sunday. Just drive down the non-highway roads and look for the pig on a spit, then pull in and enjoy. It is usually sold by the pound. Check out RT 175 in Trujillo Alto.
The best time to go to Guavate is from about noon until early evening on Saturdays and Sundays. To avoid the crowds- get in before 11am.
Driving directions from San Juan to Guavate: Hop on the Luis A. Ferre Expressway (PR-52) southbound for about 30 minutes. When you get near Cayey, take exit #32, which says Guavate, turn left and head up the mountain on PR-184. At km 27 or so, you will see places. If you keep going up, turn right when you get to the tee. Go as far up as you want and choose your lechonera!
Click on a placename below to view the location on Google Maps ...
PuertoRicoDayTrips.com assumes no responsibility regarding your safety when participating in the activities described in this article. Please use common sense! If your mother or that little voice in your head tells you that you are about to do something stupid … then don't do it!