Hacienda Santa Ana: Home of Ron del Barrilito
I love old, historic buildings and rum, so of course I had to make a point to visit Hacienda Santa Ana — the home of Ron del Barrilito, one of the local Puerto Rican rum producers. Their rum is made and aged here, on the old family property, which used to be an old sugar hacienda. They have opened a visitors center and there are now tours and tastings of their delicious rum. Reserve your tour at their website .
Some History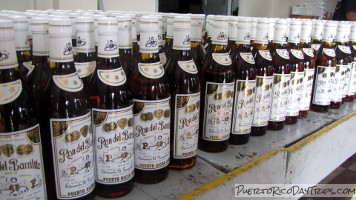 The Fernández family had owned Hacienda Santa Ana in Bayamón since 1797. It used to be a sugar cane plantation and, like many sugar plantations back in the day, they made some rum for personal use.
In 1880, Pedro Fernández started selling his family's rum under the name Ron del Barrilito (rum from the little barrel) — named after the barrels they used to age the rum. Today, the company continues to make rum using the family's same blending and aging practices.
Our Visit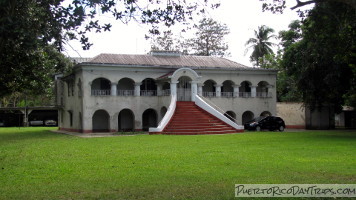 All rum tours come with a tour of the historic buildings and methods used to make Ron Barrilto! This is called the Heritage Tour.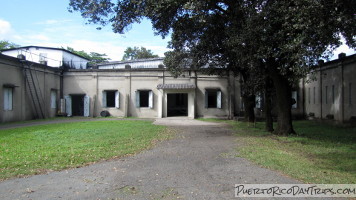 As you pull in the driveway, you will see the beautiful old hacienda house, with a large staircase. There looks like some old workers' quarters, and right in the middle of the property are the ruins of an old windmill (dated 1827). You will also see the "factory" and storage area. You check in at the Visitors Center, get a cocktail and meet your guide. The tour will take you into the factory and storage area, and if you are lucky, you will see some of the workers doing their thing. We saw the barrel repair man, and also the crew hand-labeling hundreds of bottles of rum. It was pretty cool to see.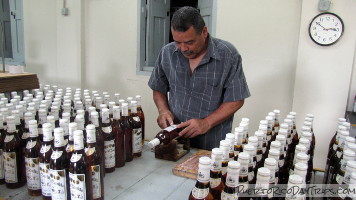 Your guide will show you around and explain their process.
They don't actually distill rum here. They buy raw, distilled alcohol from local distilleries, and then work their magic to produce their unique rum.
They blend it (according to their decades-old family recipe), and then set it to age in charred sherry wine barrels. This is different than other rum producers in Puerto Rico — all the others age their rum in charred whisky barrels, and then they blend the aged spirits.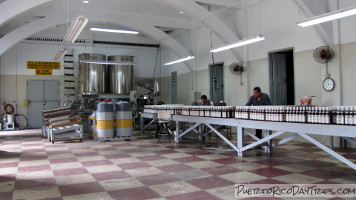 The tour will take you into where they store/age the rum . You can go in there and see all the barrels stacked up and smell it- really neat!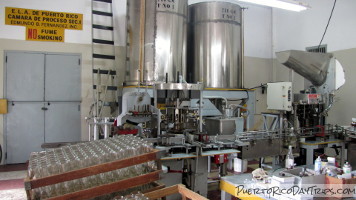 At the end of the tour, you go back to the visitors center, where they have a beautiful bar set up with some very delicious cocktails to try. They also have a store where you can buy all their rums and other Ron Barrilito paraphernalia.
Ron del Barrilto produces three types of rum — 2-Star, 3-star and 5-Star (the number of stars are on the label). The 2-Star gold rum is aged 3 years, while the 3-Star gold rum is a mixture of rums that are aged between 6 to 10 years. The new 5 star is well aged rum , some up to 35 years old, blended to perfection.
This is not a huge operation, but it is a true Puerto Rican rum, and a favorite of local Puerto Ricans.
Details
They are open Mon- Sat 9am – 6pm. (closed Sunday) Make sure to reserve a tour. The Heritage tour is about 30 mins long. Other Tours are available that include rum tasting or cocktail preparation.
The Heritage tour costs $25 and includes a cocktail! You must be 18 years old to drink the rum.
Remember you must visit on a formal tours. Reserve your tour at their website .
Most tours are in English, but they do offer Spanish tours at certain times- reserve the tour in the language you prefer.
From the San Juan area, take Route 22 west to exit 10. Then take Route 5 south. Continue on Route 5 until you see a small exit to the right that goes toward Route 28. Get off at that exit, but instead of turning left to get onto Route 28, continue straight through the stop sign. Hacienda Santa Ana / Ron del Barrilito is just on the right side, past the small paved lot on the corner. Look for their sign (pictured here). Drive in through the open gate and park.
Click on a placename below to view the location on Google Maps ...
PuertoRicoDayTrips.com assumes no responsibility regarding your safety when participating in the activities described in this article. Please use common sense! If your mother or that little voice in your head tells you that you are about to do something stupid … then don't do it!