Hike Big Tree Trail To La Mina Falls- NOT CURRENTLY OPEN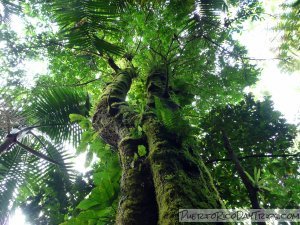 Update-12/2021- This trail has NOT yet reopened after the hurricanes. It sustained a lot of damage. It is being worked on , not expected to reopen until 2023.
If you have always dreamed about swimming in a waterfall, having the water cascade onto your back, massaging you, then you are in luck. Many people have that experience at La Mina Falls in the El Yunque National Forest. This beautiful 35 foot waterfall is one of the most popular places to visit while in the rain forest. Luckily there are two trails that lead you to La Mina Falls. One is La Mina trail, and the other is Big Tree trail. This article will describe Big Tree trail.
Unlike many other rain forests around the world, El Yunque rain forest is not full of huge old trees. The lush and beautiful mountain is actually covered with many different types of young trees, but most of them are only 15 to 50 years old. This is because El Yunque has been cleared a few times – sometimes by natural causes like hurricanes, and sometimes by unnatural causes like lumbering. However, if you walk the Big Tree trail, you will be able to see some of the large 200 to 300 year old trees that once made up the whole area. I like Big Tree trail for a few reasons
it is not as steep as La Mina Trail- it is more gradual up and down slopes
it has only one area with steps (but there are about 70 steps in a row!)
it is an interpretative trail, which means that it has informational placards (in both Spanish and English) all along the trail that tell you about the rain forest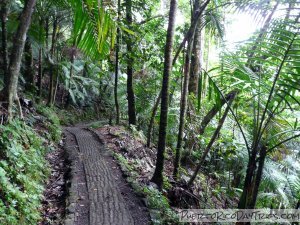 Some of the facts about this trail: Big Tree trail is about 0.8 miles long one way. It starts at about 1800 feet and descends to 1640 feet, making it only about 160 ft drop in elevation. This means that it is not that steep. It is a fairly easy trail, except for those steps, so it has a "Moderate" difficulty rating. The trail head is located at the large parking lot at KM 10.4 on Road 191. It will take about 45 minutes to get to La Falls from the trail head, walking at a good speed. If you are a slower walker, or want to take your time and read the informational placards, it will take longer. There are some rain shelters with benches along the trail, so you can rest or get out of the rain. The trail is paved with asphalt or concrete most of the way. If you are planning on going into the falls, wear your bathing suit while hiking. There is no changing area at the waterfall. When you start walking on this trail, it is natural to stop at every placard sign that you come to. Another approach would be to read half on the way down and half on the way up. This way, you have an excuse to rest while you read the signs on the way up! The placards discuss all sorts of things about rain forests in general, and this one in particular. The trees, birds, insects, lizards, and plants you are seeing along the way. Take your time to look around and listen to the forest, it is a magical place, that is full of beauty. It seems longer then the indicated mileage as you anticipate getting to the waterfall. You can hear the waterfall long before you actually can see it.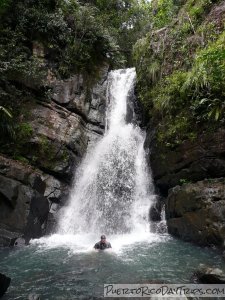 All this walking will lead you to the big pay-off — the La Mina Falls (Cascada La Mina). The water rushes over a cliff into a pool that people swim/play in. There are two ways to enter the pool. You can take the steps just at the end of Big Tree trail that lead down into the water. This way looks like an easy entry, but it's not. It has lots of rocks and really sudden drop-offs. But if you go across the little bridge, you can step off of the trail to your right, and you can scramble down the rocks so you are face on with the falls. Wade straight in this way and swim out to the falls. The pool is not large, and it is popular, so it can fill up with people, which does take away some of the wonder of it. But I still think it is pretty and fun. Be aware – there are lots of slippery and sharp rocks – so wear water shoes. There are sometimes crabs hiding in the rocks. I have never heard of anyone getting pinched, but it could happen. The water is very heavy as it falls – test its weight before you sit directly under it. And just so you know – the water is "refreshing" – which translates to COLD! Be aware of chaging water conditions, flash floods can develop after a rain. There are no benches here, so you need to find a step or choose a rock if you want to relax and look at the view. The best pictures are from the bridge that connects Big Tree Trail to La Mina Trail.
To leave, you can go back up Big Tree trail, which is the easier choice, or you can go up La Mina trail. If you parked at the Big Tree trailhead, then you might think twice about taking La Mina trail. If you choose to return via La Mina trail be forewarned that it is more difficult on the way up, as there are many steps you'll have to climb. Also, you will end up at the Palo Colorado Information Center located at KM 12 on Road 191 – which is a little over 1 mile up Road 191 from the Big Tree trail parking lot. You will have to walk downhill on the road to get back to your car. That is not really recommended.Here's a trail map of the recreation area in the El Yunque National Forest that you may find useful.
There is no entrance fee for the national forest.
Open daily 7:30am until 6:00pm . Ranger stations are open 9:00am until 5:00pm. The gates close at 6:00pm.
Big Tree trail will take you about 45 minutes to walk one-way (to the falls).
You can call 787-888-1810 or 787-888-1880 for more info.
You can visit the El Yunque National Forest web site for more information.
Follow Route 3 to Rio Grande. Look for the intersection with Route 955. There is a big sign pointing to the rain forest. Follow Route 955 to Road 191. Turn onto Road 191 (there's another sign for the rain forest here) and you're there!
Click on a placename below to view the location on Google Maps ...
PuertoRicoDayTrips.com assumes no responsibility regarding your safety when participating in the activities described in this article. Please use common sense! If your mother or that little voice in your head tells you that you are about to do something stupid … then don't do it!