Walking, Biking & Kayaking in the Humacao Nature Reserve
1/21- The park is open! There is kayaking/paddle boarding, and Walking/biking trails available. And fishing areas too!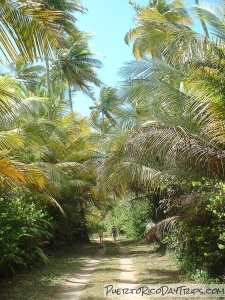 The Humacao Wildlife Refuge (now called the Punta Santiago Natural Reserve in Humacao) is located on the east coast of Puerto Rico. Within the reserve you'll find numerous trails for walking, biking and light hiking, long stretches of beach, spectacular views of the coast, lots of fishing opportunities, an area with picnic pavilions, some ruins from the area's history as a sugar plantation, old bunkers from wars past, and the availability of kayaks and bikes to rent. The reserve has been recently refurbished and now offers kiosks for crafts too. The reserve is not heavily visited, so you may very well have this large area almost all to yourself! If you are a bird watcher, this is a great place to see birds. And iguanas!
Arriving at the reserve is easy. It's located right on Route 3, just south of the Punto Santiago Beach. The entrance is clearly marked with a brown sign for the "Reserva Natural de Humacao". Pull your car right through the gate and park (for free). Just watch out for crossing ducks and iguanas!
We started our visit with a walk around the reserve. Unfortunately, at that time, there are no maps nor informational brochures available. But now, the kayak and bike rental place has maps available. But even without a map, it is not too hard to get around – we went to the end and turned around, then just going a small way on the other paths we came to – they all went to lagoons. I enjoyed the beginning of the walk since many of the trees are marked with their names, and I like learning the names of plants and trees. The reserve has all sorts of fruit trees and other tropicals.
During our walk, we saw a local family catching crabs – they explained how they do it. It was kind of neat. I assume it was allowed as there were some signs up on which fishing lures where good for certain fish.
The walking path leads to a lovely beach – you pass old bunkers, an old pump station and lagoons where you can stop and enjoy the scenery. We walked for a few hours, then headed back to the parking area to get our lunch out of our car. If you didn't bring your lunch, there is a food kiosk open. And also a craft vendor or two. There are picnic pavilions and clean bathrooms. A group of 10 or more can reserve a guided walking tour of the place.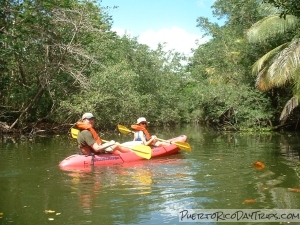 After lunch, we decided to kayak in the lagoons. The kayak company employee was very nice. She explained the route to take into and around the lagoon. It was very peaceful, fun and educational, as there are lots of signs explaining the lagoon, some history of the area, and the birds and other critters that call this place home. Here we learned the area was on old sugar cane area and that the lagoons had to be drained to grow the cane. The lagoons are interconnected and they lead out to the ocean.
I don't know much about birds, but I know we saw lots of different types – white egrets, large gray cranes, and all the other water fowl were very beautiful to see during our kayak tour. We also got a kick out of all the iguanas lounging in the trees and swimming in the water!
The Nature Reserve itself, as well as parking inside (and across the street from ) the Reserve, is free.
The Reserve is open from 7 days/week from 9a-5p, but the concessions are only open Wednesday – Sunday 9 – 4pm. (and usually Mondays that are holidays)
Depending on what you want to do (walk, kayak, bike, fish), allow between a couple of hours up to a full day
Water Sports and Eco-Tours runs the kayak, paddleboards, pedal boats rentals at the Reserve. Prices- Kayaks and paddleboards are $15 per person per hour (it usually takes about 1 hour to do the water trail). Pedal Boats for 2 people are $10/hour Call 787-852-6058. Morillo Cycle runs the Bike rentals. They are available for $7-15/hour (depending on the bike). Call them if you need more info (787) 559-7280.
For more info on the Reserve, call 787-852-6058. Or you can visit Water Sports and Eco-Tours Facebook page or Morillo Bike Rental Facebook page
Located on Route 3 at Km 74.3, just south of the Punto Santiago Beach. You will see some kayak signs on the west side of the road, but the entrance is just opposite that on the east side.
Click on a placename below to view the location on Google Maps ...
PuertoRicoDayTrips.com assumes no responsibility regarding your safety when participating in the activities described in this article. Please use common sense! If your mother or that little voice in your head tells you that you are about to do something stupid … then don't do it!