Spend a Day on Icacos Enjoying Sun, Beach, and Snorkeling
Puerto Rico is beautiful, and it has great beaches. But if you want that really "Tropical Island" look, heading to an out-island is best. The Innovation Snorkel Tour is your passport to the fun. They take you to Icacos Island, a small island just a quick boat ride away from Fajardo. There, you get to snorkel, swim, sun bathe, eat, drink and be merry at this white sand, clear blue water paradise.
Located off the north east coast of Puerto Rico, Icacos Island is part of the island chain that makes up the La Cordillera Nature Reserve. The only way to visit is by boat. It is just a quick 30-minute boat ride from Fajardo. It is a popular destination due to its reefs, white sand, and clear blue water. If you don't have your own boat, the crew on the Innovation would love to take you!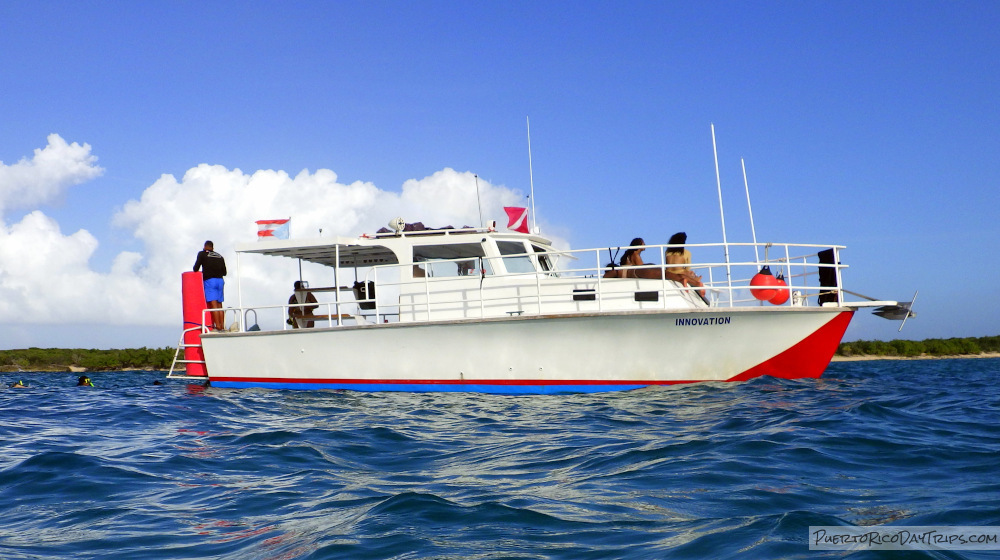 Our Trip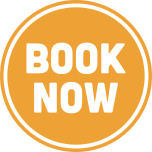 We met our crew (Hectmar, Kristian, and Captain Daty) and fellow passengers at the dock. They began by welcoming us with local pastries (yum) and juice or water. After a quick introduction, the "plan of the day" and safety briefing, we got onto the boat and headed off.
Once we got out of the marina, we were free to move about the boat. The views are lovely – the colorful hotel, El Yunque in the distance, the Fajardo lighthouse, and eventually Icacos comes into sight. We tied onto a mooring ball near the "tortuga" reef and the crew started handing out snorkel gear (nice quality mask, fins, and a float belt) and they gave instructions to those who wanted to go snorkeling. They divided the group into those with experience and those that needed extra help, and each group went with one crew member.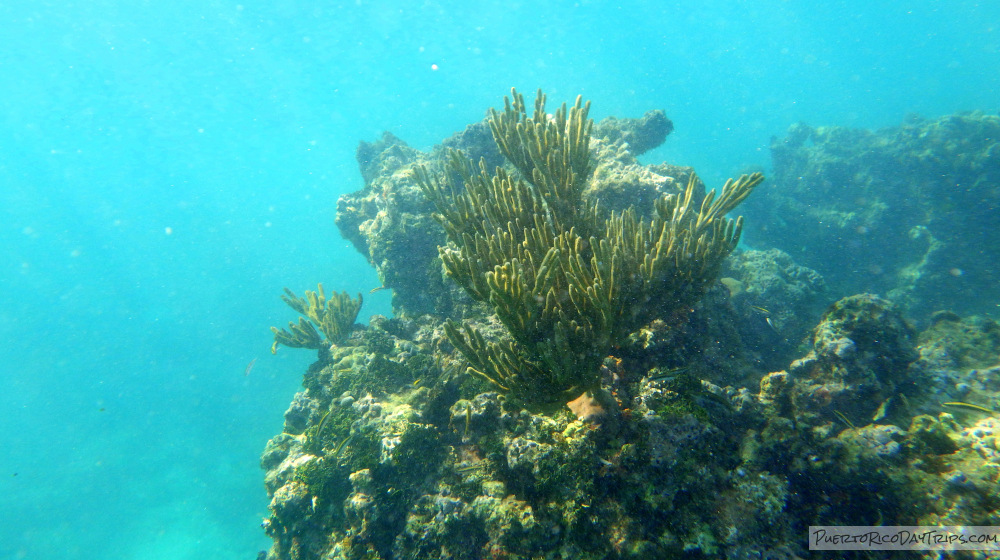 Once in the water, they guided the groups to see the reef and explained the different types of corals that we saw. We have been Icacos many times in the past, and I can't say it is the greatest snorkeling in the world, but it is enjoyable and you will see corals and lots of different types of fish and colorful sea fans. As it is wild, you never know for sure what you may see — at times turtles and dolphins frequent the area.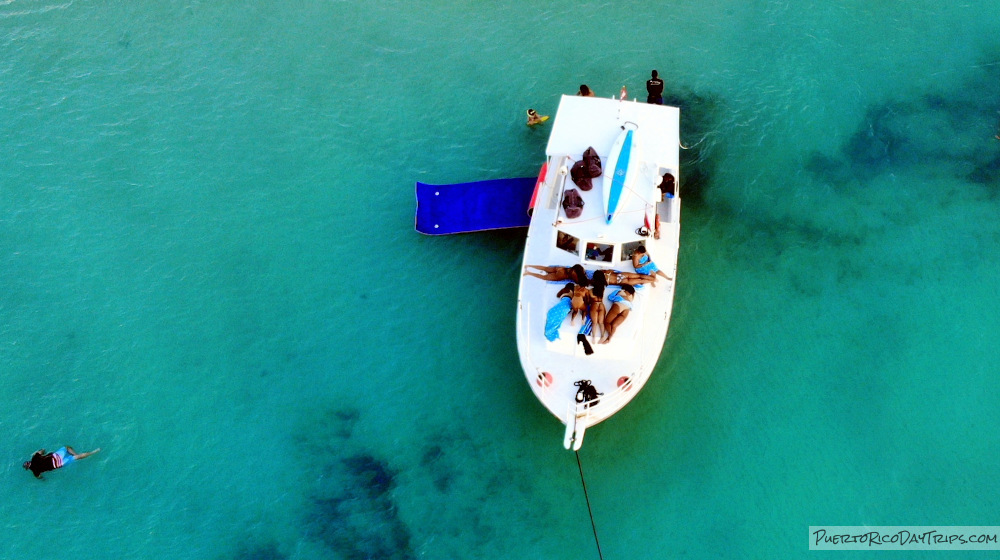 Once we finished the guided part of the snorkeling we headed back near the boat. There, you could play in the water or just hang out on the boat. Oh yeah, and now that the snorkeling is over the bar is open! They have different rum drinks, and of course water and soft drinks are always available. They make a special cocktail (they call it a "Coco Libre") that was light and refreshing yet packs a punch!
Then the food was set out. The buffet of cold cuts and salads were tasty and filling on delicious Puerto Rican bread – pan de agua.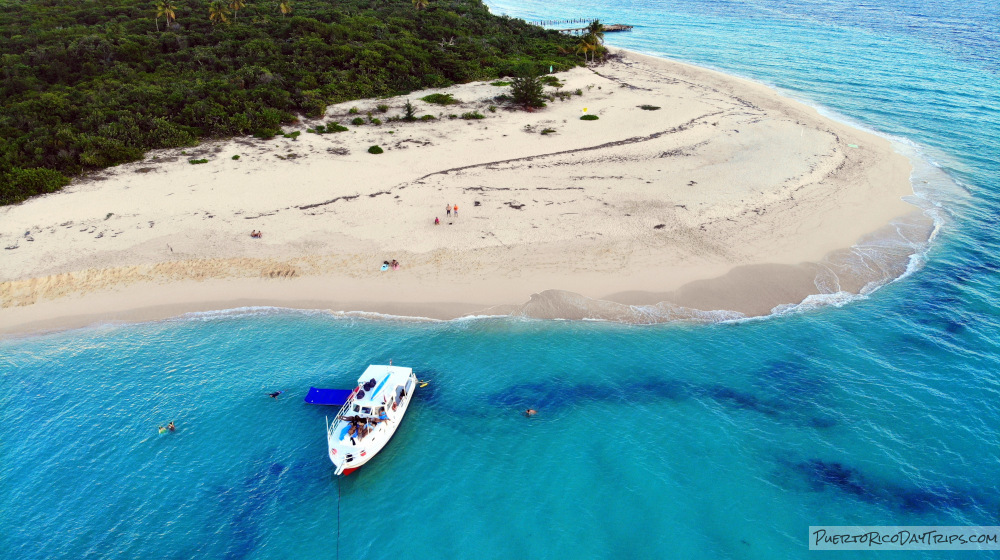 Next, the captain then moved the boat to shore where people were free to do whatever they liked for about 3 hours – swim, sun bathe, beach comb. They also have this big floating mat to lay on, and some other water items if you wanted to play. Kristian also offered a short hike to the remains of a limestone mining operation. He told us the history of the island, and even about the nature stuff we passed on the trail. The views were great. Thankfully, he supplied us with mosquito repellent because there were some hungry mosquitoes there!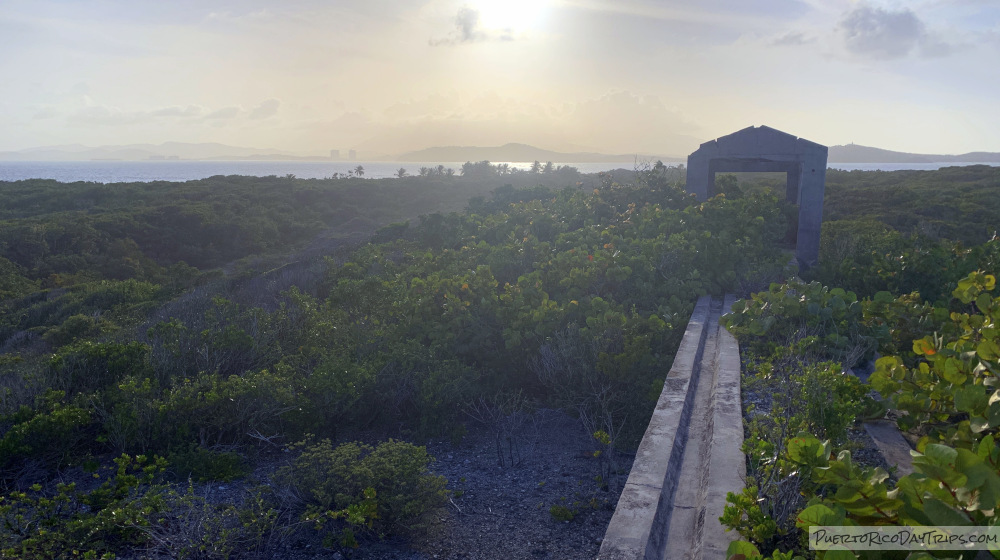 Our trip was on a Sunday, so it was an afternoon tour, which meant we got sunset on the beach. As the day wore down, the colors came up! Also, other fruits and cookies came out to for us to snack on. Even though it had been a beautiful sunny day for us, it had been raining all day on the main island, so the clouds blocked our sunset, but we did get some color. Finally, we motored home tired and relaxed, watching night fall, and the lights come on back on the big island. It was a very enjoyable day.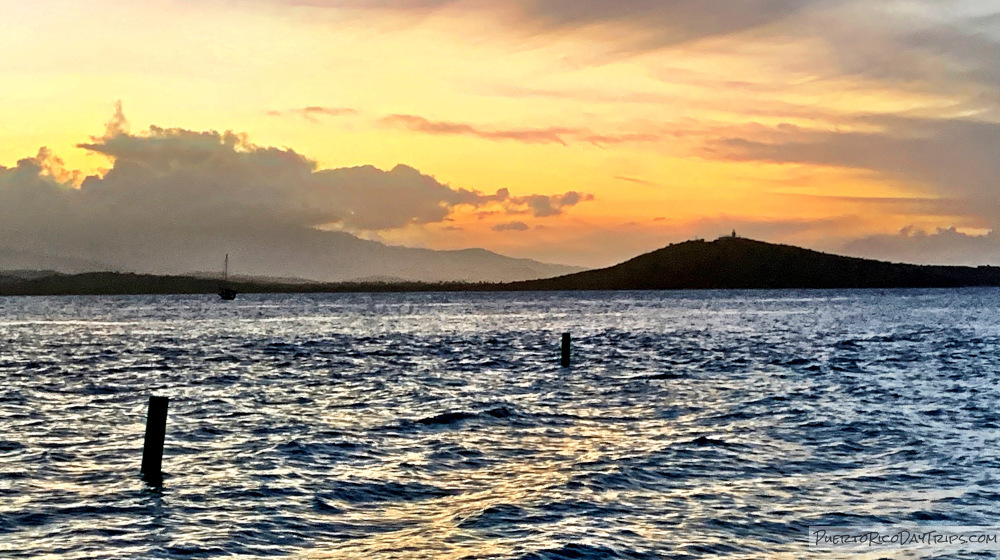 I have to say this was a very personable crew, and they "get" tourism. The boat has a maximum of 25 guests, so the crew isn't overwhelmed with people. Throughout the day they made sure everyone was happy, had enough to drink, and took photos – with their cameras or yours. At the end of the day, they sent you the photos they took (via text or WhatsApp).
Normally, when we review an activity that is not free to the public, we pay the admission price out of our own pockets. However, we just want you to know that the guys at Innovation Snorkel Tour were kind enough to offer us this trip for free. While we don't feel that this free ride influenced our review one way or the other, we felt that we should tell you, just as a matter of fact.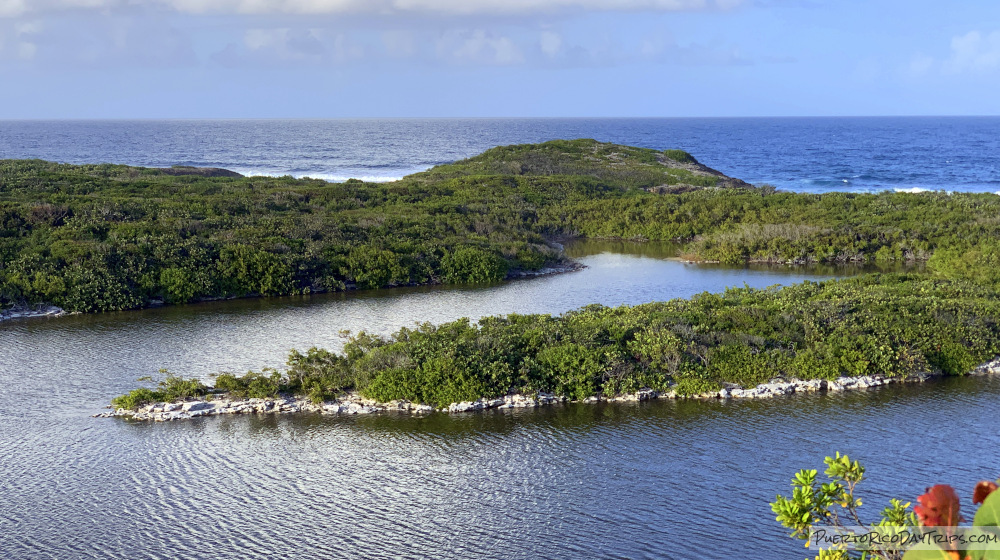 Details
The cost of this tour is $72 per adult, and $68 for kids (2-12 years old). Plus IVU (sales tax). Book Now
They run this tour 7 days/week. Registration is at 10am Mondays through Saturdays, and at 1pm on Sundays.
Bring sunscreen, a cover-up (rash guard shirt), sunglasses, hat, towel, and waterproof camera. If you want to hike, shoes that strap on would work better than flip-flops. There are showers (and restrooms) at the marina that you can use afterward.
Allow about 6 hours for the whole tour.
You can call them at 787.567.1971 for more information.
You can visit their web site for more information or to book the tour.
There is a maximum capacity of 25 people on this tour. The boat can also be charted for private parties.
This tour leaves out of Marina Puerto Chico, which is on Road 987, in Fajardo.
Click on a placename below to view the location on Google Maps ...
Activities booked through this page are booked directly with the activity operator. Other than referring you to the activity operator, PuertoRicoDayTrips.com is not involved in the transaction between you and the activity operator. The activity operator is responsible for all aspects of processing bookings for its activities, including cancellations, returns, and any related customer service. PuertoRicoDayTrips.com makes no representations regarding the level of service offered by an activity operator. PuertoRicoDayTrips.com will receive a small referral commission for any activities that you book through this page.
All trademarks, logos and brand names are the property of their respective owners. All company, product and service names used in this website are for identification purposes only. Use of these names, trademarks and brands does not imply endorsement. Photos used to promote tours are the property of the original copyright owners.
PuertoRicoDayTrips.com assumes no responsibility regarding your safety when participating in the activities described in this article. Please use common sense! If your mother or that little voice in your head tells you that you are about to do something stupid … then don't do it!