Fly Above the Beach on a Paramotor Tandem Flight
If you are looking for an fun flying experience, you should look into paramotoring. Since flying an paramotor involves a lot of training, you can go tandem with an experienced instructor/pilot and just enjoy the flying without any work! We had seen videos and photos of the experience, and we knew wanted to try it!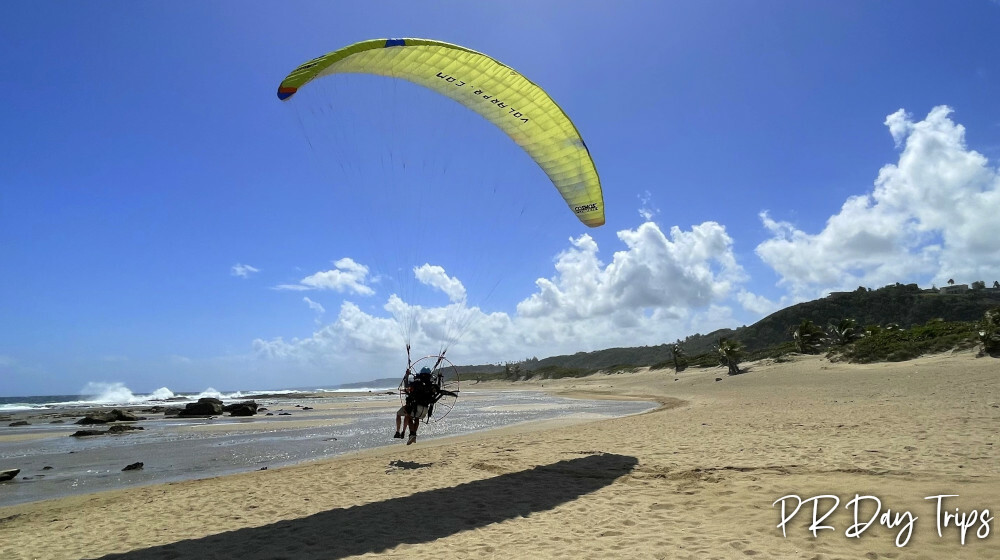 A paramotor is a backpack-style propeller engine attached to a harness and a glider (or wing). Kinda like paragliding or parasailing, but self-propelled. Because it has a motor, it can take off from almost anywhere on the ground. And it can go into the wind or with the wind, so you can go up and down the coastline for the best views. The pilot steers and moves around the sky by working the ropes on the wing and the accelerator on the engine.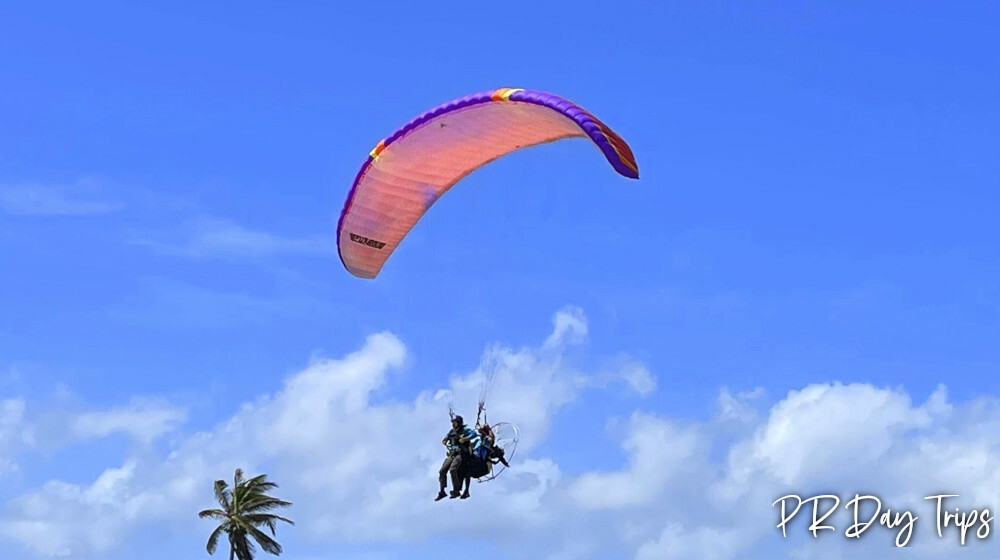 We went with Team Kamikazes Paramotor Puerto Rico and took off from the beach past Villa Pesquera beach in Isabela (near Pocita de la Princesa). Sometimes they use a beach in Barceloneta or Hatillo. These beaches have good open areas for take off/landing, dependable breezes, and are in pretty locations. The weather has to be just right. The day we went there was a delay due to rain, and as the wind picked up, the equipment was changed out to adjust for it. They really seemed to know what they were doing, giving us confidence before it was our turn to fly.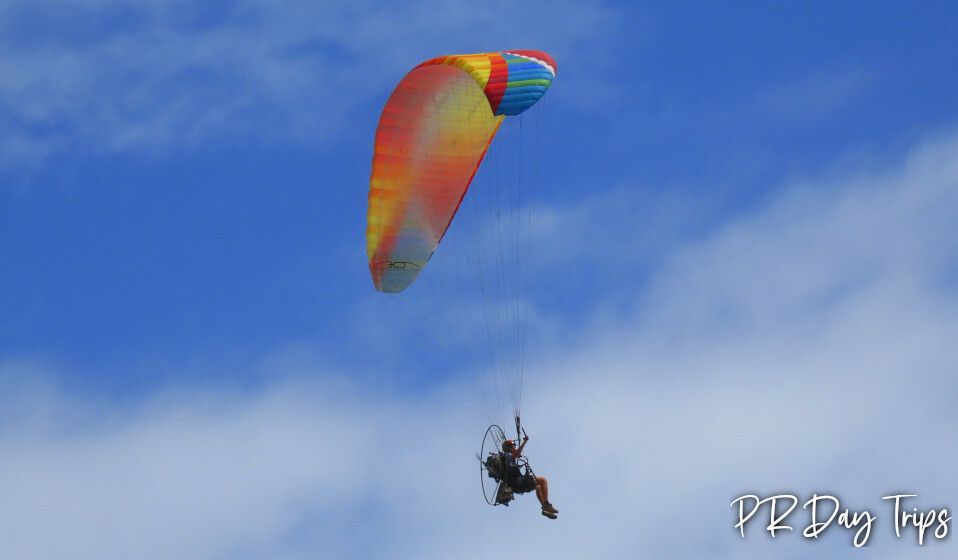 When it is your turn, they attach your safety gear, you step into a harness/seat, and put on the helmet and headset (so you can talk with the pilot). The pilot explains what you need to do – during take off, during the flight, and during the landing. The passenger's job is simple — mainly you have to trust your pilot, sit back, and enjoy your flight.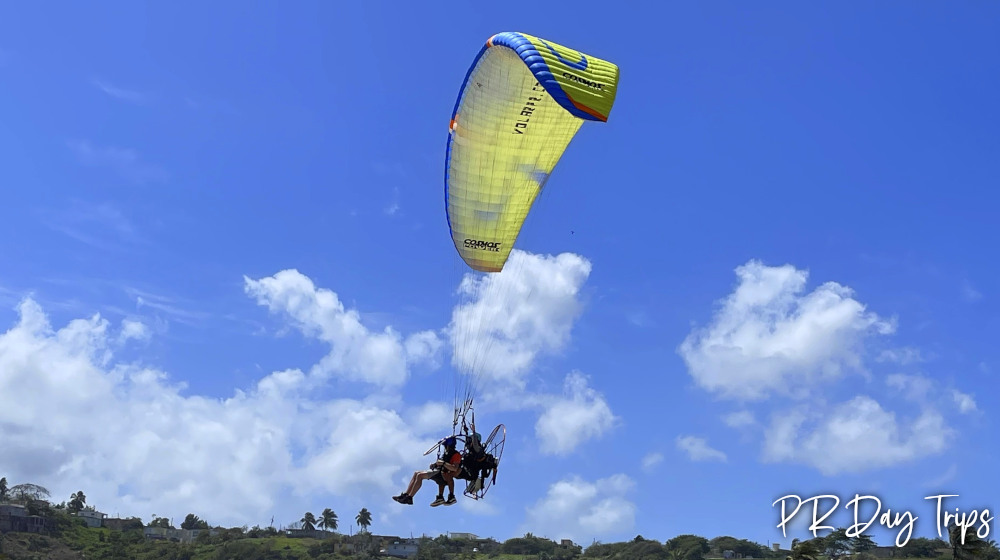 It really was easier and calmer than expected. Almost like parasailing (which is a parachute pulled behind a boat) but much higher, more active, with turns and ups and downs — but noisier! The take off was easy — run, run, run and up you go! And the landing was just the opposite. Everyone we saw took off and landed perfectly. Once you are up and flying, they do a low beach fly-by, so people in your group on the ground can get good photos of you! During flight you are allowed to take pictures, but I highly recommend that your camera be attached to you by something so you don't drop it!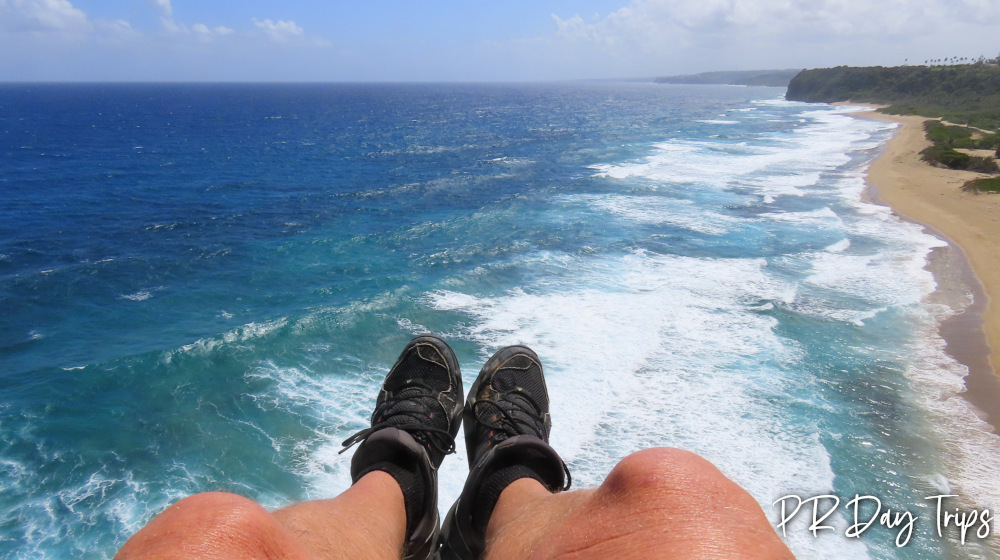 Our flight was shorter than we would have liked, but the wind was picking up and they didn't want to take chances. But it was super cool! And of course we took a lot of photos, it was like being a live drone! If you are afraid of heights, this might not be for you — our maximum height was about 400 feet. The turning and banking could give someone that sort of dizzy/seasick feeling, but it doesn't last long! The views were amazing — the north coast of Puerto Rico is beautiful!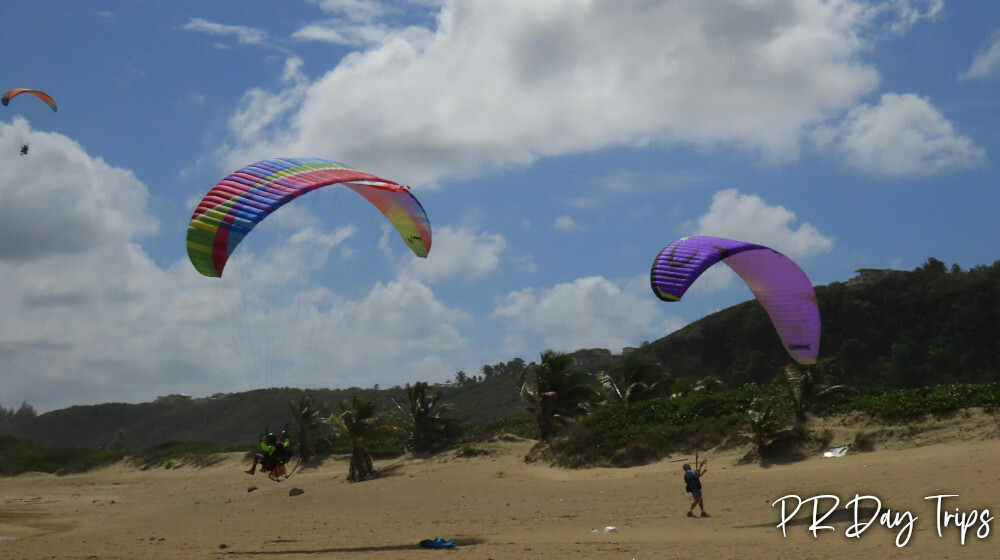 Details
Flights are typically on the weekend, though they may be able to coordinate weekday flights. Flights are typically between 8am to 11:30am, depending on the wind. Flights are dependent on the weather.
There is a 200-pound weight limit, and a 14 years minimum age (with parent present).
Wear comfortable clothing, and closed-toe shoes.
Have an accurate idea of your actual weight — the pilot will need to know your weight in order to adjust the wing for the safest flight.
The flight is supposed to last about 20 minutes, but it may be cut short if the weather doesn't cooperate.
Contact Luis Ruiz, certified instructor, via text or call 787-717-2384, or email luisboost@yahoo.com.
Visit their website for more information. Check their Facebook page for special pricing and to see where they will be launching from on a given weekend.
It is best to make a reservation, though the may be able to "fit you in" if you just show up, depending on how busy they are.
As with any high-risk experience, you will be required to sign a liability waiver. Be sure to tell them about any health issues that you might have.
If you fall in love with this sport, they offer pilot training courses. Ask them about it if you are interested.
We took our flights at the beach near Pocita de la Princesa (at the end of the road past the Villa Pesquera beach) in Isabela. Sometimes, they use other beaches in Hatillo or Barceloneta. Be sure you confirm which beach they will be using when you make your reservation.
Click on a placename below to view the location on Google Maps ...
PuertoRicoDayTrips.com assumes no responsibility regarding your safety when participating in the activities described in this article. Please use common sense! If your mother or that little voice in your head tells you that you are about to do something stupid … then don't do it!