Currently not available- Explore or Relax on Beautiful Isla Caja de Muertos- only charters
3/23 The island itself is open, but according to their web page, this tour is not currently running. I don't believe DRNA has given any company permits to take visitors over. Private boats still go. I think there are a few charter boats that will take you there…Waterland Adventures is one such charter.
Also, the Ponce Waterfront area was damaged by the earthquakes, so the boat now leaves from the marina in Salinas.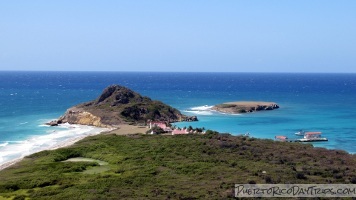 I had heard that Isla Caja de Muertos (or Coffin Island) was lovely, but I think it has been kept a secret just how fantastic it is! Visiting the island has been on my "to do" list for 6 years, but we never really made the effort to go.
We finally made it out there, and I can kick myself for waiting so long. It is a beautiful island and it is too nice to be missed, especially since it is an easy day trip.
The Island
Isla Caja de Muertos is an island located 8 miles off the coast, south of Ponce (which in turn is located on the south coast of Puerto Rico). It is a small island, just about 1½ miles long and about ½ mile wide at its widest point.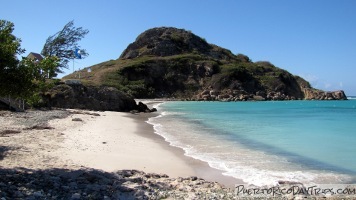 It is a nature reserve, with beautiful beaches, hiking trails, a light house and a cave.
In fact, one of the beaches on the island, Pelican Beach, sometimes has been designated as a Blue Flag Beach, which means that the ocean water quality is monitored, there are facilities (composting toilets) and paramedics/guards watching the beach.
The island also boasts hiking trails that lead to an old lighthouse, a cave, and a longer trail that goes to the other end of the island. There are some reefs off the north-eastern side of the island, but you need a boat to get to them. There are other beaches on the east side of the island, but they are roped off during turtle-nesting season. Besides, it looks like it may be too rough to swim on the east side due to sea conditions.
Getting There by Boat
Being an island, the only way to get there is via boat. The company that used to own and run the old ferry boat was call Island Ventures, now East Island has taken over, has a new, fast boat but has kept the name. Island Ventures has a boat that runs between Salinas and the island. They usually only make 1 trip per day — departing from Salinas Marina at 9:30am sharp and departing from the island at 3:30pm. The boat trip takes about 40 minutes.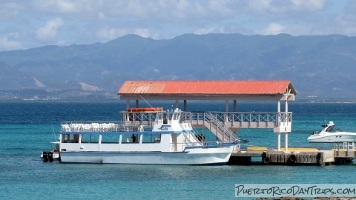 New-info: 1/16/18– East Island Excursions now runs the tours. They no longer allow you to bring beach chairs, umbrellas or coolers on the boat, but they have chairs, umbrellas, kayaks and SUP's for rent now also. And food/drinks are included in the trip.
Our Trip
We took the Island Ventures ferry on a windy Sunday in February and, though the seas were pretty high, the ride over was relatively smooth. Once we got close enough to see the color of the water, we knew that it would be a great day.
There were only about 40 people on the island that day, so there was plenty of room everywhere. We claimed a covered picnic pavilion (there are about 12 of them) and then went exploring.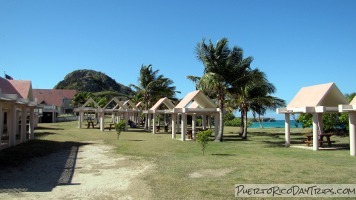 There is a great map of the island, and some informational signs placed throughout the park explaining the island, its history, and some of the flora that you will see.
We checked out Pelican Beach and then went for a walk on the trails. It is a dry island, so it has some trees, bushes, and lots of cactus. If you head out for a walk, bring at least a bottle of water per person — it is a hot walk.
The trail from the picnic pavilions to the lighthouse is just less than 1 mile, with an uphill hike to the lighthouse. The trails are packed dirt with limestone rocks sticking up everywhere, so make sure you wear sturdy, closed toe shoes.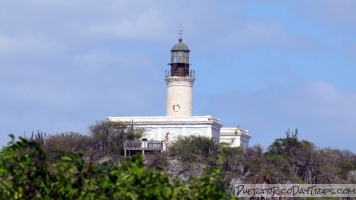 On the trail up to the lighthouse, you pass a small path, off to the left, that leads to a platform at the top of Almeida Cave. Legend has it the pirate Almeida hid his treasure in this cave. I didn't see any treasure. ☹
The lighthouse, built in 1887, is still in use today. You can't go inside the lighthouse, but there is a observation platform on the south side of the lighthouse that has fantastic views toward Pelican Beach.
After the lighthouse, we decided to continue on the trail to the north end of the island. That part of the trail was, also, just less than 1 mile. The trail just kinda ends — there's no pay off or no big thing to see. But you do pass Carrucho Point, which is a grave yard for conch shells.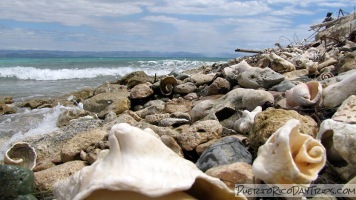 Once we got back to Pelican Beach, we ate our lunch at a picnic table and spent the rest of the afternoon relaxing. The water was calm and cool. Ray took about 200 pictures throughout the day — it was so beautiful.
We went in February, and it was not crowded. I am sure that it is a different story in the summertime — like in July, when I would expect crowds. This island is very popular with locals and the boating crowd.
Some Tips
There is no fresh water available on the island. That means no showers, no sinks to wash your hands, and no potable drinking water. That will be on the boat. You MUST bring EVERYTHING you need for the day — towels, shoes, hat, sunscreen etc.
If you plan to hike, wear shoes with sturdy soles to avoid the thorns and rocks. Water shoes may be helpful at the beach because there is a row of rocks at the shore that you have to walk on to enter the water.
Transportation Options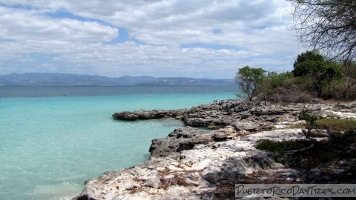 Info
Check website for current prices. Price includes boat transportation and cold cut lunch/salads/fruits and soft drinks/beer/water. No coolers allowed. Also, no beach chairs or umbrellas on board… they are available for rent on the island.
The boat runs on variable days- check their calendar for specific dates. Always on weekends (Fri/Sat/Sun) and holidays/holiday weeks during year. They may offer trips during the week. It departs from the Salinas Marina at 9:30 am and departs from Isla Caja de Muertos at 3:30pm, but you need to be on-board earlier. Reservations are required. You can do that online on their website . There may be the occasional trip at a later time.
Call 787-842-8546 (office) for more information (they take calls Monday to Saturday 9am-6pm) or to make a reservation. Or use their website for info and a calendar to see what dates are available and to make reservations .
Trips to Isla Caja de Muertos depart from Salinas waterfront park/marina. This area has bars and restaurants, and is popular year-round on the weekends.
Driving directions from the San Juan area: Take Route 52 south to exit onto RT 1 . Turn left onto PR-1 S, then take a left onto Ave Pedro Albizu Campos/PR-180, in about 1 mile, turn left onto Cll Colirubia, Continue onto Calle E, Turn left onto Cam De Playa/PR-701, Cam De Playa/PR-701 turns left and becomes Cll Chapin, Destination will be on the right. (check google maps for directions)
The drive from the San Juan area takes about 1 hour.
Click on a placename below to view the location on Google Maps ...
PuertoRicoDayTrips.com assumes no responsibility regarding your safety when participating in the activities described in this article. Please use common sense! If your mother or that little voice in your head tells you that you are about to do something stupid … then don't do it!