Get to Know Ponce with an Isla Caribe Tour
Ponce is a city that has a long history and some amazing architecture. It is a great place to visit, and there is a lot to see. But the city is really spread out. Going on a tour and having someone telling you where to go and explaining the cool things you are seeing is probably the best way to really get to know Ponce.
Isla Caribe is a small, locally-run tour company that offers a variety of tours of Ponce and the surrounding areas. We went on their "Ponce Walking Tour" and really feel we now have a better idea of Ponce.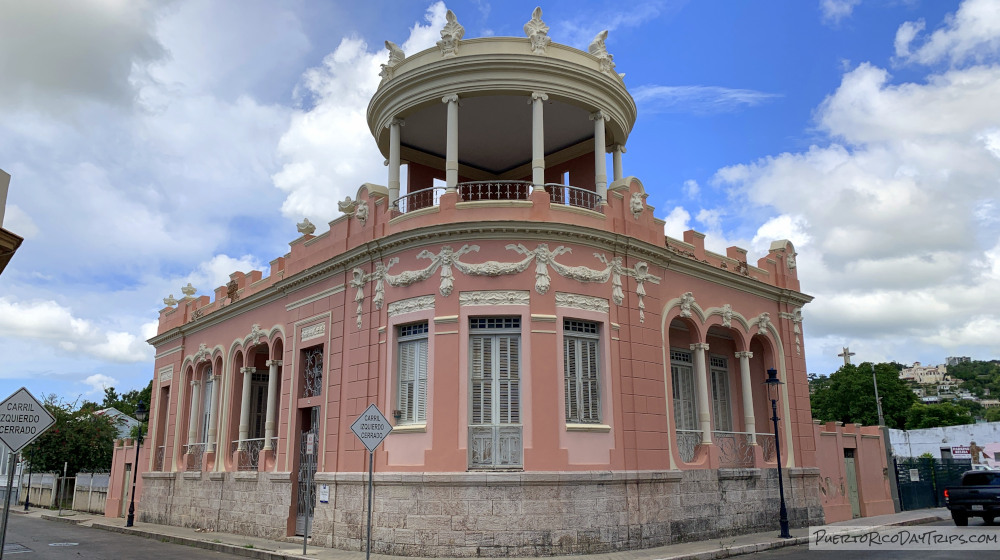 Ponce is located on Puerto Rico's southern coast, less than 90 minutes from San Juan via the highway. It was founded in 1692, and named after the Ponce de León family. It grew into a rich city during the sugarcane era, and there are many historic buildings with beautiful architecture from that time. Over the years, as economies and things change, some modern buildings replaced some of the older ones. Today, there is an eclectic mix of old and new, but still so much history to been enjoyed.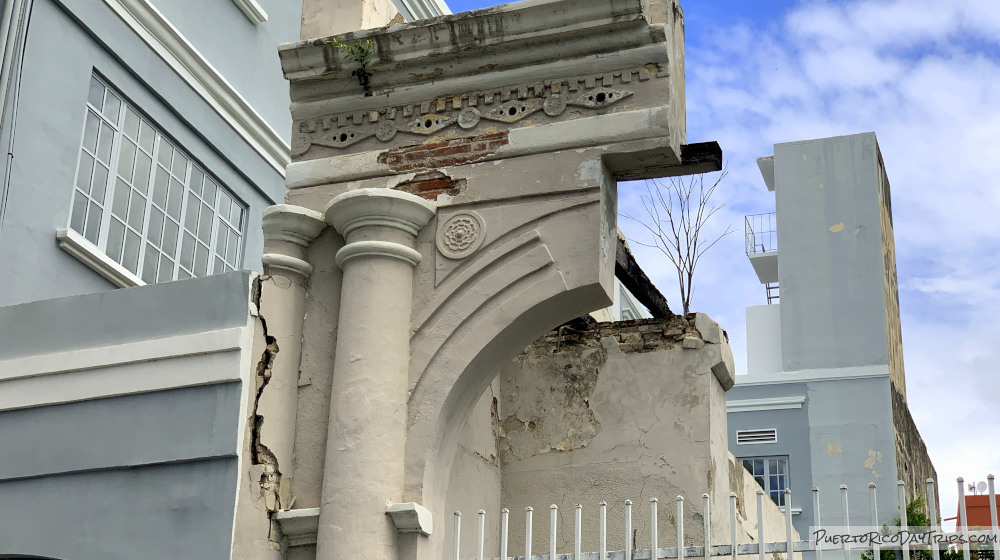 Mother Nature has not been so kind to Ponce over the years, between fires, earthquakes, and hurricanes. In 2017 Hurricane Maria did considerable damage to the area, and most recently (beginning in December 2019) the earthquakes in the southern part of the island damaged a lot a buildings and attractions.
I was interested to see how Ponce was recovering, and we decided the best way to see the town was with a guide. Isla Caribe had just restarted their 2-hour in-person walking tours of Ponce, so we decided to check it out.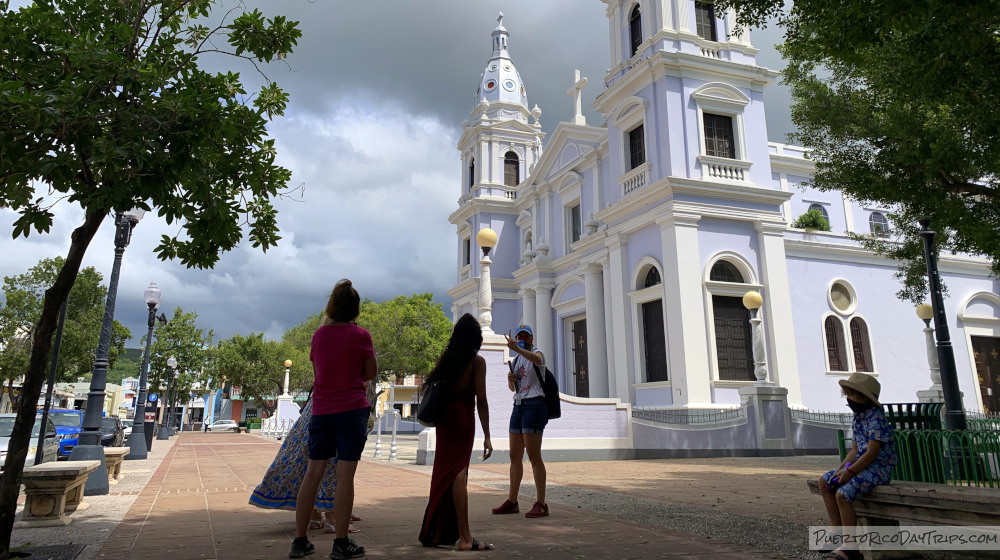 Our Tour
We met our guide Melina and the other people on our tour at the meeting point, just off the main plaza. Melina started with a short explanation of the necessary COVID-19 safety precautions the company requires, and then we set off. It is a walking tour, but it is not a forced march. We stopped often at the sites along the way, where Melina told us all sorts of facts and fun tidbits about Ponce and the things we are seeing, including historical information and current status. She even had old photos of the place/building in its heyday, which was interesting to see.
We made our way around the Plaza Las Delicias, which is always lovely, but with a local guide, like our local Poncenero Melina, we were able to appreciate some local customs and history that made the plaza come to life. She told us about the famous Danza musicians that are honored with statues in the square, and played some of the music for us. As a guide, Melina was happy, enthusiastic, really prepared, and she knew her stuff.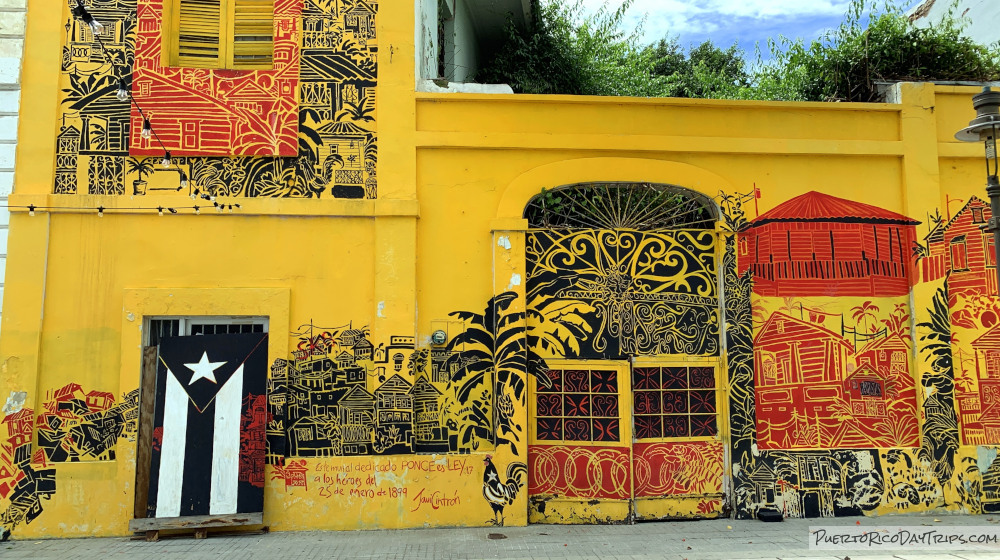 We walked down "Lovers' Lane" and walked around to see and learn about some of the murals that are painted all around the area. I am big on murals/urban art, and having someone who knew the meaning behind the artwork was really interesting. The other people in our group asked about some murals they had seen during their stay in Ponce, but didn't understand. These were the "Mural para Pensar" (Murals for Thought). These murals are a commentary of the things happening in Puerto Rico. Melina told us all about them, which really cleared things up. Isla Caribe offers a walking tours of just the murals if that is what you are interested in.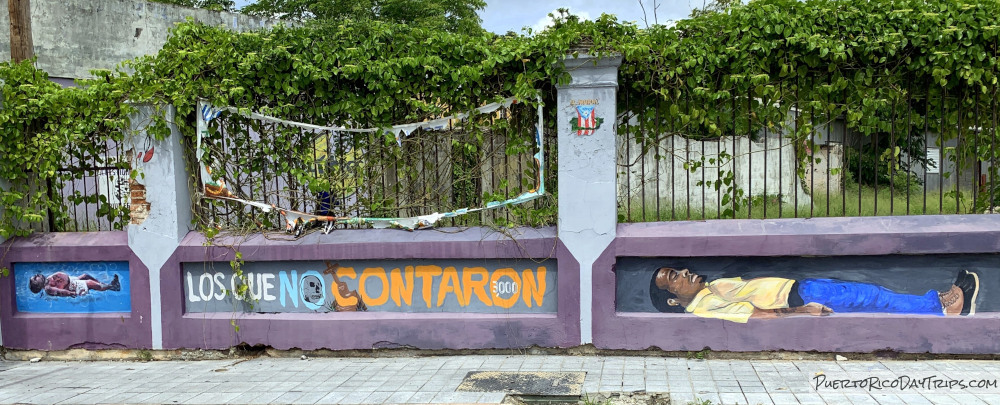 We walked back toward the plaza, passing other historic buildings. The architecture is really amazing, elaborate historic buildings, next to Art Deco design, next to old, little wooden homes, next to modern designs. Really neat to see. Along the way, we also saw earthquake damaged buildings, and we discussed current economy and issues facing Ponce. No question was off limits — Melina discussed the good and the bad.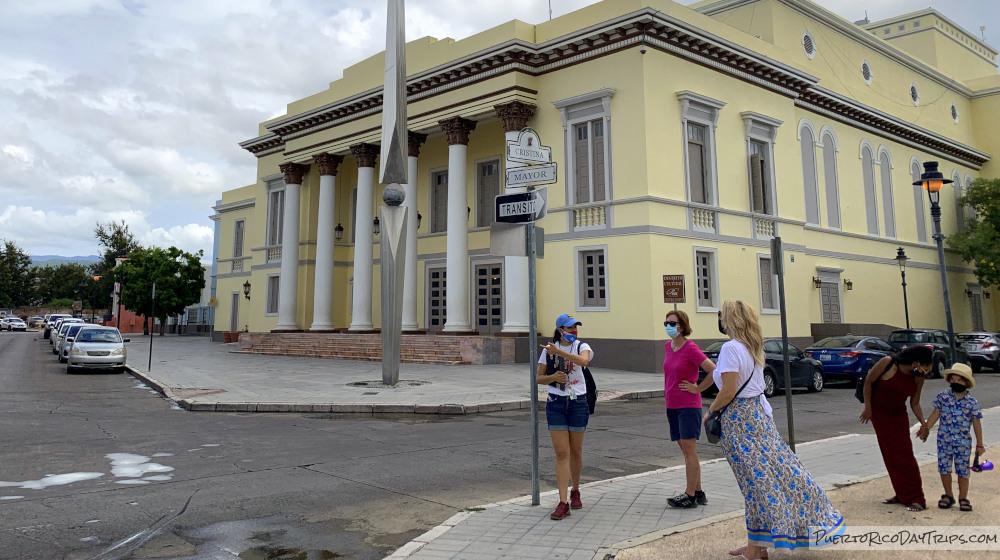 We ended the tour at the Ponce Firehouse, where she talked about it and other things, like the Lions and why they are now the symbol of Ponce. At the end of the tour, Melina was available to answer more questions and help us figure out how to get to other attractions we wanted to see — like where the other murals were, best way to get to 25 de Enero Street, and hours of operations of museums in the area. All in all, she was super helpful guide.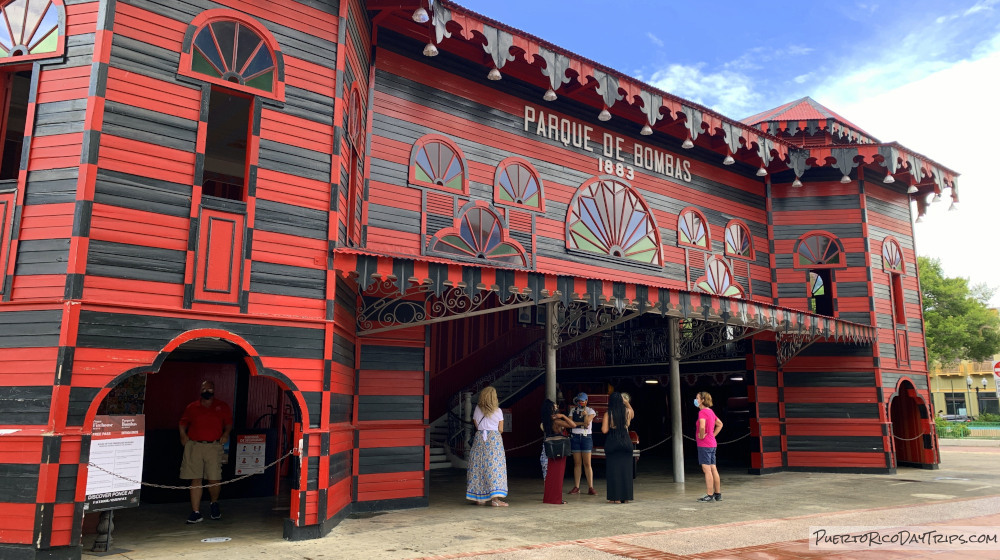 Thoughts
Like I said, Ponce is a large area, so many of the thins to see are spread out. We don't get down that way too often, so we never could figure out the layout or feel comfortable knowing our way around the town. We just always felt lost and didn't "get it". Going around with a guide really helped us in that regard.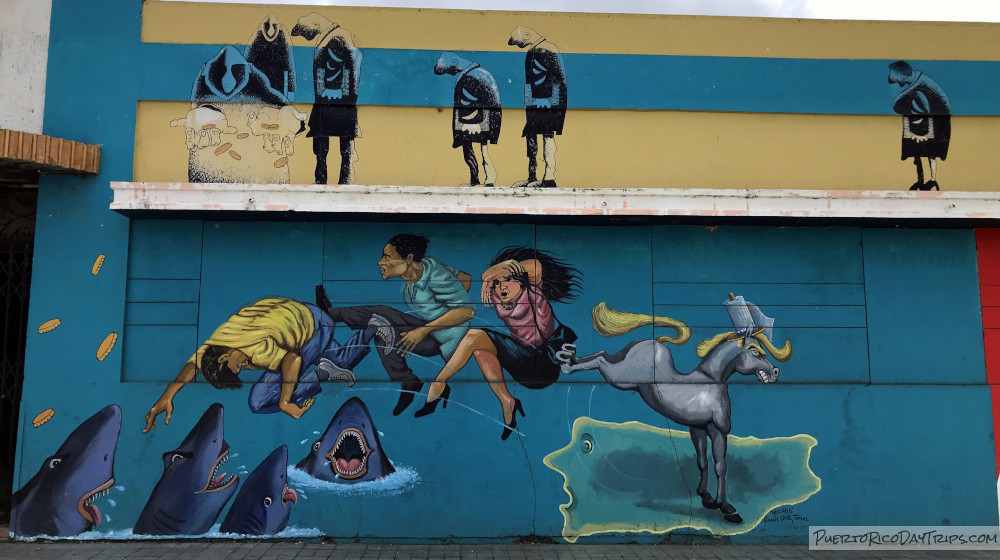 After the damage from the earthquakes and the COVID-19 lockdowns, we really want to encourage people to check out Ponce, buy some souvenirs, and do a tour with small local businesses like Isla Caribe. Even people who think they know about Ponce will learn a lot going on a tour.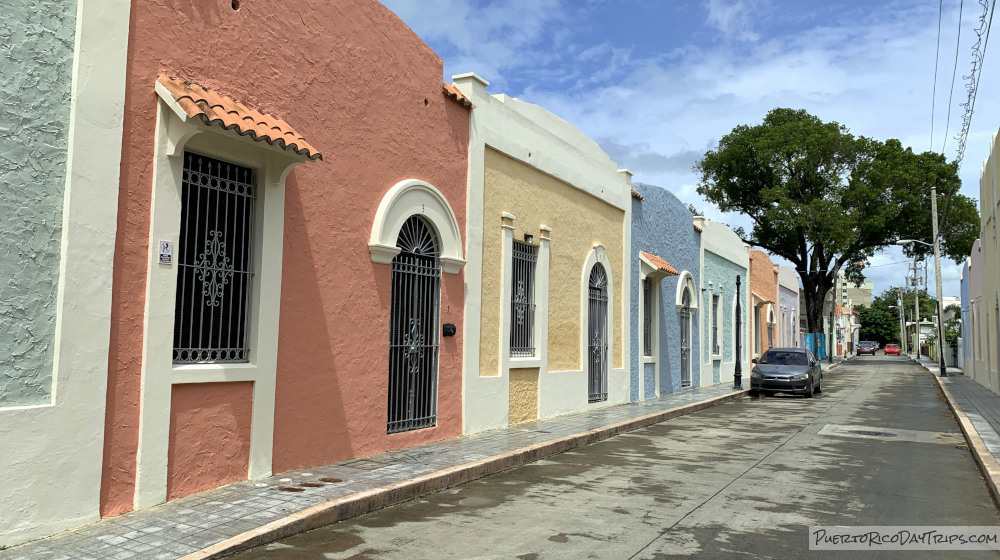 Even with the earthquake damage, I don't think I have ever seen Ponce looking so good — buildings were freshly painted and things are being cleaned up. The murals were pretty additions to an already pretty area.
Isla Caribe offers a number of different tours (such as Ponce Coffee Experience, Ponce Music, Ponce Art, and Fire Experience) both live walking tours and virtual tours of Ponce and the surrounding areas. Due to COVID-19, they are offering a variety of Virtual tours. Check their web site and Facebook page for tour descriptions. The price is super reasonable and well worth it!
Normally, when we review an activity that is not free to the public, we pay the admission price out of our own pockets. However, we just want you to know that the folks at Isla Caribe were kind enough to offer us this trip for free. While we don't feel that this free ride influenced our review one way or the other, we felt that we should tell you, just as a matter of fact.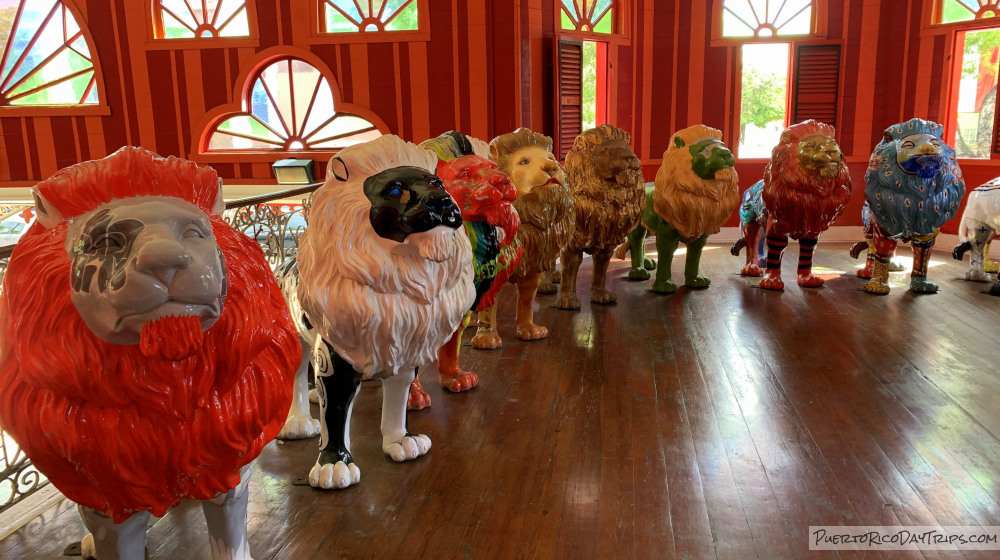 Details
The cost of the walking tour that we took is $20 for Adults, $10 for Children (ages 6-12), plus tax. Kids under 5 are free.
Tours are available at 10:30am Monday to Saturday, and 11am on Sunday. Tours are offered in Spanish or English. Let then know your language preference with you make your reservation.
This is an outdoor tour, so wear comfortable clothing and shoes. A hat, sunglasses, and sunscreen are all good to have, too. Walking distance is less than a mile. It is an easy walk with no hills.
The walking tour lasts 2 hours, but you'll want to allot extra time before and after your tour to check out the city on your own.
You can call Isla Caribe at 939.265.5691 for more information or to make a reservation.
You can visit the Isla Caribe web site for more information or to make a reservation.
You can visit the Isla Caribe Facebook page for more information.
The meeting point for the tours is at Utopía Café, just to the north of Plaza Las Delicias. Your tour guide will be wearing an "Isla Caribe" t-shirt and PONCE cap.
Ponce is less than 90 minutes from the San Juan are via Route 52. You can park in the Isabel Segunda parking deck near the corner of Calle Isabel-Muñoz Rivera and Calle León (it is inexpensive and safe).
Click on a placename below to view the location on Google Maps ...
PuertoRicoDayTrips.com assumes no responsibility regarding your safety when participating in the activities described in this article. Please use common sense! If your mother or that little voice in your head tells you that you are about to do something stupid … then don't do it!