Passing some time in the Botanical Garden / Jardin Botanico San Juan UPR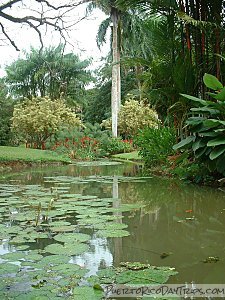 The National Botanical Garden of Puerto Rico is a big name for a lovely green oasis in the middle of a city. Locally, it is known as "el Jardin Botanico". The garden (Jardin Botanico SUR) is affiliated with the University of Puerto Rico (UPR), and it is open to the public free of charge. When you get to the garden, you need to tell the guard that you want to walk around the garden. He will point you to a parking area on the left. There are large maps posted around the garden. To make your planning easier, we've posted a map of the garden on our site, too.
When we entered the garden, we were greeted by the squawks of dozens of wild parrots that were playing in the tree tops. It helped drown out the din of the city, so you immediately feel you have left it all far behind.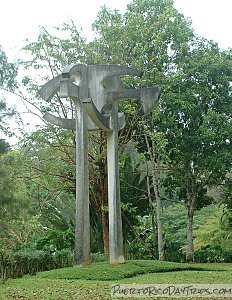 2023 I do have to say that the garden is a bit messy/overgrown, it really does need a lot of work to get it in top form. Volunteers have been woking on it, so it should look better soon! But even with the overgrowth, if you look hard enough, you can find some really neat and unusual plants here and beauty. But if you are going to explore, wear shoes that can get dirty, since some of the paths can be muddy.
As we strolled around the garden, we were impressed by the mature trees all around, and the huge variety of palm trees. These form cool shady areas where all sorts of tropical plants and flowers grow. The Jardin de las Heliconias has blooming heliconias, gingers and bananas, along with loads of other things. There is a little waterway between the 2 sides of this garden area. The waterway opens up to be a little lake (the Monet Garden), where ducks, egrets and turtles can be seen. There are benches set up around for your enjoyment. If you get there in the morning, you will see the beautiful water lillies blooming.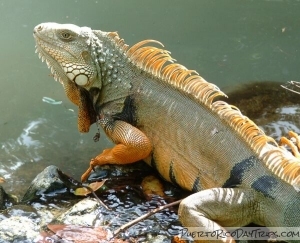 Up in the upper part of the garden, they have the orchid area (just a couple), bromilead garden, a sculpture garden and another pond. We have seen large iguanas sunny themselves in the pond area. They don't seem too afraid of people, so we were able to get pretty close to them – to get a good look.
We easily spend a couple hours strolling around this garden, just enjoying the sights and sounds. Although the garden is not a well-groomed display garden, and there aren't many plant labels, we find it a nice way to spend a few hours relaxing, and enjoying nature and sculptures. We hunt for seeds and rare fruit too!
style="clear:both">
Admission and parking are free! They sometimes offer guided tours – Call for reservations for tours 787-474-0403
The garden is open from 7:00am to 4:00pm, 7 days a week. Closed New Years Day, Jan. 6th (3 Kings Day), Good Friday, Election Day, Thanksgiving and Christmas day.
Check their Facebook page for current events and info.
Allow 1.5 hours.
For info, call M-F 7:00am a 4pm (787) 474-0402, or the guardhouse during open hours (787) 250-0000, ext. 4463.
Hidden off the south side of the intersections of Highway 1 and Road 847 in Rio Piedras. Look for the signs for "Jardin Botanico".
Click on a placename below to view the location on Google Maps ...
PuertoRicoDayTrips.com assumes no responsibility regarding your safety when participating in the activities described in this article. Please use common sense! If your mother or that little voice in your head tells you that you are about to do something stupid … then don't do it!