Joyuda – A Seafood Paradise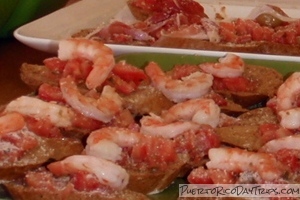 When people come to Puerto Rico, they are often bummed to find that fresh seafood is not all that readily available. It really is kind of shocking, being that we're on an island surround by vast oceans.
Of course, you can always find the occasional seafood restaurant or two, or a place that offers a few seafood dishes. But fresh-caught seafood is not readily available here. Many times, the seafood you find at restaurants is frozen, not fresh.
But there is one area in Puerto Rico that should be known as the seafood heaven — the seaside community of Joyuda, in Cabo Rojo.
All up and down Route 102 in the Joyuda area, you can find loads of restaurants that specialize in seafood. Most are nice, sit-down places, but some are more of a bar atmosphere. Much to our surprise, there are only a few road-side kiosks for finger food, and those are open mainly on weekends.
Some places are waterfront, while others only have a view of the road. The street is thin, so finding a place with parking is a bonus. Weekends get really busy for lunch and dinner — it's on the west coast, so it's a great place to have dinner at sunset. Fewer places are open during the week, but there are still plenty to choose from.
We went on a Tuesday afternoon for a late lunch, and we had our choice of places. We picked El Bohio Restaurant because it was waterfront, with a great view of Isla Ratones, and it has a parking lot. The food was all delicious, the seafood was fresh, and when we were done, we got to feed the giant tarpon right over the railing from ocean-side table on the deck.
You can visit Google maps for restaurants in the area.
Click on a placename below to view the location on Google Maps ...
PuertoRicoDayTrips.com assumes no responsibility regarding your safety when participating in the activities described in this article. Please use common sense! If your mother or that little voice in your head tells you that you are about to do something stupid … then don't do it!