Take a Sailing Cruise on the Katarina
Katarina is sailing again! Make plans to join them on a sail!
Sailing is such a relaxing experience. It is quiet and breezy, and it gives you a different view of places. Katarina Sail Charters is the only sailboat tour that goes out of the Rincón area. They offer a couple tours per day, allowing you to get out on the water and experience Rincón from the ocean side. See where the winds take you … to great views of the lighthouse and beyond, maybe to check out the surfers and the large swells, watching for whales and other marine animals, to great snorkel spots, or just hanging around to relax and watch the beautiful show the sun displays as it sets for the evening.
Katarina Sail Charters is located in at the Black Eagle Marina in Rincón, on the west coast of Puerto Rico (about 2.5 hours from San Juan). This town has a laid-back surfer vibe, and this sailing trip is an extension of that. It is all inclusive, so you can just step aboard, relax, and let someone bring you a drink or a snack as you enjoy being out on the water.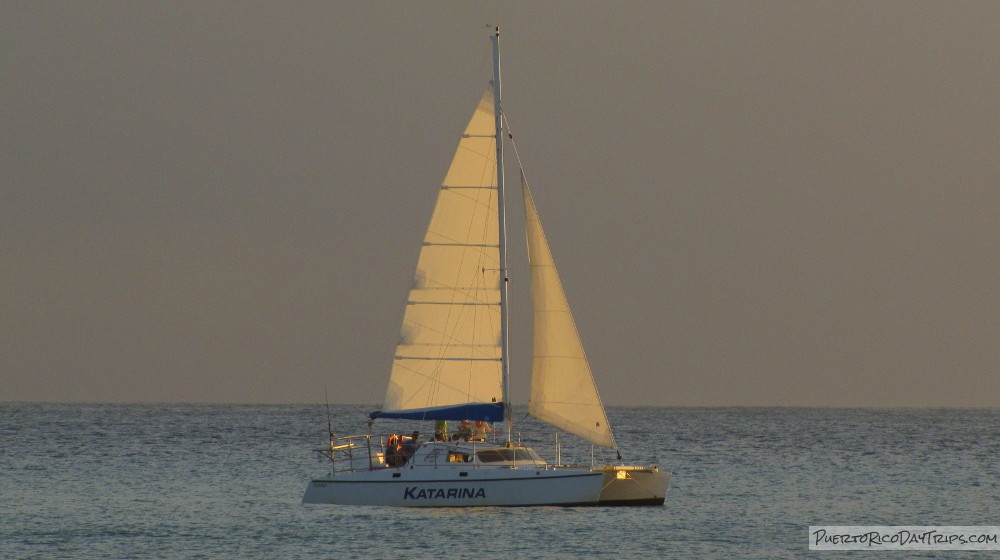 Our Trip
Katarina Sail Charters offers a morning snorkel sail, and an afternoon sunset sail. We opted for the morning snorkel sail. The meeting place for these tours is at the benches on the beach at the Black Eagle Marina (really just a parking lot and boat ramp). You can see the sailboat anchored out in the cove. It is a catamaran, so it is very stable. They have a small skiff that they use to ferry you between the beach and sailboat. It requires a large step up to get into, but they crew helps you if needed.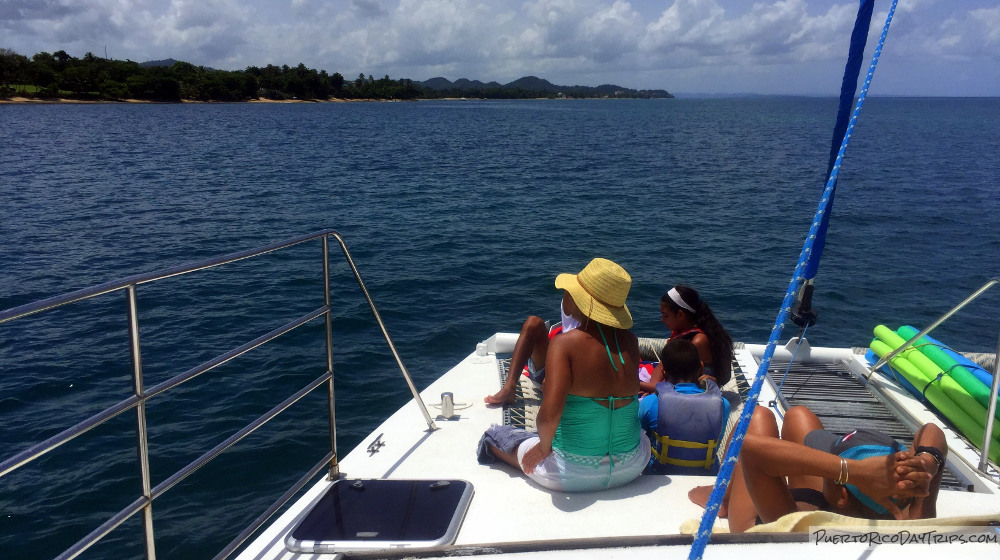 The sailboat is nice-sized and has plenty of places to sit, stand, lay down, and just gnerally get comfortable. You can move about the boat all the time that you're on the water, so you get the best views, and can tan or stay out of the sun if you want.The Captain and crew were great. They coming around with a plate with a variety of fresh cut fruits, and offered juices, soda, and other drinks. All along the way, they told us about the sights we were seeing, and about all sorts of interesting things — life in Rincón, the sailing company, surf conditions, and different animals in the area. Don't forget that whales come through in the winter!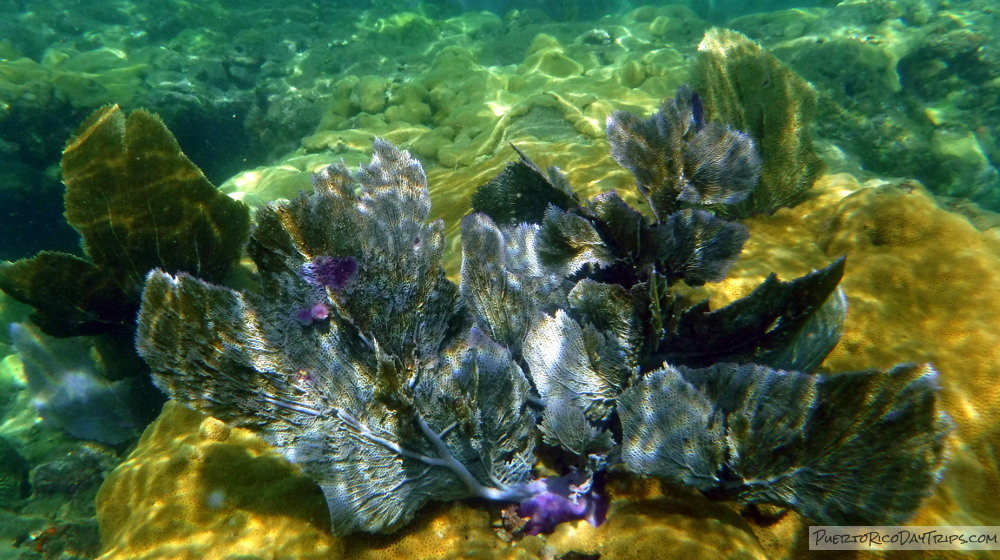 After about an hour of sailing, we headed to the snorkel spot. The Tres Palmas Marine reserve has good snorkeling, so that was our destination. Due to the protected nature of the marine reserve, they can't just drop anchor anywhere they want, so we anchored just outside of the reserve. We jumped in and quickly found some nice stag horn corals, and beautiful purple and yellow sea fans. There were a number of fish around too, all different types. They supply the snorel gear needed , and they also have life vests and pool noodles if you want or need to use those. If you are new to snorkeling, they will give you some basic instruction. You are only in water about 6-8 feet deep at the boat, and you can swim closer to shore if you wanted. We snorkeled all over!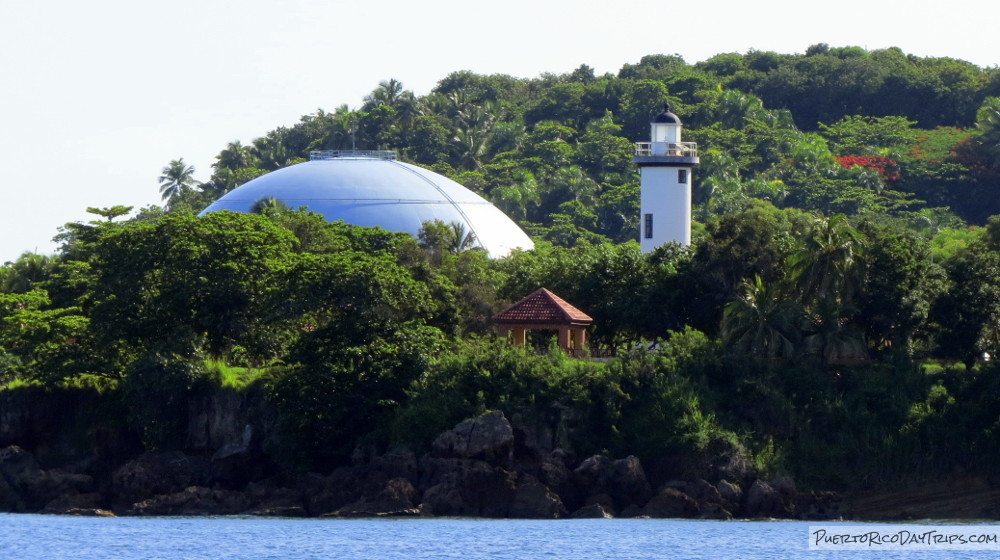 After snorkeling, we got back on the boat and lunch we were offered lunch. It was a homemade chicken pasta salad, and a green salad. For beverages, they had rum punch (very tasty!), beer or pina coladas, water, juice, or soda. During this time, you could jump back in to snorkel some more, or just swim and enjoy the water, until the captain gave his last call and we had to set off back to the marina.
Other Things to Know
Though we didn't do it, Katarina Sail Charters also offers a shorter sunset cruise, where you sail and/or motor around, see the sights, and catch the sunset. So beautiful and relaxing! That cruise generally departs around 4pm or 5pm. They supply snacks, hors d'oeuvres, and drinks (soda, juice, piña colada, rum punch, and local beer).
They take the sailboat out of the water during low (hurricane) season. During this time, they may be able to offer tours using their smaller boat. Check their web page for information about these options and to book!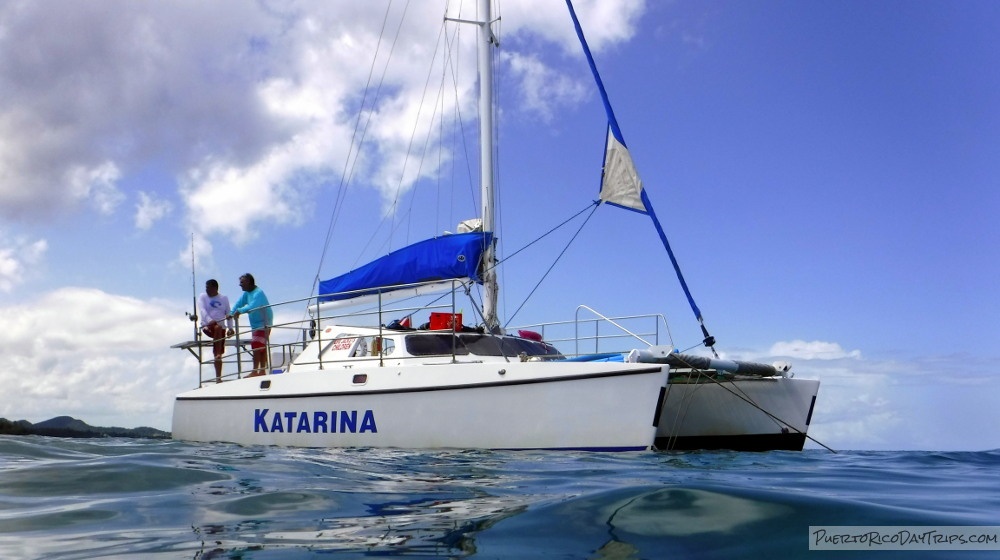 Normally, when we review an activity that is not free to the public, we pay the admission price out of our own pockets. However, we just want you to know that the folks at Katarina Sail Charters were kind enough to offer us this trip for free. While we don't feel that this free ride influenced our review one way or the other, we felt that we should tell you, just as a matter of fact.


Details
The price of the Snorkel Sail that we took is $85 for adults, and $42.50 for kids.
If you're happy, let them know it — Don't forget to tip your your bartender, tour guide or trip operator if you enjoyed yourself. Gratuities are appreciated and typically aren't included in the price they charge you.
They run these tours 7 days per week, in season. The Morning Snorkel Sail departs usually around 9:30am. Plan on arriving about 30 minutes early to do paperwork, etc.
The catamaran holds a maximum group of 18 people, plus 2 crew members. It has a large area that is shaded, and lots of open air areas to sit or lay down and sun bathe. There is also a marine head (toilet) on the boat if needed.
We went in the summer, so the sea was very calm. But it can get rough in the winter (that's when the big-time surfing occurs). Even with the stable catamaran and the captain trying to get to the best spot, big waves make can make it rough going … so take Dramamine or something if you're prone to sea-sickness.
Allow about 4 hours, start to finish, for this tour.
You can call Katarina Sail Charters at 787-823-7245, or send them an email sailrinconpr@gmail.com, for more information.
You can visit the Katarina Sail Charters Facebook page or Katarina Sail Charters web site for more information or to book a tour.
Click on a placename below to view the location on Google Maps ...
PuertoRicoDayTrips.com assumes no responsibility regarding your safety when participating in the activities described in this article. Please use common sense! If your mother or that little voice in your head tells you that you are about to do something stupid … then don't do it!