Kids Can Enjoy Old San Juan, Too!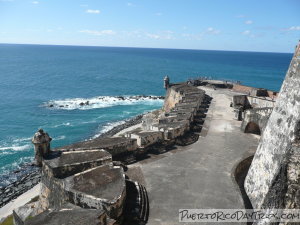 So you are coming to Puerto Rico with children. Will there be enough to keep them occupied? Sure! I have found Puerto Rico to be very family oriented. Children are welcome almost everywhere.
One place that has some activities that both adults and kids of all ages can enjoy is Old San Juan. Whether you are here on a cruise, or visiting for the day or two, everyone will find something to do.
Getting around town is easy, just take your time and walk around town. The area is safe, and there are ample Police around to keep it that way and to help you with directions, etc. It will be hot in Old San Juan, so drink plenty of water and wear a hat and sunscreen.
Here is a list of things that children might enjoy. Check for ages or restrictions on these activities.
Explore the Two Huge Forts in Old San Juan
San Felipe del Morro – El Morro is a six-level fortress built to protect the city from sea invaders. Parts of the Fort are over 400 years old, and the massive walls are almost 300 years old. El Morro has all sorts of neat areas to explore: the barracks, kitchen, latrine, chapel, storage, all connected with ramps and stairways. Plenty of open spaces to run around and even a piece of bomb still stuck in the wall. All sorts of cool things to see and do. There is a small military museum, and gift ship on the premises.
The fort is a National Historic Site administered by the US National Park Service.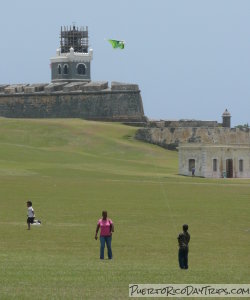 Castillo de San Cristobal – San Cristobal Fort was built in 1634 and completed in 1771. It was built to protect the city from land-based invasions. This fort is actually a number of different units connected by tunnels, each unit being self-sufficient in the event that another part is invaded. This fort has a wonderful dungeon that you can visit and see the doodling that prisoners made on the walls. It also has a museum showing the Spanish military uniforms.
Both forts are World Heritage Sites, and National Historic Sites, and are administered by the US National Park Service. The forts are open to the public daily (except Thanksgiving, Christmas and New Years Day) 9:00 am to 6:00 pm . There is a $10 admission fee for both El Morro and San Cristobal forts, for people 16 years old and up. Kids less than 16 years old are free! Phone 787-729-6777 for more info.
For some good wholesome old fashion fun, how about flying a kite? There is always a nice breeze (wind) up on the North shore and since El Morro has a large open yard it makes a perfect spot to Fly kites. Either bring your own, or there is usually a vendor on the street nearby selling the cheap plastic kites and string. I have also found many kites on the west side of the yard, where they must have gotten lose from someone, so see if you can find one and reuse it. They can get really high! Lots of fun.
While you are up in the El Morro area, there is a neat fountain that sprays up from the ground. Located in the Plaza del Quinto Centenario (the plaza has a sculpture of a Totem pole), kids of all ages play in the fountains to cool off.
Free (or Almost Free) Things To Do
One thing that kids usually enjoy (though many adults think it gross!) is feeding the pigeons. At the end of Calle Cristo, you'll find Parque de las Palomas (Pigeon Park). Open Tuesday – Sunday during th day. Here you will be able to feed hundreds of pigeons that live in this park. Someone is usually there selling birdseed.
There is a small playground, with swings and a slide and jungle gym to the westernmost part of OSJ. Right behind the Casa Rosado. And a new playground and garden right along the Paseo de la Princesa.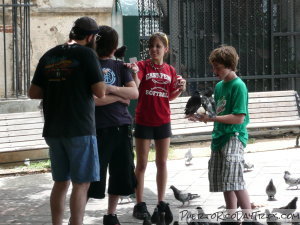 On the weekends, the Old City becomes more alive with locals and tourists alike. The Tourism department hosts some nice family friendly activities. These events are held near La Casita and across from the Visitor's Information Center, in the Plaza Darsena, right on the San Juan Bay:
On Sunday, during the day, there are usually family-oriented activities going on along La Paseo Princesa.
Every kid I know loves to go to the beach. Unfortunately, there are no beaches right in the Old San Juan tourist district. The closest beach is Balneario Escambron, which is a short taxi ride away. The beaches of the Condado and Isla Verde are a little further. The beaches in Carolina, Balneario Carolina, are further still, but a good choice if you want to go to the beach just before, or just after, going to the SJU airport.
Not-So-Free Things To Do
For the more space-aged kids, there is a Old San Juan Segway tour available. This super fun transportation device looks like something out of a science fiction movie. Very easy to learn and ride. There are 2 tours available – 45 minutes or 2 hours. The 2 hour tour includes an admission and a guided tour of El Morro. It requires some balancing ability and the machines need a minimum weight of 90 pounds. If your child weighs less, they may be able to ride with a guide walking along beside them.
For the explorers, you can always do a walking tour of the town. You can do a self-guided walking tour, or a guided one. There are even day time and night-time guided walking tours available. You can explore the many little streets and alleys, walk along the edge of the wall, run along pedestrian walkways – Old San Juan is pretty and full of fun things to find.
Museums Aren't Just for Adults
If you're looking to entertain both the young and older members of your family, I highly recommend the Museo de las Americas (Museum of the Americas). This museum houses a number of exhibits with artifacts and samples of the arts and crafts pertaining to the daily life of indigenous peoples of the Americas. Things like clothes, tools, musical instruments, toys, religious objects, etc. There is a room dedicated to Santos (Saints) de Puerto Rico and another on The African Heritage. Also featured is a wonderful exhibit on the Indians in the Americas. Information on all of the displays is provided in both English and Spanish.
Admission to the museum is $6.00 per adult, $4 for kids under 12 years and seniors..
Open Wednesday-Friday 9am-4pm, Saturday and Sunday 11:00am t0 4:00pm, (closed 12-1pm for lunch).
Call 787-724-5052 for more info.
Located on the second floor of the El Cuartel Ballaja, which is just across from El Morro.
We All Scream For Ice Cream
One other thing I know kids love are treats. You don't have to walk too far to find something to try. There are many local treats available in Old San Juan. Around the streets, you will see people selling piraguas, or "shave ice". They will have a cart with a huge block of ice that they shave by hand. Then you get to pick from all sorts of flavored syrups.
From time to time, you will hear the bell of the local ice cream man. These guys walk around with their yellow icebox carts. They have 3 flavors of local ice cream. This ice cream is lighter than most ice creams – like a cross between ice cream and sherbet. And of course, there are a few Popsicle (paleta) stores featuring home made flavors- check out Mr Paleta at 153 Calle de Tetuan and Los Paleteros at 366 Calle San Francisco.
For another local frozen treat, try a limber. These are like an ice-pop without the stick – you scrape the ice with your teeth. There is a lady who lives across from the La Rogativa statue that makes and sells these. Look for a small window with a sign that says Limbers and stop in and get one. For 75¢, you will get a plastic cup of sweet, fruit-flavored ice. They are very refreshing on a hot day.
Local candies are also available. You can typically find a candy seller among the craft vendors. There are usually a few people selling different types of goodies. Lots of coconut and nuts (and sugar).
OK, But What About Outside of Old San Juan?
Puerto Rico is a kid and family-friendly island. For more ideas of things to do with kids, take a look at our list of kid-friendly attractions throughout the island.
Click on a placename below to view the location on Google Maps ...
PuertoRicoDayTrips.com assumes no responsibility regarding your safety when participating in the activities described in this article. Please use common sense! If your mother or that little voice in your head tells you that you are about to do something stupid … then don't do it!