Grab a Fritura & Experience Delicious Local Food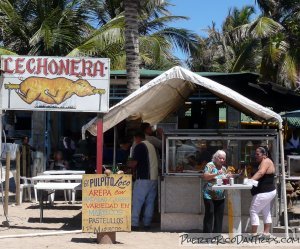 OK, with all this day-tripping around, you will eventually get hungry! And in your travels you'll see countless people cooking fried food or frituras by the side of the road, at the beaches, and in little kioskos or kiosks. The food certainly smells good. But it looks a little funny. It's all fried. And you have no idea what it is based on the names. But the food stands are all crowded, so it must be good. Right?
The local food is tasty, even if it's not the best thing for you. Well we're going to try to explain some of the local food that you will find at a typical kiosk or road-side stand. That way, when your stomach is growling, you'll be able to choose a local delicacy with confidence.
Don't Judge a Book by it's Cover
First off, don't let first impressions fool you. Some of these places look terrible, with their peeling paint, dilapidated buildings or just a tent on the side of the road, and using an old metal drum as a fryer. But the food you get at them will be fresh and tasty. I have been told the actual "building" kiosks are regulated by the Department of Health – but I have my doubts. (9/14- they are actually cracking down on some of these places, some close, some fix up, but still new ones just pop up!). I don't even begin to believe the roadside tents and BBQ's are regulated by anyone! However, tons of people have eaten at these places everyday for years, and I don't hear of people getting sick or outbreaks of anything. So why not give it s shot and just experience it!
Forget Your Diet
Second, leave your diets at home. You will not find anything healthy to eat at these places. Puerto Rican food consists of lots of starches (carbohydrates), they are heavy on the salt , and, at these kiosks most of the food is fried (sometimes in lard!). And, there is not a green vegetable in sight! It is all bad for you, so forget your diet and go for it!
Most of tthe places will have a handful of ready-to-go things sitting over the heat or under a light bulb to keep them warm. If you can get a freshly fried or grilled item, it will be better, but even the ones that are sitting out taste good. These are very casual places – you point at what you want and you get in handed to you in a napkin. If you get it to go, they will just plop it in a paper bag. I like to believe it is healthier this way – both the napkin and the bag will help soak up some of the grease! Sometimes they will wrap your food in foil to keep it warm.
I'll Take One of Those
To help you know what you want (to point at), here is a list of the usual goodies you will find at a kiosk, the beach, or at a road-side stand.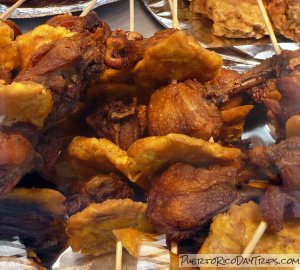 Pinchos – These are usually described as a shish-kabob, so they will look a little familiar to you. Many people just set up a BBQ grill (sometimes right outside their house!) and cook these. They are marinated meat on a stick, usually made with chicken or pork. They usually will come with a piece of bread or maybe tostones on the stick along with the meat.
Pastelillos or Empanadillas – Sometimes called pastellos – these are my favorite. These are the turnover-looking things that are actually filled, deep-fried pies. They can be filled with a variety of things, such as ground beef, chicken, "pizza" or, if you are lucky, lobster, crab, conch, or octopus. Sometimes, the beef/chicken/pizza types are store-bought and contain less filling. If you find a place that sells the seafood ones, these are typically homemade and full of really good stuff.
Tostones are a green plantain, flattened and fried. They are usually salted with Adobo or served with a mayo-ketcup sauce (I would tell you the recipe, but it is a secret!).
Bacalaitos or Bacalao are the large flat round things. They are a deep-fried mixture of salt-cod fish and batter.
Surullitos are the golden fried finger-shaped things. They are made from cornmeal.
Arepas are flour and butter balls, flattened and fried until they puff up, like little dough pancakes. Sometimes they are sweetened with coconut.
Alcapurrias are mashed yautia (a root veggie, like a potato) and green plantains, with some ground meat stuffing inside and then fried. These are larger hotdog-shaped things.
Relleno de papa is a fried ball of mashed potato with ground meat inside. I think that this one needs something to jazz it up a bit. I find it kind of bland.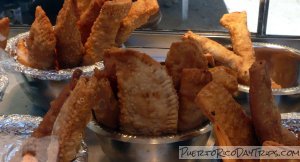 Piononos are a sweet plantain filled with seasoned meat, then fried. It has both sweet and salty flavors at the same time.
Mofongo is the larger, ball-shaped thing. It is made of mashed fried green plantains. I like it made from yucca (another root vegetable) better than the plantain variety. Sometimes they are filled, in which case its called mofongo relleno.
Chicharron is fried pork skin. I tried it once, it is not bad, but it is just not something I eat.
Some towns or areas have their own "special" frituras. For example, the town of Humacao has Granos, which is made from rice and it has a tiny piece of cheese in it, and then fried. Or Canovanas has their Macabeo, which is similar to an alcapurria, but made only with plantain that is half mashed, half shredded, then put around the meat filling and fried. So ask for the local specialty!
Ask if they they have a garlic sauce – con ajo. If so, get that on your tostones or mofongo to make it extra yummy!
Something Cold to go with That?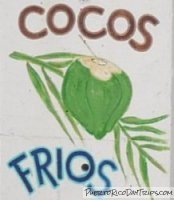 Pina Colada, a traditional local drink, is a mixture of cream of coconut and pineapple juice, typically blended with ice to make a sweet, slushy drink. You find these with or without rum or con o sin ron.
Coco Frio is the water from a cold, green coconut. They will take a green coconut, cut it open and stick a straw in it. It usually costs about $2. Don't expect the sweet shredded coconut flavor. This is water of the unripe fruit. It has a slightly salty, just mildly coconut, flavor.
Medalla Light is a popular, local Puerto Rican beer. It is a light beer, and it is only 10 ounces – so it is light on both counts!
OK. But What's in it?
Here are some words that will help you figure out exactly what's inside that fried thing you're thinking of ordering.
carne – meat, usually pork, but could be beef. If it matters to you then ask!
pollo – chicken
pulpo – octopus
jueyes – land crab
camarone – shrimp
queso – cheese
caracola – conch
langosta – lobster
The prices are usually only $1.50 to $3.00 each for these items. Pick a few of what looks good, get them to go with a local beer or pina colada, then walk to the beach and enjoy.
I can't tell you exactly which kiosk to stop at (though we like the ones along Road 187 in Pinones for home made seafood frituras). There are always some around the beaches, and there are a large number to choose from at Luquillo Beach. For the best ones, go to the ones where there the locals are eating (the busy ones). That will be the best tasting food!
Click on a placename below to view the location on Google Maps ...
PuertoRicoDayTrips.com assumes no responsibility regarding your safety when participating in the activities described in this article. Please use common sense! If your mother or that little voice in your head tells you that you are about to do something stupid … then don't do it!