Holiday Season Family Fun at La Feria – The Park
La Feria will NOT open for the 2021-2022 season due to COVID-19 restrictions.
Do you know someone who loves amusement parks or carnivals? Then La Feria – The Park will be right up their alley. This annual carnival runs from early December to mid-January each year.
The 2019/2020 edition of La Feria – The Park starts on 29 November 2019, and closes in 6th January 2020.
While it's not the largest amusement park some people may have been to, it is the largest one in the Caribbean. So, for us, it is HUGE FUN! This family-friendly fair is full of amusement park rides and games, food and refreshments, live music and shows, holiday light displays and even a petting zoo. There is something for all ages.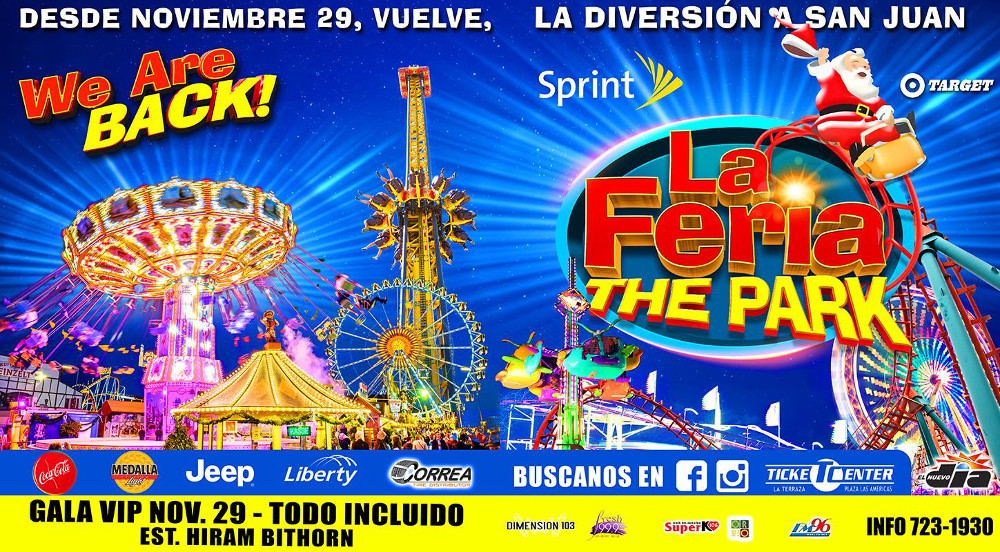 Our Evening at the Carnival
We went opening night (back in their 2010/2011 season). I really like seeing the lights and hearing the sounds of the fair. We went on a few rides, but as I get older, I seem to get dizzy more easily — and there were lots of rides that spin in circles really fast! But we still managed to go on some rides, eat some carnival food and meet some of the carnies. The rides (and most of the employees) are brought in from the States, so many of the workers spoke English.
The idea behind this park is that you pay one price to get in, and then you can go on the rides as many times as you want all night. There were lots of rides for the younger kids, and a decent amount of rides for older kids and adults.
They say for 2019/2020, the admission price now includes all of the rides/attractions. There are a number of adult rides that were included in the park pass, so you can enjoy the evening without paying extra.
Like any carnival, there were loads of games of chance that you could try to win a variety of stuffed animals and other prizes. They were a few bucks per play, but I saw a number of people walking around with some big prizes. And there were all sorts of other fun things to buy like temporary tattoos, T-shirts and jewelry.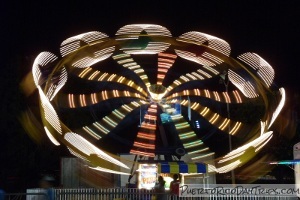 Not to be overlooked is my favorite part — the food. They had the usual fair fare like pizza, cotton candy, candy apples and popcorn. But there was also some more local stuff, like pinchos and empanadillas. There were some unusual things like deep-fried Twinkies, Oreos and Milky Way bars! Beer and mixed alcoholic drinks were also available.
Included in the price of admission are live music shows and a small circus show featuring acrobats. The live music stage was open-air, had a small dance floor and was standing only (no seats). The circus show was under a small tent and it had seating. On the night we went the live music started at 8pm and the acrobat show was at 9pm. They don't post show times anywhere (that we could find). But it would be great so people could better plan their time there.
Details
The admission prices for 2019/2020 :
Monday to Thursday: adults + kids 12 and up $22.42, kids (6-11 years) $17.94, kids 2-5 years and Seniors (65+)/Handicapped $10.76, Family (2 adults + 2 kids) $62.78. IVU and service charge are NOT included in price, so they are additional.
Friday to Sunday: adults +kids 12 yo and up- $24.22, kids (6-11 years) $20.63, kids 2-5 yo + Seniors (65+)/Handicapped $10.76, Family (2 adults + 2 kids) $71.75. IVU and service charge are NOT included in price.

You can get your tickets at the door, or ahead of time at Ticketpop.com.

Parking is about $5. This year, parking was close to the fair … to the left as you drove in from the road. Last year, we had to park to the far right, on the other side of the stadiums. Follow signs.
Prices include tax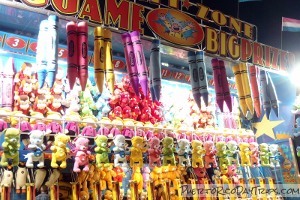 The carnival is open 7 days/week. Monday to Thursday from 6pm to 11pm. Friday from 6pm to 11:30pm. Saturday from 6pm to 12 midnight. Sunday from 6pm to 10:30pm. Call 787-723-1930
You can check for more info and events on Their Facebook page
If you want to leave the park and return later, get your hand stamped on the way out.
La Feria is located in Hiram Birthorn Stadium parking lot. The entrance is on Roosevelt Avenue (Route 23), across from Plaza Las Americas Mall.
Click on a placename below to view the location on Google Maps ...
PuertoRicoDayTrips.com assumes no responsibility regarding your safety when participating in the activities described in this article. Please use common sense! If your mother or that little voice in your head tells you that you are about to do something stupid … then don't do it!