Wet and Wild Fun at Las Cascadas Waterpark
5/14/22 The park is opening for the summer! They have COVID resrtictions in effect- check their webpage for specifics.
There are few thing more fun on a hot day then spending some time splashing around in a waterpark. We have visited a number of waterparks in the States, but had never been to any in Puerto Rico. Recently, we enjoyed a day at Las Cascadas Waterpark in Aguadilla.
Las Cascadas is not a huge park, but it has a little bit of something for all the members of your family to enjoy — pools, slides, lazy rivers, and a kiddie area. As it turned out, we planned the timing of our visit perfectly and we had a great time.
Las Cascadas Waterpark (or Parque Acuatico Las Cascadas in Spanish), is located in the town of Aguadilla, on the west coast of Puerto Rico. This park, along with a few other fun things in the town, are managed by the Municipality of Aguadilla.
I believe that this park's claim to fame is that it is the largest waterpark in the Caribbean. I don't know if that is still true, considering all the mega-resorts being built. However, it definately is the largest one in Puerto Rico.
Taking the Plunge
Though I always have fun at waterparks, I do have a germ phobia of them — you know, What water-borne diseases are in that water?, Will I end up with athletes foot … or worse? So unless I have a real reason to go, I generally don't.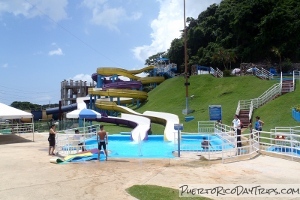 So, you may ask, what motivated me to push my phobias aside and take the plunge into germ-soup?
My sister-in-law was reading the Philadelphia Inquirer travel section one Sunday, and she said "Hey look at this … Las Cascadas Water Park in Puerto Rico is on this list of the Top 10 Waterparks in the World!". I almost fell off of my chair when I heard that!
We have driven past that park many times and were never impressed by its size or the slides that you can see from the road. So I figured I must have been missing something amazing. So off we went to check it out.
Our Visit
I can't say this park should be on any Top 10 list, but we did have fun. The park is not huge, but I guess when the ocean is always close by, waterparks don't have to be that big!
Of course, we timed our visit perfectly (mid-week in August, after the kids were back in school). So we lucked out with having only maybe 50 people in the whole park (including the workers). We didn't have to wait on any lines, so we got to try everything and re-do the things we really liked. I know most of you will not be so lucky when you go, so expect lines and lots of people (everyone loves waterparks when it is hot!).
When we went (August 2011), there were 4 tube slides where you ride on a mat through the twisty-turny route. Face-first is really fast; sitting up makes it a bit slower. We did these a few times.
There were 2 "speed slides" — the ones where you lay down on your back and slide feet-first really, fast and end up with an atomic wedgie. Fun, but once was enough for me!
There was a lazy river were you slowly float around a large circle in a tube.
There was a crazy river (Rio Loco), which was a faster tube ride. This one was my favorite.
There was the wave pool, that had a small kiddie area (even with a few slides) for the little ones. And another " diversion" pool, that had some obstacle-course activities you could try.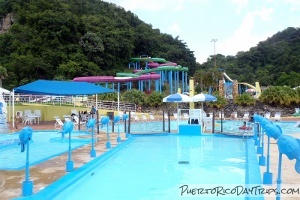 Since they assume that you will be there for a while, there are food and snack stands, some chairs and tables around the park, and of course music playing. They have lockers for rent for the day that were really convenient. And plenty of life guards and workers keeping the place running safely and efficiently.
Surprisingly, we really enjoyed our visit. But, with long lines it could lose some of the appeal. It is a good way to spend time if the ocean is too rough for swimming, or you want some waterslide fun.
There are minimum height restrictions on some of the rides. For example, kids under 48" can't use the adult slides.
One gripe we have has to do with their schedule. When we were there, they had this huge sign that said "Open All Year Saturday and Sunday 10am to 5pm". We asked one of the office employees about that, and they said "That's not true". The park is usually open just on weekends from mid-April to mid-May, and then again from mid-August to mid-September. The park is then supposed to be open every day when the local kids are out of school, so that means from mid-May to mid-August. In the end, the park employees could not give us an exact schedule for when they'd be open, so you never know. If you're planning to make the trip to Las Cascadas, call first just to make sure they will be open. I can't emphasize that enough!
Details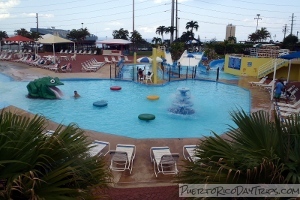 You can buy your tickets online or at the door. Check their page for current prices (roughly $23 per adult). There are discounts for Aguadilla residents, senior citizens, and children. Prices do not include IVU (sales tax). Locker rentals are $9/day. There is also a Parking fee. Info:The las Cascadas webpage or the Facebook page.
Check their webpage for operating hours on the day you want to go, just to make sure they're going to be open. Usually 9am-5pm. Open during the summer 5-6 days a week (closed Tuesdays) usually starting end of May until early/mid August, shoulder months (May and late Aug/Sept) they are open weekends only.Closed Fall-Spring
Kids in diapers are not allowed in the pools.
Wear water shoes — the steps up to some of the slides were slippery and hot.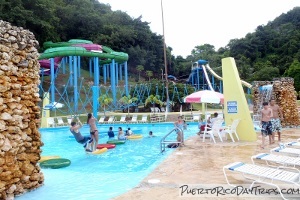 Allow yourself at least 4 hours at this park, and more time during busy times due to long lines.
You can call Las Cascadas at 787-819-5558 or e-mail info@lascascadaswaterpark.com for more information.
Driving directions from San Juan — Take Route 22 west until it ends on Route 2. Continue on Route 2 KM 126.5 in Aguadilla. Las Cascadas is on the left side of the highway.
Allow about 2 hours to from San Juan to Aguadilla.
Click on a placename below to view the location on Google Maps ...
PuertoRicoDayTrips.com assumes no responsibility regarding your safety when participating in the activities described in this article. Please use common sense! If your mother or that little voice in your head tells you that you are about to do something stupid … then don't do it!