Las Delicias Falls – A Slice of Heaven
Every so often we find a spot that just makes us really happy. Las Delicias Falls was one of those spots. We both said that it looks like something out of a tropical movie set. So pretty and perfect that it doesn't look real. The best part is that it is real, and it is actually easy to access.
Las Delicias Falls is in the the Bosque Estatal de Tres Picachos, in the town of Ciales, which is in the center of the island. Located 1½ hours from San Juan, or 1 hour from Ponce, it makes for a nice stop as you drive on one of the pretty meandering roads that cross through the center of Puerto Rico.
It is really kind of in the middle of no where, making it an oasis of beauty. You can see the falls from the road … you really just have to stop and check them out.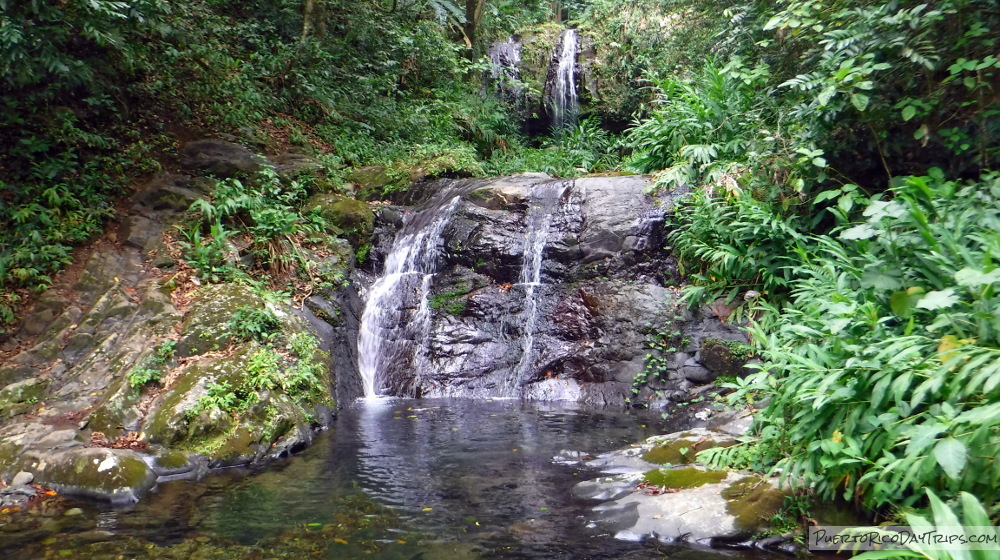 Once you get there, you park on the side of the road. You will see concrete steps leading from the road to the first waterfall in the river. There is a little pool here to sit in and enjoy. The water here is colder than most, and crystal clear.
To get to the main waterfall, you will need to do a little scrambling over a few rocks. And that's where you'll fall in love! The water cascades down a curved rock wall, covered in moss and plants. It looks, sounds, and feels cool and refreshing!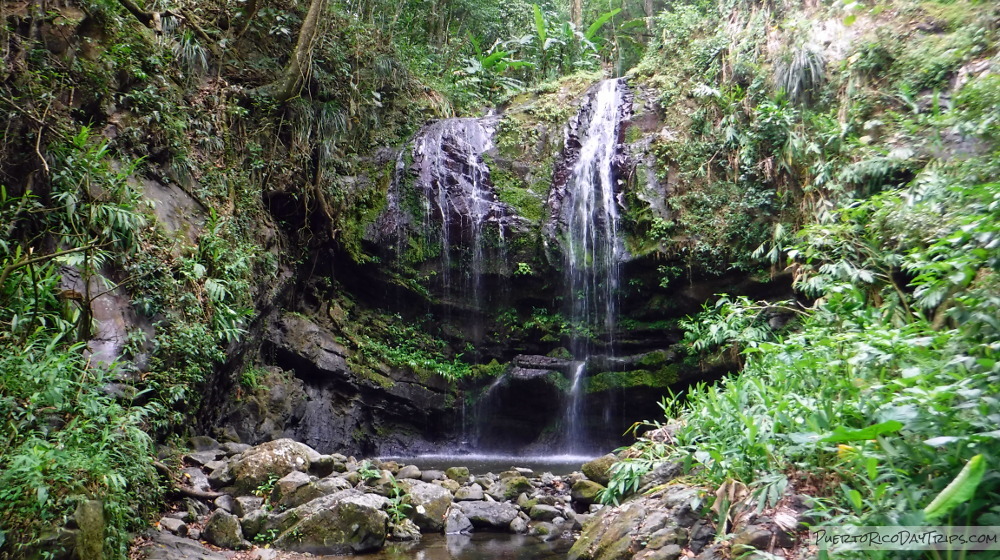 Details
Road 149 is a twisty-turning road. So if someone in your party is prone to motion sickness, this might not be for you. The road is thin in parts, and in disrepair in other parts, so it can be a bit of an adventurous journey.
It may not be worth the trip to visit just this waterfall, but you can couple this spot with some other site seeing in the area.
There are no facilities, nor trash cans, at this waterfall. So be prepared to pack-out any trash you might make.
Parking is on the side of the road. Be careful that you don't park in a muddy area where you might get stuck. There is parking for about 3 or 4 cars right at the falls.
This waterfall is off of Route 149, which runs from Route 22 on the north side of the island, all the way down to Route 52 on the south side of the island. So the driving directions start with getting onto Route 149 and driving toward the town of Ciales in the center of the island (north or south, depending on where you're starting from). Continue on Route 149 to KM 34.6, where you'll turn onto Road 533. Take Road 533 west to KM 2.5 (about a 4-minute drive) and you'll see the falls just off the road, at a curve in the road.
You can plan on the drive taking about 1½ hours from San Juan, or about 1 hour from Ponce.
Click on a placename below to view the location on Google Maps ...
PuertoRicoDayTrips.com assumes no responsibility regarding your safety when participating in the activities described in this article. Please use common sense! If your mother or that little voice in your head tells you that you are about to do something stupid … then don't do it!