Las Paylas or Las Pailas – A Natural Water Slide in Luquillo
Las Paylas area is accessible and open. The original Las Pailas parking /entrance house is closed on Thursdays. But neighbors offer a similar entrance. So just look for where people are going in/parked and enter there and pay them..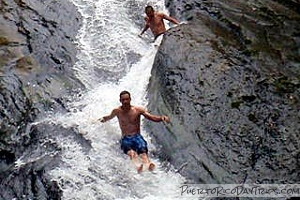 Being a rain forest, there are plenty of rivers that come down from El Yunque. Over many years, the rushing waters have made some of these river rocks into natural playgrounds, complete with pools and water slides. There is a place in Luquillo called Las Paylas (or Las Pailas) were the rocks in this river are really smooth and make for some really fun slides.
Geting an Orientation
The Las Paylas water slides (or chorreras, in Spanish) are very popular with the locals. This area is beautiful to look at. It's a fun place to picnic and spend some time watching the people slide, or just to play in the water pools.
We went one afternoon during a holiday in the spring, and the place was pretty busy. I imagine, in the summer and especially on weekends in July, the place must be a mad-house full of people! But we purposefully went when we knew there would be some locals there to show us where to go and how to do it.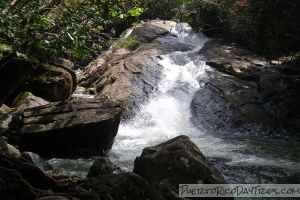 I really recommend asking first, since there are recommended spots to get into the slides — which you won't know unless you ask or watch for a while. The local kids are usually more than happy to show you the course. As expected, the kids (especially the young boys) will show off, doing all sorts of crazy sliding moves.
I was looking for basic, how-to tips. My main concern with natural water slides is how smooth they actually are — is my butt going to meet some rough rocks? I asked some teen girls and they assured me it was smooth, and gave me some pointers. OK — I was game.
There are two slide areas here. The bigger, faster one, and the smaller, slower one. I decided to try the slower one first!
The Lower & Slower Slide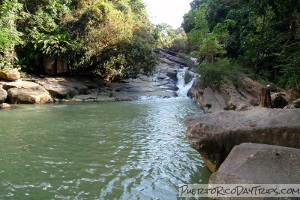 The slower slide is downstream (to the right) from where the trail meets the river. This does require a walk down the rocks. The locals go barefoot (and I bet it provides better traction), but I wore Crocs and Ray had water shoes. Footware with some traction is helpful.
This lower slide is about 12-15 feet long, and a straight course into the pool. It starts right after a pretty little waterfall cavern. I sat in this pool and enjoyed the water. It was chilly (or refreshing as we like to say!).
There were some local kids there and one of them showed me where to get into this slide, and he did it to show me how. Then it was my turn.
It was really smooth (thankfully!) and not too fast. The pool at the bottom was deep (about 8-10 feet) and the rocks were a bit slippery for getting out. But I enjoyed the ride enough to decide that I would try the faster, larger one.
The Upper & Faster Slide
The faster slide is upstream (to the left) of where the trail meets the river. For this one, you have to climb up the large rocks to the starting point. This slide is about 30 feet long and has some twists and turns. The girls told me to try to keep my arms in close to my body, so that I wouldn't hit my elbows on the sides. They also suggested to try to remain upright. What they didn't mention is that keeping my arms in would not help me balance through the twists and turns! But I was game, and off I went.
I was less than graceful, but I made it! It was fast and the turns do twist you around a bit. The pool at the end is also deep, but easier to get out of than the lower pool. I did end up getting a small scrape on my elbow, but it was fun!
If you watch the kids, many of them do run their hands along the walls as the go down for stability. Some of the kids do really crazy stuff — head first, standing up, a train — all kinda scary looking but fun to watch.
Details
There is no charge, per se, at the river. However, for easy access you can pay $5 to park and $1 per person to walk down some guy's trail to the river. The sign on his gate says open 8am -5pm, though someone said he opens at like 10am. He is closed Thursdays, but neighbors with access are open. I hear he now offers a bathroom and a little store for some basics.
The area had some trash from people's picnics, but it wasn't too dirty. Please try to keep the place clean — collect your trash and take it back home to throw away.
You are responsible for your own safety. Be cautious — these are slippery rocks, so you need to be careful when walking around on them. Also, never go into the rivers during a rain (flash floods happen often) and even take care a day or two after a heavy rain, since the current can be too strong to be safe. People have been hurt while playing in this river/water slide area. Respect nature and be safe.
Driving directions from San Juan: Take Route 3 until you get to the Sabana exit (it is the second exit for Road 992 you come to traveling east on Route 3). There is a sign just before the exit, but none right at the exit. It is the exit after Playa Azul corner. Take Road 992 and then make a left onto Road 991. Continue until you see a sign for Sabana and turn right onto Road 983. Follow Road 983 for a while. You will see a house with a chain link fence around the yard and the words Las Paylas on a sign and mailbox and "Finca Privada" sign on the fence. This is what you're looking for. He has 2 gated areas for parking in his yard. There is a path down to the river at this house. You can pull in and park in this lot ($5 per car) or you can park along the road and walk into this property and pay $1,00 per person to use the path. The owner's name is Carlos Concepcion. He said he is there almost every day. He told me that even if he is not home, you can come in and use his path (his dogs seemed tame) and if you see him later, you can pay him then. Nice guy. He does not want people going down with BBQ's or lots of stuff. The trail down to the river is not too long (150 ft maybe), but it is steep in spots, and it can be muddy, so not suitable for everyone.
Click on a placename below to view the location on Google Maps ...
PuertoRicoDayTrips.com assumes no responsibility regarding your safety when participating in the activities described in this article. Please use common sense! If your mother or that little voice in your head tells you that you are about to do something stupid … then don't do it!