Check Out La Lucía Sugar Mill Ruins
5/22 – The area is cleaned up but the parking area is closed off now, and you can no longer get real close to get pictures. I heard you can arrange something with the town (tourism office maybe) to get gate opened for your visit.
The sugar industry had hundreds of years of prosperity in Puerto Rico. But, now that era is over, all that is left as a reminder of the "sugar heyday" are a few empty structures and chimneys that dot empty fields throughout the island. Some of these are quite pretty, such as the ruins of La Lucía Sugar Mill (Hacienda Ingenio Azucarera La Lucía) in Yabucoa, along the eastern coast of Puerto Rico.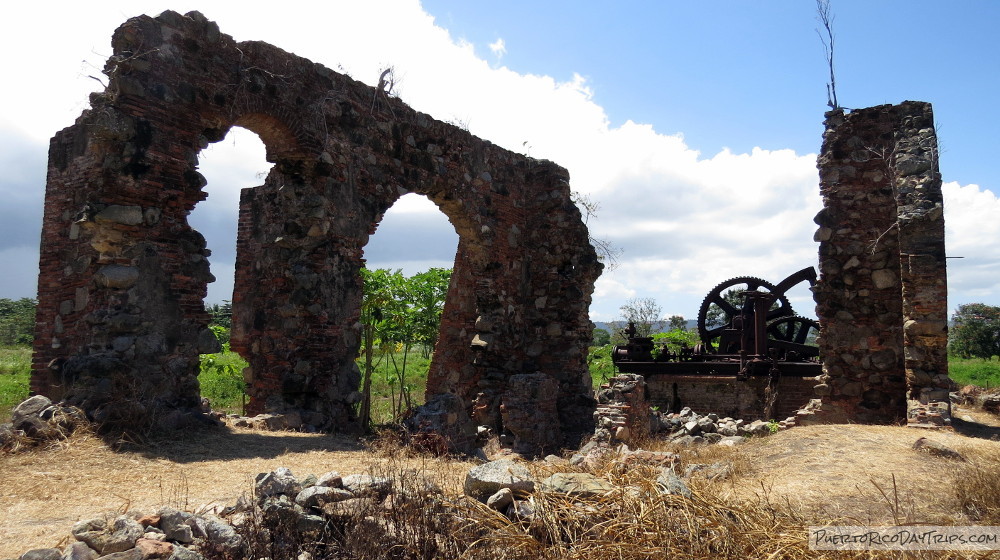 Some History
Sugar cane was brought to Puerto Rico in 1515, and many plantations (or haciendas) were developed for the cultivation of this important cash crop. Sugar production is a hard and laborious endeavor, requiring lots of man-power (historically slaves) to cut the cane, and then animals or wind/water mills to crush the cane to extract the juice, which then had to processed down to the desired end-product (molasses or sugar crystals).
Yabucoa, on the eastern coast of Puerto Rico, was a major site of sugar production for hundreds of years. The last sugar mill in Yabucoa was closed in 2000. The town is known as the Sugar Town and the area of the island is known as the Valley of Sugar. It had a number of sugar mills and plantations during the sugar era. Hacienda La Lucía was one of these sugar plantations. It was originally established in 1852 to grow and process sugar cane.
In time, the owners of the plantation realized that, with the need to increase sugar production, and with the abolition of slavery, the processing of sugar cane needed to change. In 1883, they modernized the system. They constructed a steam-powered mill, and imported a state of the art steam engine from W & A McOnie of Glasgow, Scotland. With this machine, area plantations would send their sugar cane crop here to be processed.
With this new system, production increased, and this mill and Yabucoa grew and prospered. But time and economy changes things, and this mill closed sometime in the 1930-40s.
The ruins of La Hacienda La Lucía have been added to the US National Register of Historic Places.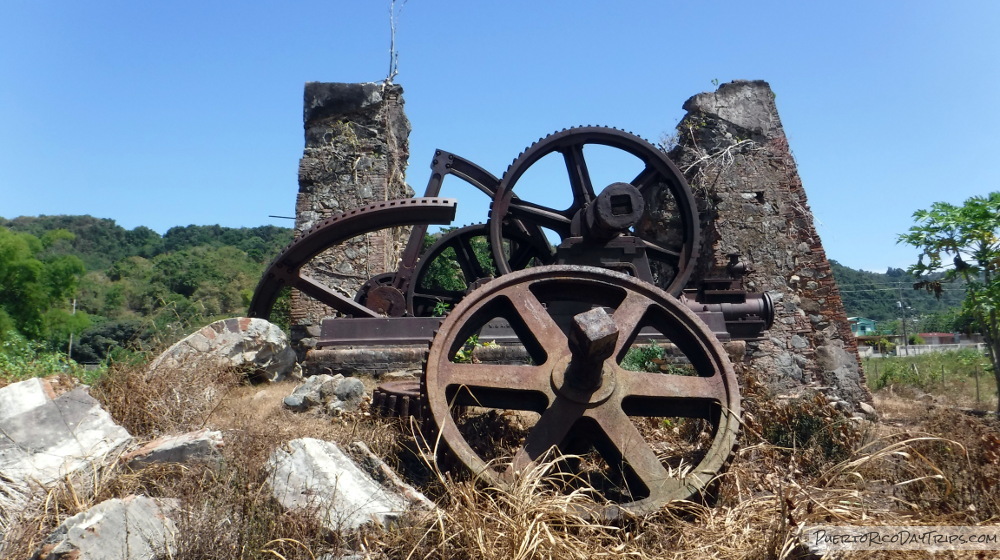 Our Visit
All that remains today of this once glorious sugar mill are ruins. The mechanical pieces — really cool gears, a steam turbine and piston, along with a bit of stone walls, and steam tunnels — stand on land that is used for grazing cattle. The town has constructed a white fence around the site (and barbed wire) to keep the cattle out. But you can walk around in this fenced area. We found some of the best photos were taken from the back of the structure.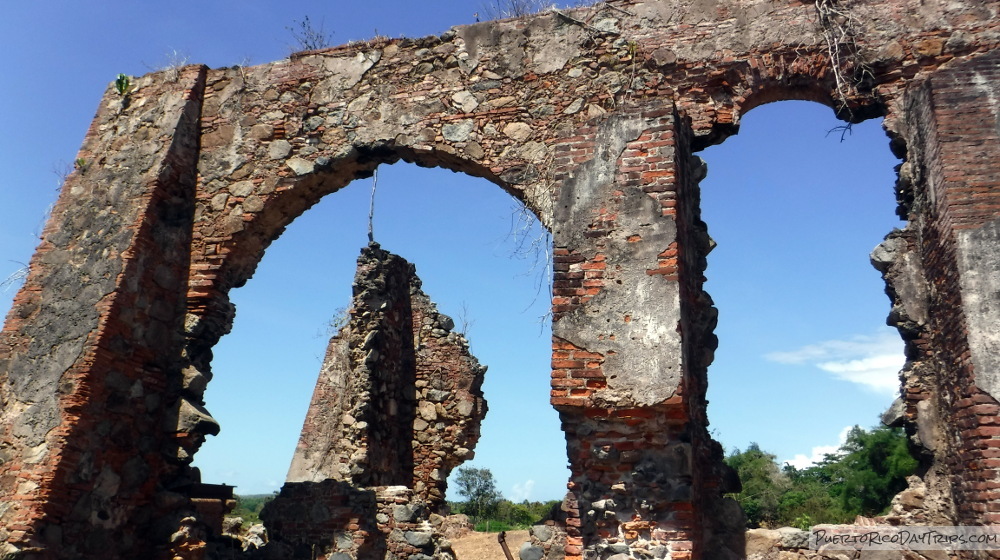 Details
There is not cost to visit the ruins.
Allow 15-30 minutes to walk around the ruins and take some photos. This is really just a quick-stop if you're in the area.
Assuming that you're taking Route 53 south from the Humacao area … Take Route 53 to the end, then turn right Road 9914, and then a left onto Road 901, and another left to stay on Road 901. After just a few minutes on Road 901, you will see the ruins of the machinery used at La Lucia Sugar Mill on your left, behind a white fence.
Click on a placename below to view the location on Google Maps ...
PuertoRicoDayTrips.com assumes no responsibility regarding your safety when participating in the activities described in this article. Please use common sense! If your mother or that little voice in your head tells you that you are about to do something stupid … then don't do it!