Currently closed- (Parque Ciencias) Luis A. Ferre Science Park: An Eclectic Collection
3/23 Park is Still Closed, however, they say ot will reopen at the end of 2023, administered by a private company- The owners of Toro Verde!. So expect some new and exciting things!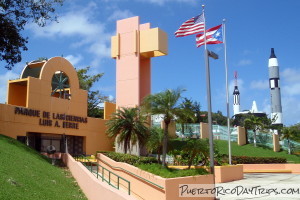 I had read a number of things about the Luis A. Ferré Science Park (Parque de las Ciencias Luís A. Ferré in Spanish) on-line and in magazines. I had driven past it numerous times, each time thinking "I really should stop in there and check it out". Well, we finally took the time the other day (in 2009!) to spend some time at the "park".
Being into science, I figured that this museum would be interesting and something that I would enjoy. As it turns out, it is a complex of "museums" about all sorts of things — but not really science!
Into the Park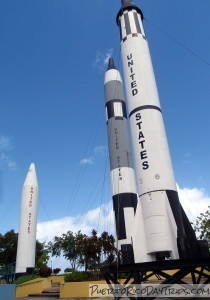 When we went in 2009, they did point out that a number of exhibits were closed for renovation. So, unfortunately, we missed some of the exhibits I would have liked to see. Starting January 2016, they are reopened and refurbished! — the Planetarium, the Art Museum and the Aerospace Museum.
Our first stop was the Health Pavilion. This was the only place where the information was bi-lingual. There was a Dengue mosquito exhibit, but the rest of the displays were in sad disrepair.
Next, we went to the Telephone Museum. This was pretty cool — lots of original phones, telegraphs and switch boards.
Then onto the Marine Ecosystem Museum, which had a number of mounted fish and about 10 fake aquarium dioramas showing how pollution affects the marine animals.
Then to the Zoo, which was pretty sad — a few monkeys, a hippo, some featherless ostriches, a jaguar. All behind so many bars & fences that it was hard to see them.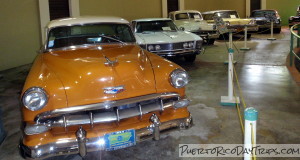 We walked up to the large cross and the Observation Tower. That was a difficult/steep climb! But there were some good views (but mostly of the towns).
Then on to some museums that I guess you must have to be Puerto Rican to understand. One was all about Pacheco (a local comedian) and another was Toritos City (I am still wondering what this one was all about!).
There is also a Transportation Museum — mainly antique cars. Probably 50 different cars starting from 1918 or so. Also, an old train locomotive, old bicycle, gas pumps and a small airplane.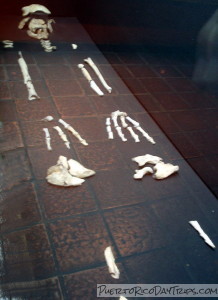 The Archaeology Museum has a large collection of Taíno Indian tools & pottery.
The Museum of Natural Science is Dr Ventura Barnes' collection of mounted animals from many of his African safaris during the 1960's. Probably close to 100 animal heads looking at you, along with many African souvenirs. Even furniture made from elephants tusks and feet. I thought it would have been more educational and PC to have some information how this is really frowned upon now, that we should be protecting these animals, and about saving endangered species.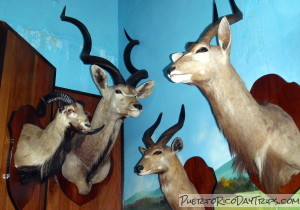 Outside of the Aerospace Museum they have a couple rockets, an Army helicopter and an Air Force fighter jet. I believe they are authentic US rockets that were used in the space program. What I don't understand is why they were sitting in Bayamon, Puerto Rico. There wasn't much information available on these.
There is also a Television Studio where they film soap operas. That was not open to the public.
Everything seemed incongruous — a huge cross, rockets, a small zoo, a telephone exhibit, an archaeological exhibit, antique cars, a donated collection of African safari trophies, a film studio … I did enjoy my time there, but at the end of the day my overall impression was "I just don't get it".
Almost everything in the science park is in Spanish. But don't worry, you won't miss much as most stuff is not labeled anyway! Just look at it and enjoy.
The Details
They have a website now, but it is currently only available in Spanish. Website
2018- The admission is free, parking is $1. But each of the activities has a charge to get in. .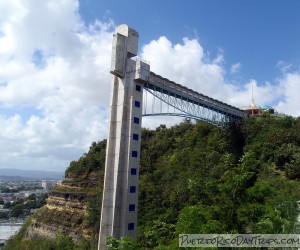 Soft opening- a night at the park! The park is open Thursday- Sunday at night. Thursday and Sunday nights 4pm-10pm. Friday and Saturday nights 5pm- 11pm. The entrance closes an hour or so before the park closes.
Allow about 2 to 4 hours.
You can call 787-799-1898 for more information.
Directions from the San Juan area: Drive westbound (oeste) on Expressway 22. Take Exit 13, turn left toward Road 167 (go underneath the expressway) and in about one mile you will see the rockets on your right. The drive should take about 20 minutes.
Click on a placename below to view the location on Google Maps ...
PuertoRicoDayTrips.com assumes no responsibility regarding your safety when participating in the activities described in this article. Please use common sense! If your mother or that little voice in your head tells you that you are about to do something stupid … then don't do it!