Taste Puerto Rico at the Luquillo Kiosks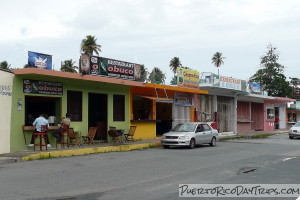 The Luquillo kiosks (or kioskos) are a much loved part of Puerto Rico. This long row of humble (think almost ramshackle) buildings are right on Route 3 along the beach in Luquillo. But don't let their appearance discourage you — stop in and you will be in for an experience that is uniquely Puerto Rican.
Something for Everyone
The Luquillo kiosks are about 60 different places, each of them are numbered and many of them are named. A few sell souvenirs (like Monkey Threads #30, and Studio Coco #13), some are specialty bars (like Tattoo Tavern #17 and Mojito Lab (in lot before #42) and some are vacant. But most of these kiosks sell food and drinks. Some of these places have been run by the same family for over 20 years, while others are brand new and recently opened. It is hard to say which ones are the best — it all depends on what you feel like eating! But most people will eventually have a favorite — just ask a local and you'll find out for yourself!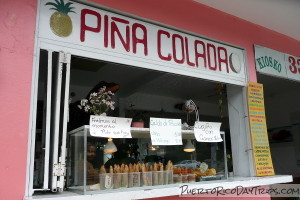 One really cool thing about the kiosks is that they are fun and casual, with open air dining. One side of the restaurants opens to the parking lot and Route 3, and on a number of them they are open toward the beach as well. So some have a beach view, while others do not. One place even made a rooftop seating area!
You can stop by for a simple snack or just an ice-cold beer, or take some time and enjoy a "real" nice, sit-down meal. Or just bar hop and skip the food, if you can resist! A number of places will have live music in the evenings (especially on weekend nights). There are even a few with pool tables. Stop in and enjoy, but don't bother to get dressed up — come as you are and relax.
Rice & Beans, Italian, Mexican, Peruvian … Oh My!
The 60 kiosks (actually, there are a few less) are very different and range in style, taste and price. You can get humble local fried goodies like bacalaítos, alcapurrias, pastelillos/empanadillas or even rice & beans, and a cold beer, for just a few bucks. You can also get much more unusual things like Pizza, local/Caribbean fusion, Chinese, Italian, and even Peruvian food. This mixing of the new cuisine and the classic Puerto Rican food kiosk now offers something for everyone. The places without liquor licenses even allow you to BYOB or, if you want, just stop into one place to pick up an alcoholic beverage to go with your meal at another place.
Kiosks Serving Classic Puerto Rican Dishes
#8 – La 8 de Sylvia
#9 Nativa
#10 Ely's Place
#23 – Antojito
#24 Bocas del Mar
#35 Arena y Mar
# 40 Wepa Arepa- stuffed arepas! https://www.facebook.com/WepaArepaPR/?ref=br_rs
#48 &ndash: Kiosko 48
#49 &ndash: Mi Favorito
#53 – Ya Yola – 787-655-0715
#54 – El Castillo del Mar
#59 San Miguel
#60 – Roca Taina
Newer Kiosks Serving Different Fare
#2 – La Parilla – 787.889-0590 – Puerto Rican / Caribbean fusion
#18 – Smoky Joe Caribbean Grill – BBQ
#20 Terruno
#22 – Jibaros – Local fusion/seafood – 787- 655-7312. open daily
#29 – Osso Buco – Italian
#34 – Revolution Pizza Shop – Pizzas and Italian cuisine. Open for lunch and dinner everyday from 11am. 787-657-8251
#38 – Edelweiss – 787-355-0888 – Local food but large beer selection!. everyday 11:30am-10pm
#42 – Ceviche Hut – 787-975-0626 or 942-2873 – Peruvian cuisine. Tues- Sunday 11am-10pm
#50 – A Fuego PR – (787) 534-3360 – Caribbean cuisine. THursday- Monday – 11am-9pm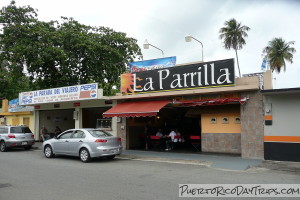 Each kiosk has different hours — some are open 7 days/week, others are not. Some are closed on Monday and Tuesday. Some are open for lunch during the week, but not nearly all of them. Generally, the kiosks are open Monday to Thursday from about 11am or noon until about 9pm or 10pm. Most are open later on weekends, which is also when you can expect more places to be open.
Stop by and check it out! Pick a favorite! And, until you find a favorite, feel free to kiosk-hop and sample a little from everyone! Just remember, the kiosks are popular with tourists and locals, so if you want the best seats, get there early! And on weekend nights, it is a very busy place to hang out and enjoy. Check Facebook for these places- many of them have their own page with updates, specials and live music nights.
The kiosks are located on the north (ocean) side of Route 3 in Luquillo, right next to Balneario Monserrate. They're about 5 minutes east of the "main" entrance (Route 191) to El Yunque National Forest.
Click on a placename below to view the location on Google Maps ...
PuertoRicoDayTrips.com assumes no responsibility regarding your safety when participating in the activities described in this article. Please use common sense! If your mother or that little voice in your head tells you that you are about to do something stupid … then don't do it!