Catch a Wave – Learn to Surf in Luquillo
1/21- Bob is not currently giving classes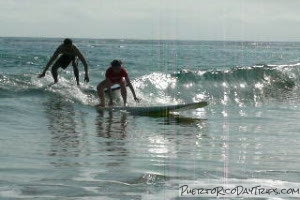 Have you ever wanted to learn to surf but never had the chance? The Rincon area may be "famous" for it's winter-time surfing, but there are also great surfing beaches all along the north shore of Puerto Rico. People staying in the north-east part of the island can easily get a private surfing lesson without having to travel very far.
Bob Roberts, a NSSIA (National Surf Schools & Instructors Association) certified surfing instructor, offers lessons right in the Luquillo area. He can have you catching a wave by the end of the first lesson! Well, not like a pro or anything — but at least you'll be standing on the board and riding a wave all the way in to the beach.
We met up with Bob at Playa Azul in Luquillo, where he was giving a young couple their second surf lesson. He arrived with 3 boards — 2 "training" long boards and a large paddle board. His training boards are soft-sided — so if you get hit by the board, it will not hurt as much as a regular board. The paddle board is wider, so it is more stable in the water, which makes it a little easier to keep your balance. After liberal application of sunscreen, he gets started with the lesson on the beach.
Basics on the Beach
Bob starts out by teaching the basics up on the beach — things like beach & water safety (knowing the type of ocean bottom, reading weather conditions, finding the rip tides, etc.) and surfer etiquette. While still on the beach, he has you "ride" the board and shows you how to jump up from a lying position so you can maintain balance on the board and ride the wave.
It may look funny watching them do this on land, but it really helped them get the hang of it. Bob was easily able to correct errors and they could quickly practice until they felt comfortable. The first lesson usually has about 20 to 30 minutes of this out-of-water surfing. Since this was their second class, the beach part was only about 10 minutes of review and practice. The last thing he teaches before letting you in the water is safety around the board — things like how to protect your face and head when you fall off the board and come back up to the surface. After some final reminders, you are ready to hit the water.
Into the Water
The surf conditions at Playa Azul were perfect that day. Because of the shallowness of the water, Bob was able to stand out near where the waves were breaking. From that position, he was able help them catch the waves and then give them instant feedback so they could try his advice. Bob had the girl use the paddle board for this class, so she could get confidence with her abilities. I was really impressed how well they both did being that this was just their second class!
Bob always checks the surf conditions at the area beaches before deciding which looks the best for the skill level of the students. He usually uses Playa Azul, La Pared, or La Selva. Since this couple did very well with the smaller waves at Playa Azul, after class, he took them to La Pared, which had larger waves, so they could try their skills there. Bob tells us all 3 of these beaches have sandy bottoms, which are safer if you fall. La Pared has some decent, consistent, surfing waves almost all year round. They often break left or right, making "tubes". During peak surfing season (September to April) the waves are pretty large. Numerous local competitions are held at the Luquillo-area beaches throughout the year.
The Details
Bob offers private surf lessons by appointment to people of all ages and any skill level. He has all types and sizes of boards for lessons and rent. He is also available to act as a guide for experienced surfers, showing them the local beaches with the best conditions for their skill level.
While speaking with Bob, he was also very enthusiastic about paddle-boarding (which he can also teach). This is where you stand on a wide board and paddle around the ocean, catching waves and currents. He says it is a great way to see sea life from above.
Bob charges $85 per person for a private 1½-hour lesson (minimum), $60 for a group lesson. Discounts are available for larger groups.
Lessons are by appointment only and usually start around 8:30 in the morning, though he'll work with your schedule.
You can take a look at Bob's Surfing web page for more information.
You can call Bob at 787-435-1760 to make a reservation or for more information.
You can send Bob an email to make a reservation of for more information.
There is now a few other people offering surfing lessons in Luquillo. Surfing Puerto Rico is the newest. Another place you can take surfing lessons is in the San Juan area at Wow Surf School 787-955-6059.
PuertoRicoDayTrips.com assumes no responsibility regarding your safety when participating in the activities described in this article. Please use common sense! If your mother or that little voice in your head tells you that you are about to do something stupid … then don't do it!