Manantial de Vega Baja – A Natural Spring
Trail to spring was clear.
While everyone knows that Puerto Rico has beautiful beaches and rivers, there are a few other natural bodies of water getting a lot of attention lately. One of those is the Manantial de Vega Baja. This is a small pool of crystal clear water that is fed by a natural spring. There are a few natural springs in Puerto Rico, but especially around the Tortuguero Nature Reserve area of Vega Baja and Manatí.
These pools, usually surrounded by lots of green growth, are really delicate places and too much human attention can ruin them. This is the sadly occurring at the Manantial de Vega Baja. Once a quiet "secret" spot, word has spread about it and now it is "The Place" to go.
Given all the press about it lately — newspaper, TV, and even it's own Facebook page — we had to go see what the fuss is all about.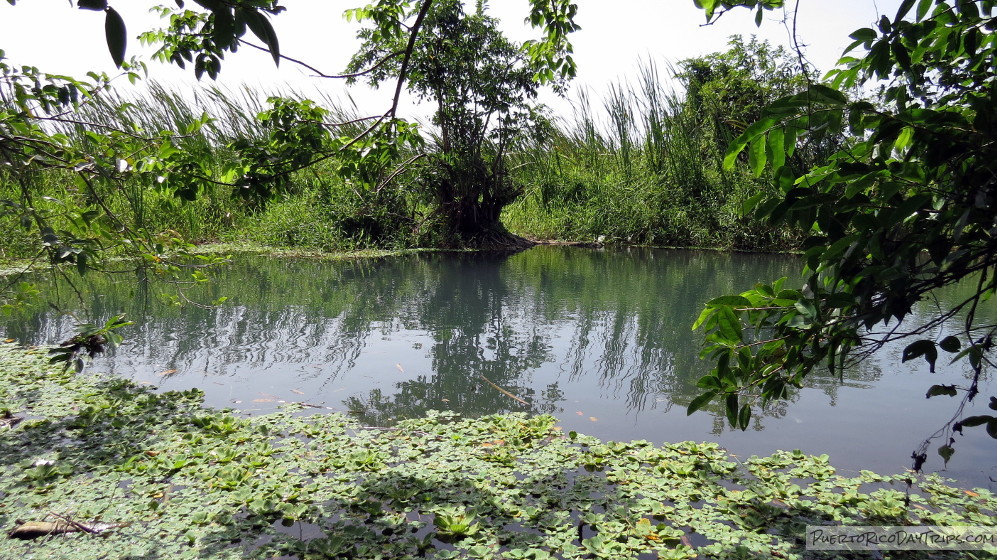 Our Visit
Getting to the spring is easy. It is only about a 10-minute walk from the road. There is a yellow guardrail here on the east side of the road. There is some barbed-wire fencing you have to go under to get to the path.
The walk is nice, looks just like the paths in the Laguana Tortuguero Nature Reserve (which is just 0.3 mile away). The path is well maintained; it is one of the many mountain bike trails in this area.
The spring is in a field, with the remains of what must have been a spring house by it. There are a few trees there, and tall grasses, but the area right by the water is just dirt. When we went, we found some trash left behind by others.
It looks like the bushes around it were cut. The water is crystal clear, and you can see some nice size fish in it. There is some water lettuce floating on the surface, the water does look inviting.
But according to a member of a Facebook group to which I belong, the many houses in the area use septic tanks, so there is possible contamination in the water. I don't know for sure if the water is pure or not, and part of this spring looks nice, but I can think of other bodies of water in Puerto Rico that I would jump into before this one.
I don't think this is a place people need to visit, but we are passing along the info for those of you who get caught up in the hype and "Have to go". To each his own.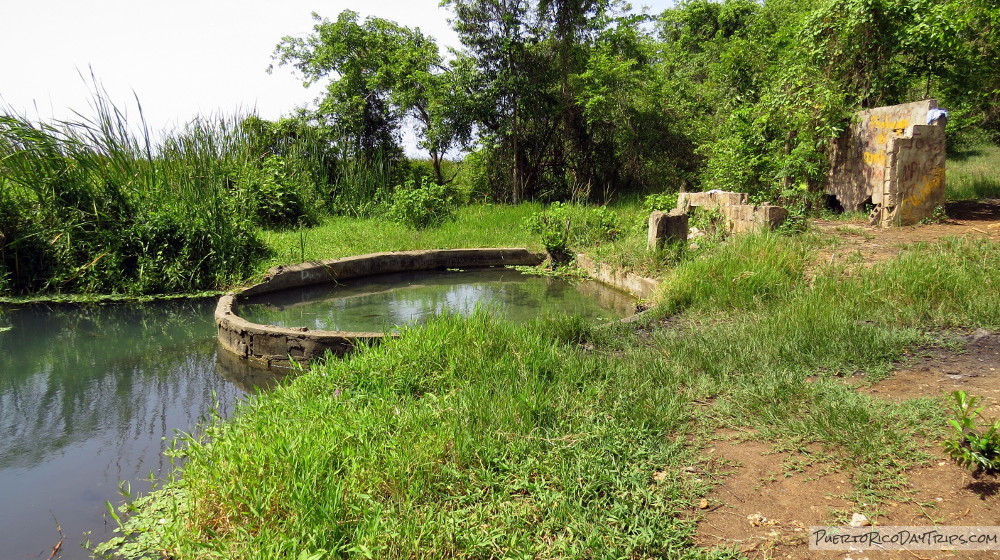 Details
Take Route 22 to exit 42A. Make a right onto Route 2, then left onto Road 687. The path is exactly at KM 2.7 on Road 687. We parked on the side of the road. There may be other entrances to the path since we saw other people coming in as we were leaving, yet there were no other cars parked in the area. Maybe up by the motel?
Click on a placename below to view the location on Google Maps ...
PuertoRicoDayTrips.com assumes no responsibility regarding your safety when participating in the activities described in this article. Please use common sense! If your mother or that little voice in your head tells you that you are about to do something stupid … then don't do it!