Clean Campsites and a Nice View in Maricao State Forest
4/21- You can walk the trails, and supposedly, The Maricao Vacation rentals/maybe camping too will reopen soon. Currently under the NPS/DRNA administration. .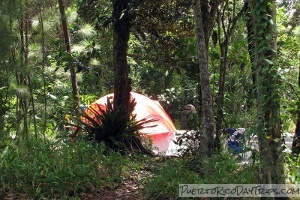 I am not a camper, but I know a number of people who are, so I am always looking for places where they can camp in Puerto Rico. I can't say I have been too impressed with most of the campsites around the island, but Monte del Estado in Maricao gets my vote for probably the nicest, cleanest camping facility. Located up high in the forested mountains of Maricao, the air is always cool and clean.
There are a number of campsites around the island that the Puerto Rican government manages through the local Department of Natural Resources (Departamento de Recursos Naturales y Ambientales). I have seen a number of these that are in disrepair (in other words, you couldn't pay me to camp there!).
But, on a visit through Maricao, we walked around the small camping facility at the Monte del Estado, and I was surprisingly impressed.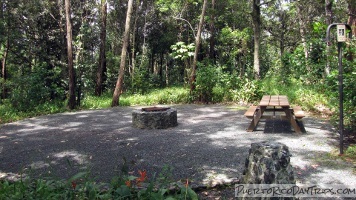 The camping area has 12 campsites. Each campsite is a flat, circular gravel area, with a charcoal BBQ pit, a hose bib, and a picnic table.
There are 2 bathroom areas that each have separate areas for men's and women's composting toilets, showers and large tubs for hand washing/rinsing clothes and gear.
The camping area is associated with, and just down the road from, the Maricao Vacation Recreation area. Campers can use the swimming pool at the vacation recreation area for an additional $2/person/day.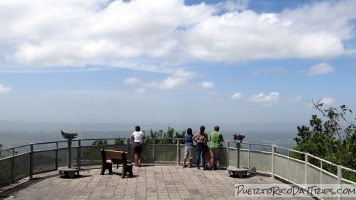 One thing to note is that there are picnic pavilions in the camping area that can be rented out by anyone (non-campers), and also short trails that lead to a lookout or observation point — so there will be other people (non-campers) around your campsite during the day. So make sure to protect any valuables you have with you. There is a gate at the entrance to the camping area that gets locked at night, but campers are given a key to the gate so they can come and go as needed.
If you are less into pitching a tent and more into renting a cabin, they also rent out 24 small cabins in the main vacation recreation area. They have a nice pool and other facilities there. These little cabins (with maximum capacity for 6 people) range from $65.40 to $71.00 per night. They are equipped with hot and cold water, refrigerator, stove top, beds and fireplace. You need to bring everything else (sheets, pillows, kitchen utensils, etc).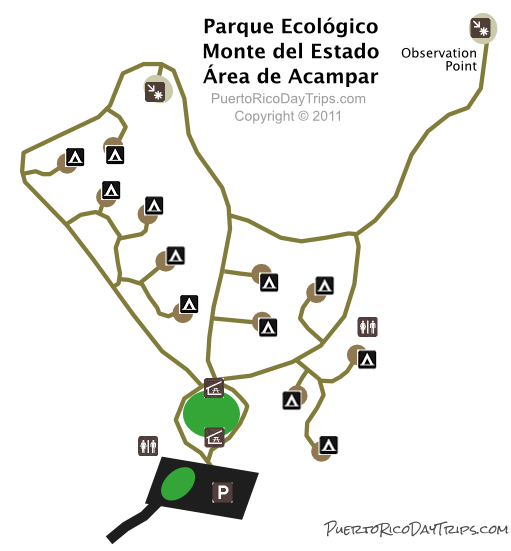 Details
The cost of a campsite is based on the size of your tent and the number of people that will be camping. A small tent (about 9'x9′) with up to 3 people is $15/night. A medium tent (about 11'x11′) with up to 6 people is $30/night. Any arrangement of tents with a maximum of 12 people is $55/night. Campers or anyone can use the swimming pool for an additional $2/person/day.
You can check-in for camping from 12noon to 3:30pm. Check-out is before 12noon. You have to register at the office in the main vacation recreation center. Camping is available 365 days/year, though the office is closed on some holidays.
There is a 2-night minimum for camping. During high season, there is a 7-night maximum. During low season, there is a 4-week maximum.
Remember, this camping area is up in the mountains. It can be cool there, even in August. When we were there in early August, it was about 75°F mid-day.
You need to check-in at the front desk of the vacation recreation area (which is at KM 13.2) from 12n – 3:30pm with your approved permit. After registering, for campsites-you drive up to the campsites that are just down the road at KM 13.8.
The Parque Ecológico Monte del Estado Area de Acampar is located on Carr 120, KM 13.2 in Maricao.
The phone numbers are (787)873-5652 and (787)873-5632. or try 787-999-2200 Centro Vacacional Monte del Estado, Maricao – ext. 3440, 3441. The people we spoke with in this office did not speak English, so calling for reservations may be difficult for non-Spanish speaker. In that case, you might want to try calling the reservation office in San Juan at 787-999-2200: ext. 4569, 4570, 4572 or 4575 . You can ask for the paperwork (called "solicitud de area de acampar") which you can fill out, and mail or fax back to them. Or just fill out this Application for Camping Form and send it in.
The actual office building to go and get a permit are located in Edificio Carretera 8838 Km 6.3, Sector El Cinco, Rio Piedras
Click on a placename below to view the location on Google Maps ...
PuertoRicoDayTrips.com assumes no responsibility regarding your safety when participating in the activities described in this article. Please use common sense! If your mother or that little voice in your head tells you that you are about to do something stupid … then don't do it!