Currently closed- Get Wild at the Mayaguez Zoo
9/22- The zoo is NOT yet OPEN. They are working on restoring the zoo and reopening hopefully sometime 2023!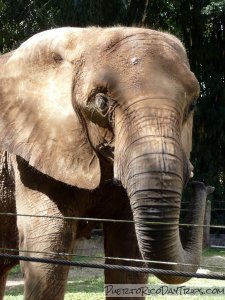 If you enjoy animals and are in the Mayaguez area, you might consider spending a few hours at the Mayaguez Zoo. Formally, this little zoo is called the "Parque Nacional Zoologico de Puerto Rico Dr. Juan A. Rivero" (or the Dr. Juan A. Rivero National Zoological Park of Puerto Rico). Wow! That's a long name for a little zoo! Though this zoo doesn't house a large number of animals, it does have a pretty good collection of different types of animals – from zebras to hippos, monkeys to giraffes, lions & tigers and a bear, and the obligatory elephant.
We went there for the first time about 15 years ago, and it was a pathetic place. Only a few animals, housed in small cages and the conditions didn't look very good. We returned there in early 2008 and found that it has been renovated, and now the animals have more room to move around. Also, the facilities and grounds look well-maintained overall. In addition to the animals, there are a number of nice plantings, with some named plants and orchids on display. It is a fun way to spend a few hours among animals and tropical plants.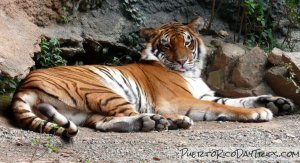 When you pay to park, they will give you a map of the zoo. Everything (the map and the info signs at each area) is in both English and Spanish. The zoo has paved paths (so it is handicap accessible). There are animal enclosures all over, so you don't have to walk far to get from animal to animal. The zoo has animals from around the world, with a good representation from the African continent – zebra, elephants, rhinos and lions. We shot a great video of a lioness freaking out at a young child (there's safety glass between them). It reminds you that, even though they usually look bored and complacent, zoo animals are not your typical domesticated huggable animals. They really are wild!
There are also 3 special areas: the aviary, the arthropod & butterfly house, and the amphibian & reptile house. These are buildings that have a limited capacity, so admission to these displays are monitored, and your walk through is sometimes guided by a zoo representative. But be aware, they are closed (for lunch) from about 11:30am to 1:30pm.
Of these 3 areas, my favorite was the walk-through part of the aviary – it has a large netted area, with lots of parrots and colorful birds that were flying all around. The other part of the aviary had many other types of birds in cages, such as golden & bald eagles, and owls.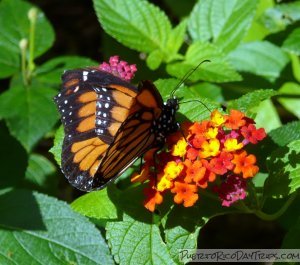 The "Mariposario" is the Butterfly House. It is connected to the arthropod museum. You walk through the butterfly area – a large netted area full of flowers with butterflies flying all around. These were mostly Monarchs, with a few other types. This is a guided walk through, with the guide explaining the life cycle of the butterflies and the food they eat. They had a lab area, were they raise butterflies from eggs, then larvae to adult butterflies. They even let us hold a larvae of a moth – it was about 3 inches long and green, yellow and black striped. Pretty, but kind of gross!
After walking through the Butterfly House, you continue into the Arthropod museum. In here they have all those disgusting bugs (luckily in cages or behind glass) that you hope to never encounter face-to-face: spiders, centipedes, ants, and cockroaches, among other things. It was geared toward children, so they can learn about the lives and life cycles of these critters. It was a well-done museum, just (obviously) not my thing!
The other building is the Amphibian & Reptile Center. This is a small building of about 10 cages with snakes and lizards in them. They did have some of the local reptiles – like the Puerto Rico Anole and the Puerto Rican Boa Constrictor.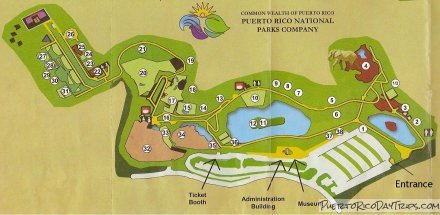 It takes about 2 to 3 hours to see the whole zoo, there are a snack bars that sells fruit ices and ice cream.
Details
All admission prices include the audio guide. The admission is $13.00 for adults and kids 12 years and up, $8.00 for ages 5-11 years old. Kids under 4 years old are free. Reduced rate for seniors with id. Parking is $3.00 for cars and $4.00 for mini-vans.
Audio guides of the zoo are available in either Spanish or English. And they have a different version for adults and children.
The zoo is open Wednesday through Sunday from 8:30am until 5:00pm.
Allow 2 – 3 hours to see the zoo. Remember that some of the displays (butterflies, aviary, etc.) are closed for 2 hours around lunch time (11:30 am -1:30 pm).
You can call 787-834-8110 for more information or check out their website.
Take Route 2 to Mayageuz. Then take the Route 2 Spur right by the University of Puerto Rico (UPR) Mayaguez Campus (RUM). You'll see signs for that. That will lead you to Route 65, which you'll be on briefly. Then turn left onto Route 108 and follow it past the University. Then look for the sign telling you to turn right for the Zoo. Make the turn, and follow this road maybe a mile or 2 until you see the zoo on your right. After you go in and pay for parking, continue through the parking area, past the buildings (these are administrative offices, not the entrance). The main entrance is to the far right.
Drive time from the San Juan area is 2.5 to 3 hours.
Click on a placename below to view the location on Google Maps ...
PuertoRicoDayTrips.com assumes no responsibility regarding your safety when participating in the activities described in this article. Please use common sense! If your mother or that little voice in your head tells you that you are about to do something stupid … then don't do it!