Mini Boats, Big Fun!
They are open and running tours!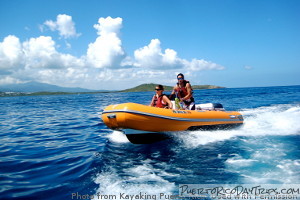 There are a number of small islands and cays off the coast of Fajardo with beautiful white-sand beaches, fringed by reefs with abundant marine life. Imagine spending a half-day piloting a mini-boat to these beaches and snorkeling in the open ocean. You can do just that on the new Island Hop & Snorkel Guided Mini Boat Tour offered by Kayaking Puerto Rico. It's a hard-to-beat combination of fun and nature that sounded really appealing to me. We recently took this trip — it was a lot of fun and we really enjoyed it!
What's a Mini Boat?
We had done a mini boat adventure on a different Caribbean island years ago and loved it, so when we heard Kayaking Puerto Rico was going to open one here, we were very excited about it. The Mini Boat Adventure boats are 13-foot, solid-hulled, inflatable-sided boats that can hold up to 4 people. They are docked at Puerto Chico Marina in Fajardo and trip goes over to some of the many cays off the east coast of Fajardo.
Starting Our Adventure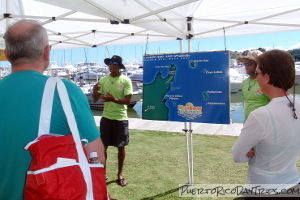 Once at the marina, after we did the usual paperwork in the office, we walked down to the dock and met our guides Winoc and Juan. They gave us a nice briefing of where we were going to be going, how to work the boat, and the safety rules. Then we hop into our boats.
Our group that day was 3 sets of couples. We decided who would be captaining each boat and we Captains got our training. But, honestly, I think anyone can drive these things (nothing hard at all!). There is an ignition key, a steering wheel and a lever you move for speed. Once we were all settled-in and ready — off we went.
In the Open Ocean
Once we got clear of the no-wake zone inside the marina, we were in open water and we could go pretty fast. Of course, we were all taking it easy — just getting the feel for the boats, how responsive the steering was, etc.
They have you ride in a line, so you can only go as fast as the person in front of you. Unfortunately, the guy in front of us did not "feel the need for speed" as much as I would have liked. Luckily, later in the trip, the guides switched up the order of the boats, so we got to "put the pedal to the metal".
We quickly (maybe about 20 minutes) got to the first island, Icacos, where we moored the boats and got a quick lesson on snorkeling. Each boat came with its own snorkel gear (mask, snorkel and fins). Their snorkel equipment was in very good shape.
The guides were really good with people who were more apprehensive — staying close to them until they got the hang of snorkeling. After people felt comfortable in the water, we swam to the beach. On the beach, we gathered 'round while Winoc led a discussion about the islands we were visiting and the natural beauty we were seeing all around us.
White Sand Beaches & Snorkeling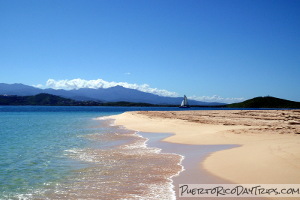 If you have never been to Icacos, it is beautiful. The beach is white sand, the water is clear and light blue, and you can see El Yunque and the Fajardo lighthouse if you look back to the west.
After some time on the beach, we got back into our boats (they have a little ladder for each boat to help you get in more easily). We had snacks & water/juice (from the stocked cooler in each boat) and then took off to the next stop, where we would be doing some real snorkeling.
Our second island stop was Cayo Lobos and La Roca (the Rock). I can't say that this was the prettiest underwater world I have seen in this area, but it was alive with sea life.
We saw a couple southern stingrays, different types of sea urchins, a moray eel, and many different fishes. Both guides were right there with us, constantly diving down to find things to point out to us and explaining what we were seeing. We snorkeled here for about 30 minutes.
When we were on our boats again, we had another chance to snack/rest before taking off to the next island. After about another 5-minute ride, we were near Palomino Island where we re-grouped. This is the part of the trip where, if you wanted to, you could really go fast. Winoc was in the lead, and we all followed him. I was right behind him, so I put it full throttle and got my speed! It was a lot of fun!
We played (i.e. rode around real fast) for about 15-20 minutes and then went on to our last island stop, Palominitos. This little spit of land is picture-postcard pretty. At this stop, we were given our choice of what we wanted to do: some of us did some more snorkeling (with a guide), some sun-bathed in their boat, some swam, and others went up onto the beach to explore. We stayed at Palominitos for about 15 minutes.
Of course, Ray and I went snorkeling and we saw some spotted eagle rays and a pretty bull-mouth helmet conch (among other things). When we got back to our boats, we re-hydrated, and set off on our way back home. Ray captained us to the marina, so he got to drive the boat for the 20-minute ride back. All in all, a really great afternoon!
Some Random Thoughts
All my times/duration in the article are guesstimates, since I didn't have a watch on. But I would say the day was pretty equal in time between boating and snorkeling/beaching.
These are not little, cheapy, inflatable boats — they were very nice. They also were really pretty stable at high speeds, easy to maneuver, and they "cornered" well — I was impressed! They have a 40HP 4-stroke outboard motor on them.

This was a pretty active trip, I know we were tired when we got home (from the snorkeling, I assume).
They provide snacks in each mini boat — water/juice, fruit cups, and granola bars. Make sure you drink a lot to keep hydrated.
Wear sunglasses and lots of sunscreen! We wear rashgard shirts to prevent sunburns, especially while snorkeling.
The guides say the trip can change, depending on different factors (water conditions, other snorkel operators in the area, etc.), but all trips will be similar — snorkeling, beach stops, visiting a few islands, and a chance to see just how fast the boats can go.
You must wear the life jacket while driving the boat, but you could either take them off for snorkeling or wear them if it make you feel more comfortable. The snorkeling was in deep water.
The boats had lots of storage compartment for keeping your stuff with you but out of the way. Or they can store your stuff in their office at the marina if you would prefer (important for things that need to stay dry like cell phones, cameras, etc.).
This is a brand new trip that they had only been offering for about 1 week at the time we took it last week. They are still in the process of tweaking and refining these tours. We've been in touch with the owners since we took did the tour, and they've already made some changes that should improve the overall flow and enjoyment for their customers, such as separating fast drivers from slower drivers, fewer stops etc. Either way, it was fun and beautiful, a great trip!
Normally, when we review an activity that is not free to the public, we pay the admission price out of our own pockets. However, we just want you to know that the folks at Mini Boat Adventures were kind enough to offer us this trip for free. While we don't feel that this free ride influenced our review one way or the other, we felt that we should tell you, just as a matter of fact.


The Details
The cost of this trip depends on if you want a boat all to yourself, or if you're going to share the boat with family/friends. 1 person/boat is $170. 2 people/boat is (also) $170. 3 people/boat is $215. 4 people/boat is $260. There is a maximum of 4 people per boat, and a total combined weight of 700 pounds.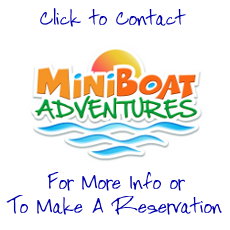 If you're happy, let them know it — Don't forget to tip your your bartender, tour guide or trip operator if you enjoyed yourself. Gratuities are appreciated and typically aren't included in the price they charge you.
This tour is offered twice per day, Monday through Saturday. No tours on Sundays. Check-in at the marina is 8:30am for the morning tour and 1:00pm for the afternoon tour. Reservations are required. They go rain or shine, but trips may be cancelled if ocean conditions are not safe for small craft.
Mini Boat "Captains" must be at least 18 years old. Passengers must be at least 6 years old. Residents of Puerto Rico born after 1972 must present a valid Navigation License in order to captain a mini boat.
Allow about 3½ hours for this trip.
You can call (787) 244-2828 for more information or to make a reservation.
You can visit the Mini Boat Adventures web site for more information.
Roundtrip transportation to the marina is available, for an extra charge. Contact Mini Boat Adventures for more information.
The mini boats are docked at the Puerto Chico Marina on Road 987 in Fajardo (Northeastern Puerto Rico). Detailed driving directions are available on the Mini Boat Adventures web site
The Puerto Chico Marina is about 1¼ from the San Juan area, and about 30 minutes from the Rio Grande area.
Click on a placename below to view the location on Google Maps ...
PuertoRicoDayTrips.com assumes no responsibility regarding your safety when participating in the activities described in this article. Please use common sense! If your mother or that little voice in your head tells you that you are about to do something stupid … then don't do it!