Get Close to an Island Run by Monkeys
7/23- Tours are not running..
You will see many neat things in Puerto Rico, but wild animals are not usually one of them – except if you go check out Monkey Island. Monkey Island (officially Cayo Santiago) is a small island, about 1 nautical mile off of the eastern coast of Puerto Rico, that is home to about 1000 free-roaming Rhesus monkeys. The monkeys are the offspring of an original group of monkeys imported from India that were used for scientific research in 1938. Operated by the University of Puerto Rico's (UPR) Caribbean Primate Research Center (CPRC), the National Institutes of Health (NIH) and Harvard University, scientists there study the monkeys' behavior, demographics, genetics and physiological changes. The island is not open to tourists, but you can get a view of the monkeys from the water.
Our Trip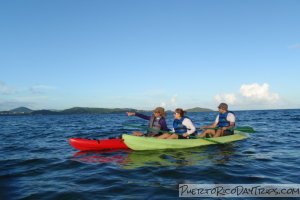 I am a BIG fan of animals, so this was something I had to do! We went out one afternoon with Barefoot Travelers Rooms Adventures. They run a kayak tour over toward the island so you can view the monkeys.
We met Keishya and Bob at the launch point on the beach, directly across from Monkey Island. On our tour day, we had a bit of a storm passing, so as we waited until it was safe to go. Just so happened that three researchers from Monkey Island stopped to chat on their way home from their day of research. They told us about their jobs, the monkeys and all sorts of interesting first hand experiences and details about what goes on over on the island. Even if you don't get to meet the researchers on your trip, Keishya is good friends with these researchers, so she can relay lots of what she has heard them say about the monkeys. The island was devastated by Hurricane Maria in 2017, so it was rough for a while, but things are looking up for the monkeys!
It was about a 20-minute kayak trip over to the island. You need to remain a number of yards away from the island so as not to disturb the monkeys. It is cool- you can see the monkeys doing their usual monkey business. Their antics were fascinating to watch.
At no point can you step onto the island. There are rules in place- These are wild animals with diseases and they want to protect both the monkeys from you and you from the monkeys! I was happy to just sit in my kayak and watch these beautiful animals enjoy the afternoon. Since they are free to move around, you aren't guaranteed to see them, but if you go at the right time or area of the islands, you have a much better chance. Keishya knows the best times/places and we saw about 50-100 monkeys during our 30 minutes of watching them. The wind must have been blowing the right way because we didn't smell a thing.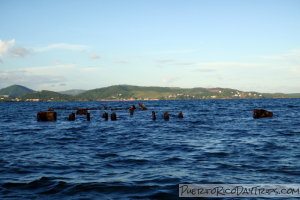 When you're done watching the monkeys you have to paddle your kayak back to the mainland. We did the afternoon trip and the views were beautiful, with the sun on El Yunque. Since we were delayed in starting, the sun was beginning to set and the clouds were colorful. I really enjoyed the trip. All in all, we were on the water about 2 hours.
Equipment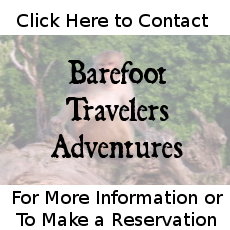 Barefoot Travelers Rooms and Adventures has several kayaks (single and double) that they use for these trips. They can easily handle a group of up to 6 people. They also provide dry bags for cameras, and life vests (that you are required to wear). You should also plan to bring along one bottle of water for each person in your party … all the kayaking and the sun will make you thirsty.
Kayak rentals are about $50-55 plus tax per person. Minimum group size is 2 people, maximum 6 people. Reservations required.
If you're happy, let them know it — Don't forget to tip your your bartender, tour guide or trip operator if you enjoyed yourself. Gratuities are appreciated and typically aren't included in the price they charge you.
Barefoot Travelers Rooms and Adventures doesn't have any set schedule for this trip. They are available most days. Contact them in advance to set up your trip.
You can visit the Barefoot Travelers Rooms and Adventures web site for more information.
You can call Barefoot Travelers Rooms and Adventures at 787.850.0508 for more information or to make a reservation.
Remember to wear lots of sunscreen!
You should probably allow a good half-day for this trip. You may have to wait out a storm, like we did, or you may have to paddle to a different part of the island to find some monkeys to watch.
Click on a placename below to view the location on Google Maps ...
PuertoRicoDayTrips.com assumes no responsibility regarding your safety when participating in the activities described in this article. Please use common sense! If your mother or that little voice in your head tells you that you are about to do something stupid … then don't do it!