Love Chocolate? Have Some Hands-on Delicious Fun
Montadero Chocolate in Caguas offers a delicious, fun, and informative chocolate class, during which you make your own chocolate bars! They are a family-run Bean to Bar chocolate company, which means that they do all the elaboration of the dry cacao beans to make their products. They are artisanal chocolatiers, producing handmade chocolate that emphasizes quality over quantity. Better yet, they use only 100% Puerto Rico cacao beans, from some award-winning cacao farms here on the island, thereby supporting the island's agrotourism industry.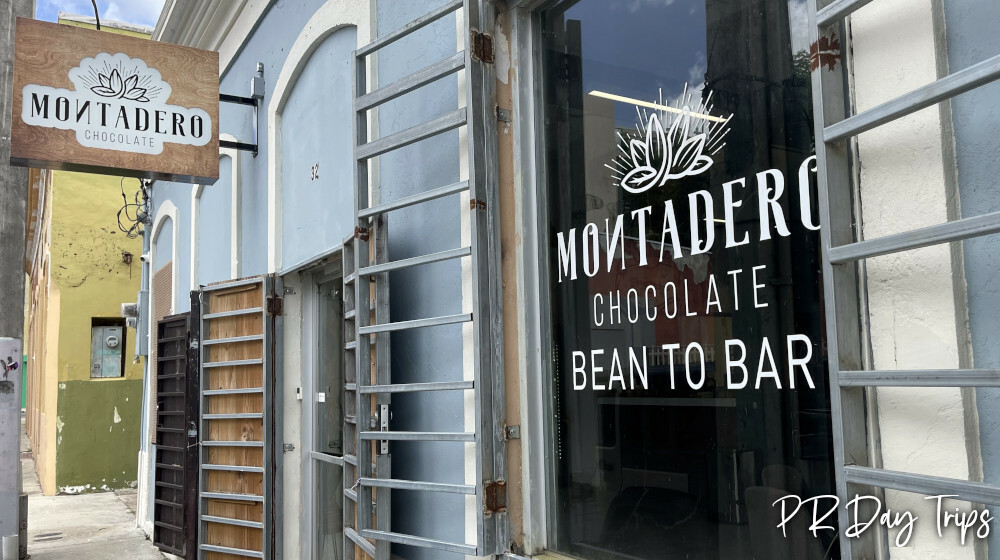 Montadero Chocolate is named in honor of the old family cacao farm in the Montadero section of Isabela, where owner Germán Ramos' grandmother used to make chocolate. Sadly, the tradition and recipe died with her. When Hurricane Maria altered their jobs and life in 2017, Germán and his wife Kenia decided to restart the family tradition. After taking many classes around the word on the production of chocolate, they have perfected their recipes to make high quality chocolates. All done by hand, they are beautiful to look at, and delicious to taste!
They produce a variety of chocolates, from 33% milk chocolate, 55% dark milk chocolate, and 77% dark chocolate bars, bonbons in all sorts of varieties with high quality local ingredients, like fruits and liquors, the family recipe hot chocolate, and more! They also offer a wonderful class/workshop called Get to Know the World of Chocolate.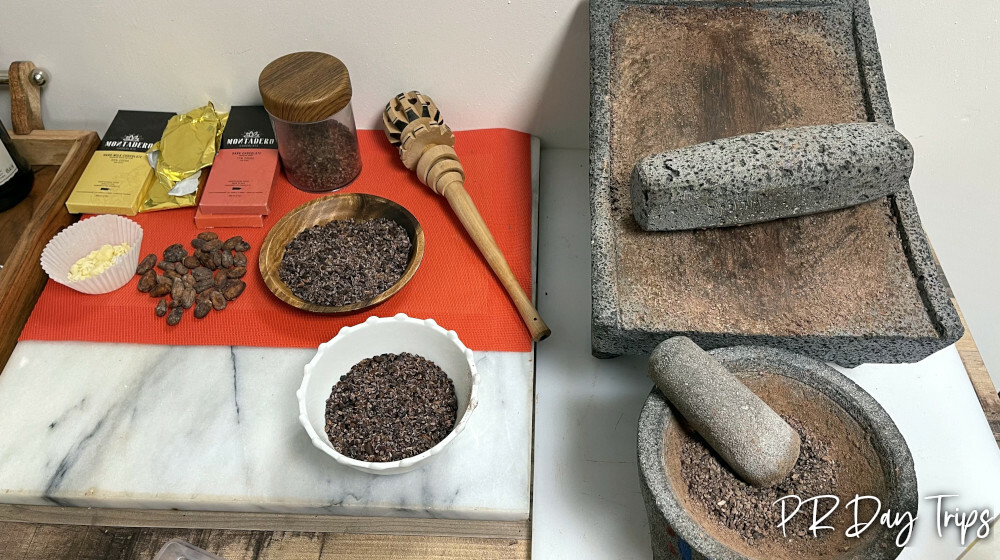 Our Workshop
The Get to Know the World of Chocolate workshop starts off with the family's chocolate history, which is honored by the large mural on the wall. Germán talks about the origins of chocolate, how is was so important to the Mesoamerican native cultures, then later prized by other cultures, up to the importance of chocolate in the present day. Then he discussed the elaboration of cacao – from the pod (which you can see and taste the fruit), and the drying process that is done by the farmers.
He buys the dried cacao beans directly from the farms, and then starts his work! First with the roasting process then cracked and the husk is removed, leaving pure cacao nibs, which you get to taste. Then he goes into all the processes of making really good quality chocolate – crushing, grinding (you can see the machines doing their jobs in the other room), then tempering, conching, and finally molding.
This is a hands-on workshop, There is the stone grinder where Germán showed us how it used to be done by hand, and we got to feel cacao butter. He answered everyone's questions throughout the workshop. I found it cool to learn how they hand-paint the molds, not each finished bonbon. The whole thing is really interesting !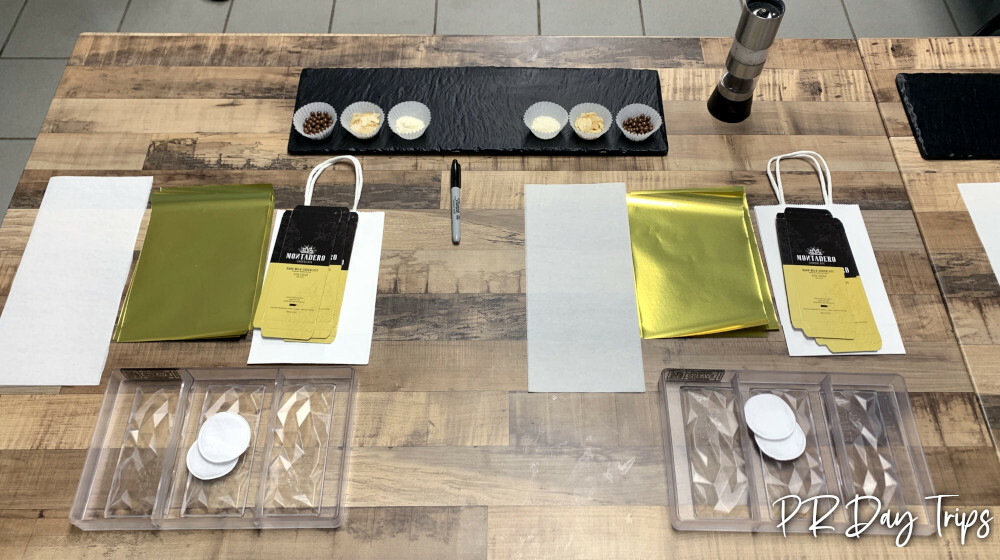 Now comes the good part – where you make your own chocolate bars! Everyone had a station with a mold for 3 chocolate bars, some different add-ins, and wrappers. We made 55% dark milk chocolate bars. Germán made a sample bar, showing us how to pour the chocolate into the mold. Then we each made our own.
While our bars were cooling/setting up, we did a Dewar's Whiskey & chocolate pairing tasting. It was interesting how the chocolate changes the taste/mouth feel of the alcohol. We also had a cup of their delicious hot chocolate. And we tasted some 99% dark chocolate made with whiskey-soaked cacao beans. So many interesting flavors.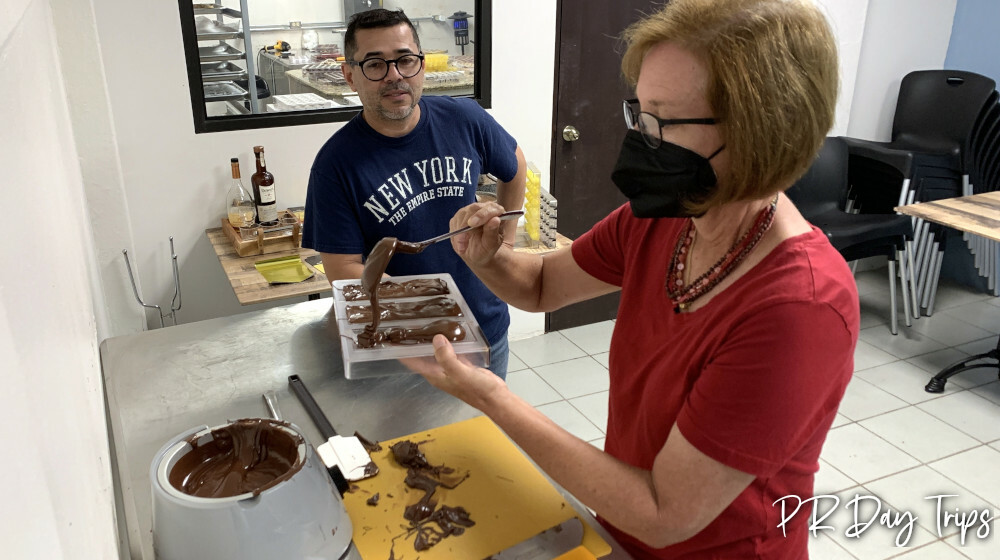 Once our bars were cool, we took them out of the molds, and wrapped them to take home. Believe me, they are not nearly as pretty as the ones Germán makes, but they are delicious – sea salt with truffles and almonds!
When we were done, we went out front to chat. And of course, once we had tasted the chocolate, we all purchased some of the bonbons. Tare almost too pretty to eat! But each bite is an explosion of flavors. His fillings are amazing! This was a yummy day!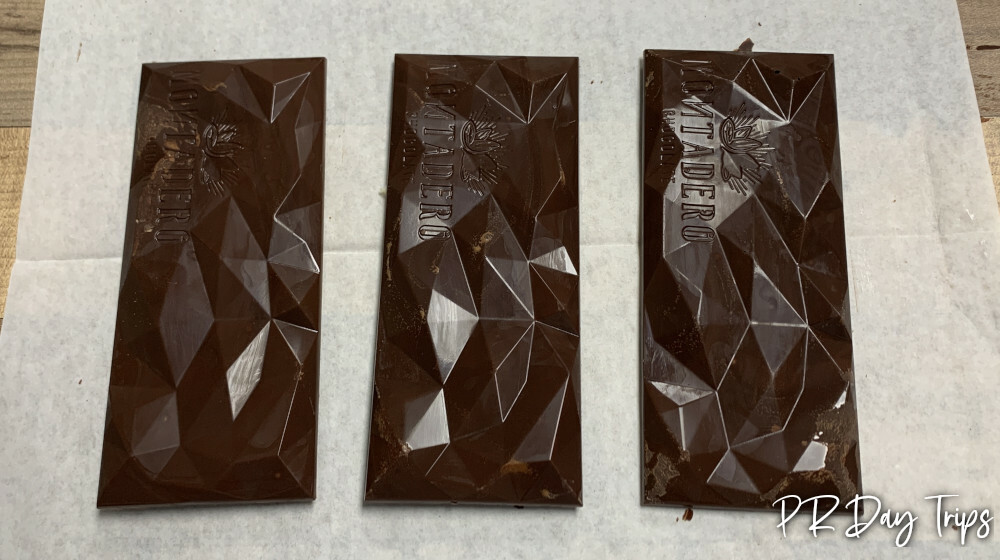 Details
Cost of the Conoce el Mundo del Chocolate taller / Get to Know the World of Chocolate workshop $36 per person.
The chocolate shop is open Wednesday to Saturday from 10am to 6pm, and Sundays from 12noon to 5pm. The workshop is offered on weekends, by reservation.
The workshop can be in Spanish or English.
The workshop lasts 1-1½ hours, depending on the number of people in the class.
You can call them at 787-436-6618 or email to info@montadero.com for more information.
Visit their Facebook page or web site for more information or to make a reservation for the workshop.
Montadero Chocolate is located at #32 Calle Ruiz Belvis in Caguas.
Click on a placename below to view the location on Google Maps ...
PuertoRicoDayTrips.com assumes no responsibility regarding your safety when participating in the activities described in this article. Please use common sense! If your mother or that little voice in your head tells you that you are about to do something stupid … then don't do it!