Learn While You Play at the Museo del Niño in Carolina
– 6/21: The Museum has reopened! But with strict COVID safety guidelines/schedules. You must reserve! Call to reserve tickets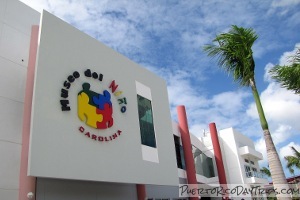 Amazing. That about sums up my feelings about the new Museo del Niño (Children's Museum) in Carolina. Though it is called a museum, it is really a fun, hands-on place full of interactive, passive-learning activities. It has over 100 exhibits, each with something to play on, with, in, or around. Kids of all ages are sure to find something interesting and fun to do.
Located just 15 minutes from San Juan, this new museum opened on 25 December 2011. It is a large place, loaded with modern technologies and hands-on fun. Everything is bilingual, including all the signs and instruction posted at each exhibit, as well as most of the employees & volunteers.
Something for Everyone
There are more activities than I could possibly mention here. You can't miss the huge volcano in the middle of the museum (it "erupts" every so often). Or the real airplane outside, that you can tour and explore all the areas that you are never allowed to enter on an operational plane.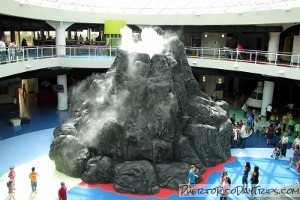 There is a play area specifically for babies and toddlers, and then loads of stuff for kids of every age (even teens and adults). There are a number of dress-up activities, role-playing scenarios (like a bank, dentist office, and supermarket) where kids play and learn, and a "theater" with loads of costumes, wigs, make-up, and a stage.
There are other cool things like TV stations, where you can be on camera reading the news or giving the weather report (against a "green screen"). Voice recorders (for analyzing your voice), mock-up cockpits for planes and space shuttles, where you interact with others in the "control tower".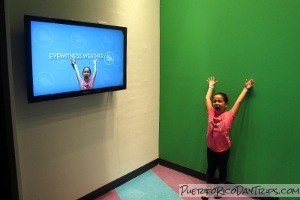 You can design and build your own race car, and then race it against others, "pinewood derby-style". Or you can race against the clock as part of the pit-crew for a life-size race car.
There are quiet play areas for coloring, building, or crafting things. Loads of play areas that teach real-life physics and other natural sciences, music, ecology, and navigation. Seriously, the list of activities is endless!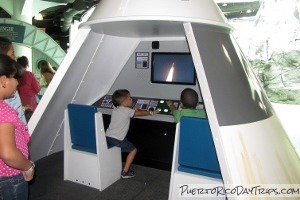 People of all ages were playing with everything! Sometimes, kids had to push their parents out of the way in order to do an activity! I think my favorites were the paper airplane launcher, the stop-motion animation, the head on a plate optical illusion, and the bed of nails.
Kids could keep themselves entertained here for at least 3 or 4 hours. It would be a great place to visit any day, but definitely a fun way to spend a rainy vacation day.
Two Thumbs up
I think that they did an great job here. We went the first week they were open, and things were great — everything was working, the place was clean, and everyone working there was helpful. I hope they are able to keep it up!
The museum admission fee is reasonably priced. I also have to mention the artwork hanging on the walls inside — really wonderful stuff made by the students of the local art school, with a plan to rotate new stuff in monthly.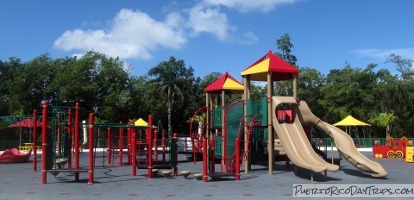 There is a beautiful outside nature trail around a mangrove area, and playground area that is free for everyone. There are also go-karts included (if you meet their age/size requirements), and you can rent picnic facilities and the amphitheater for private parties.
Groups get a discount on admission. And the whole museum can be rented for company, church, or group functions. They told us they have some state-of-the-art security all over the place, so everyone is safe and can enjoy the day. There are some cafeterias and a gift shop, which sells only educational toys!
Aug 2014- they have opened a mini-zoo on site- with about 20 different types of animals. Additional fee- $1 for kids, $2 for adults. July 2015- they now have go Karts ($5 per ride), pedal boats rentals ($2 pp for 15 min) and motor boat rides ($5 pp) up and down the canal behind the museum.
Where They Dropped the Ball
In my opinion, there are only a few things that could have been better — signs on the road and acoustics inside the building.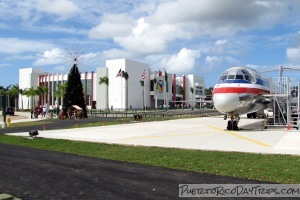 A sign indicating where the parking lot is located would be a BIG help. There is only handicapped parking at the museum. Everyone else needs to either park on the street or in the museum parking lot, which is a couple blocks away and around the corner from the museum. There is a shuttle bus that runs between the parking lot and the museum.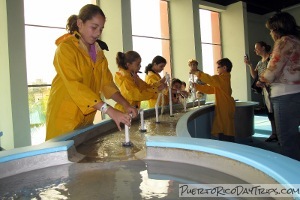 It was really LOUD inside the museum. I found it difficult to differentiate between the sounds coming from the exhibit I was interacting with, and all the other noise in the building. But hey, kids are into noise so they probably loved it!
One last thing — I only found 2 antibacterial gel dispensers. With all those people touching everything … being a germaphobe … this was my nightmare!
Normally, when we review an activity that is not free to the public, we pay the admission price out of our own pockets. However, we just want you to know that the guys at the Museo del Niño were kind enough to let us into the museum for free. While we don't feel that this free ride influenced our review one way or the other, we felt that we should tell you, just as a matter of fact.


Details
The cost of admission for adults (anyone over 14) is $10, kids 1 to 14 are $6, and infants (under 1) are free. Seniors (over 75) are free. Groups of 12 or more people get a discount. Parking in their lot is $2, with shuttle buses running between the museum and the parking lot. . Mini-zoo- $1 kids, $2 adults.Boat rides, go karts are additional.
The museum is open Friday- Sunday from 9am to 12:30p, 1:30- 5pm,. They are closed on Monday through Thursday at this time.. They are closed on Good Friday, Thanksgiving, election day, and December 31.
Allow at least 4 hours for your visit.
You can call the museum at 787-257-0261 or 787-257-0216 for more information.
You can visit the Museo del Niño web site for more information.
Driving directions from Route 26 — Take the Campo Rico Avenue exit and head north. Note that if you're traveling west on Route 26, there is no sign for the Campo Rico Avenue exit — look for the Universidad de Noreste on the right side of Route 26, and take that exit. Follow Campo Rico Avenue until you come to the museum on your left. For the parking lot, continue past the museum, turn right at the next light (onto Roberto Clemente Ave), and continue on that road until you see signs for the parking lot.
Click on a placename below to view the location on Google Maps ...
PuertoRicoDayTrips.com assumes no responsibility regarding your safety when participating in the activities described in this article. Please use common sense! If your mother or that little voice in your head tells you that you are about to do something stupid … then don't do it!