Now Available: Current Weather & Storm Tracking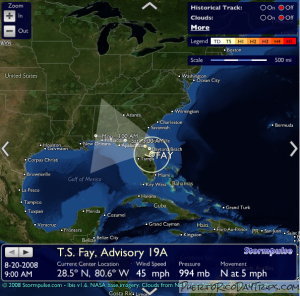 This past Friday, as what was to become tropical storm Fay passed through the island, there were a bunch of questions about the weather on the travel forums in which we participate. What's the weather like right now? How much is it raining? Do you think it will be raining when I land in Puerto Rico on Wednesday?
I realize that people worry about the weather when they're going on vacation. Especially when they're going to an island where they expect to spend much of their time outside at the beach, hiking, kayaking, or just walking around a city.
But living here, I guess that we have just come to accept changes in the weather as a normal part of our lives. We're in the tropics, so we know it's going to rain. We know that, for the most part, the rain won't last too long and that the sun will come back out. We also know that, sooner or later, a major storm will hit the island and cause headaches for us. To help make this easier for us, we have a number of on-line tools at our disposal that we use to get advance warning and stay informed of any potential bad weather that might be heading our way.
So, back to this past Friday and the questions on the travel forums … As we were seeing and answering some of the questions, it occurred to me that visitors to the island only hear the worst of the worst news about our weather. For example, both of our moms called from the States to see if we were OK because they had heard on the news that a hurricane was about to hit Puerto Rico. We had to tell them that, although we had bad thunder and lightening during the night, everything was fine and it was only raining and we weren't expecting any really bad storm. That's when we realized that people who aren't used to looking at our island weather on a regular basis really don't know where to turn for accurate information.
And that gave me an idea.
Resources For Keeping Tabs on Puerto Rico's Weather
We use a number of on-line tools daily to see what type of weather we're going to have on any given day. We look at a cross-section of official projections from government weather offices, to raw weather satellite images, to commercial weather outlets such as the Weather Channel. We use all of these tools piecemeal – we bounce from site to site to site looking at the information that we feel will help us given the current weather forecasts.
But I couldn't find any one site that pulled all of that data together in one spot.
So I decided to put a number of those tools together on one page to make it easier for visitors to Puerto Rico stay on top of our weather. Our new weather and storm-tracking page gives a one-stop source for current weather forecasts and longer range storm tracking.
We are now offering resources from AccuWeather for current weather conditions and 15-day weather forecasts. We have satellite imagery from the National Hurricane Center so you can get a snapshot of weather systems in our vicinity. We offer a great tool from Stormpulse.com that tracks developing and established storms in the western Atlantic and Caribbean regions.
So if you just want to see if sun or rain is in the forecast for your arrival next week, or if you want to track the latest tropical storm or hurricane, just hit up our weather page. We hope that you find that page helpful and that you'll offer suggestions for additional information that you'd like to see on that page.
PuertoRicoDayTrips.com assumes no responsibility regarding your safety when participating in the activities described in this article. Please use common sense! If your mother or that little voice in your head tells you that you are about to do something stupid … then don't do it!