Ocean Lab Brewing – Great Beer, Great Location
If you are a craft beer fanatic, you will be happy to know that Puerto Rico's craft beer selections are growing all the time. I don't just mean the availability of craft beers from all over the world, but also a number of beers made right here in Puerto Rico. Beer lovers will enjoy a visit to a local brewery to try their hand-crafted beers. Ocean Lab Brewing Company is a brewery located close to the Isla Verde tourist area and SJU airport, right on the beautiful beach in Carolina. And the beer is really good! You can't go wrong with a visit, even if you aren't a beer lover (they have food and a full bar).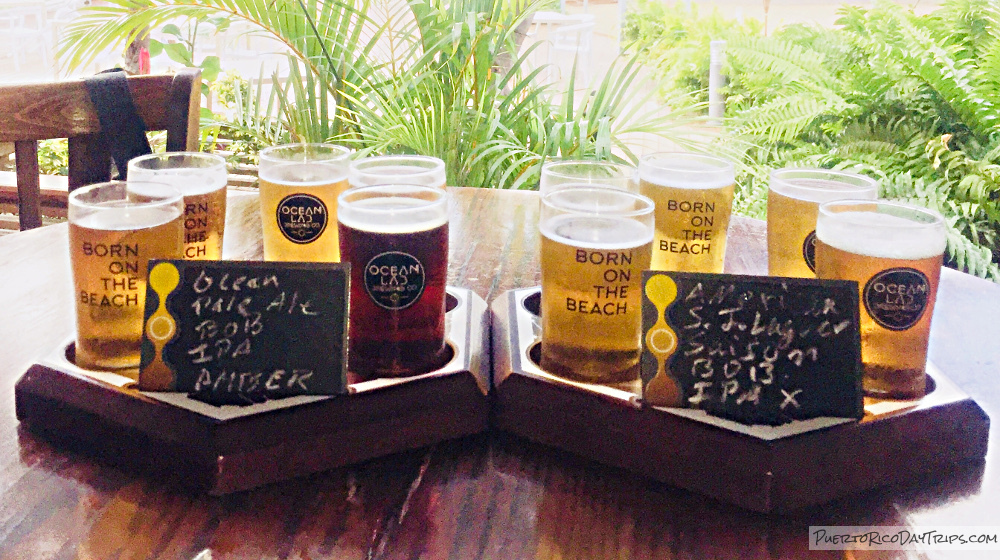 There are now a few handfuls of local craft beers (occasionally call artisanal beers), but most are only distributed through local bars/restaurants, or for purchase in stores. I know the fun for many "beer people" is a visit to the actual brewery, where they can enjoy the smell of hops while sitting at the bar, and selecting from the beers on tap that day. Perhaps being able to talk with the brew-master directly as they clean the tanks. That experience is only available at a few breweries in Puerto Rico.
If you are going to brew beer on an island, why not make it ocean-side? Ocean Lab Brewing Company's slogan is "Born on the Beach". They are located in the Vivo Beach Club complex at Balenario Carolina, just east of Isla Verde. The beautiful location just adds to the great beer – it makes it a great location to meet friends, and enjoy the day or night in style.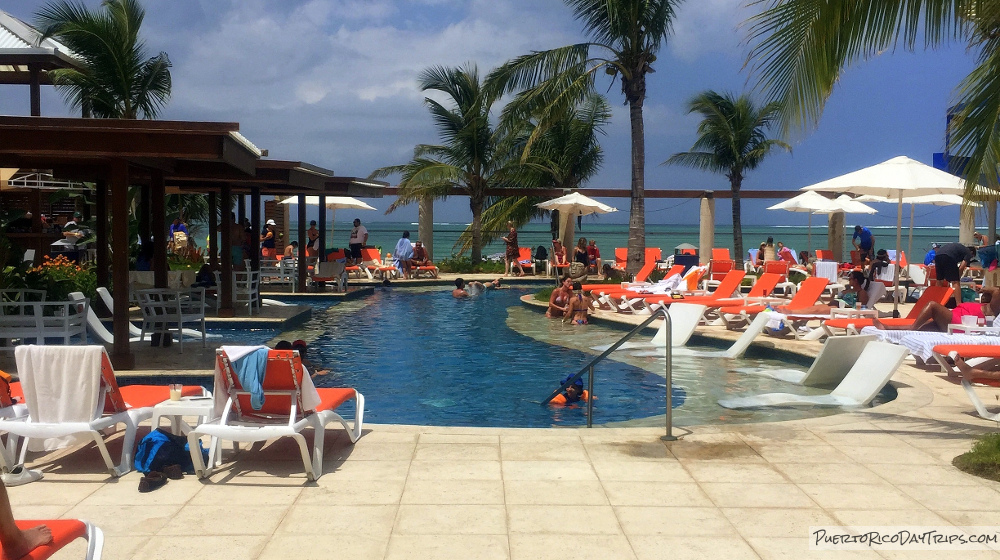 The Vivo Beach Club is a "mini resort". You need to be a member to have access to the pool, beach, lockers, special bathrooms, and showers. But everyone can use the restaurants and stores in the complex. Just tell the person at the front desk that you are going to the brewery. When the Vivo Beach club is having a special music event, I don't think the brewery is open to the public, so check out the Ocean Lab Brewing Company Facebook page to see if anything is going on before you head over there.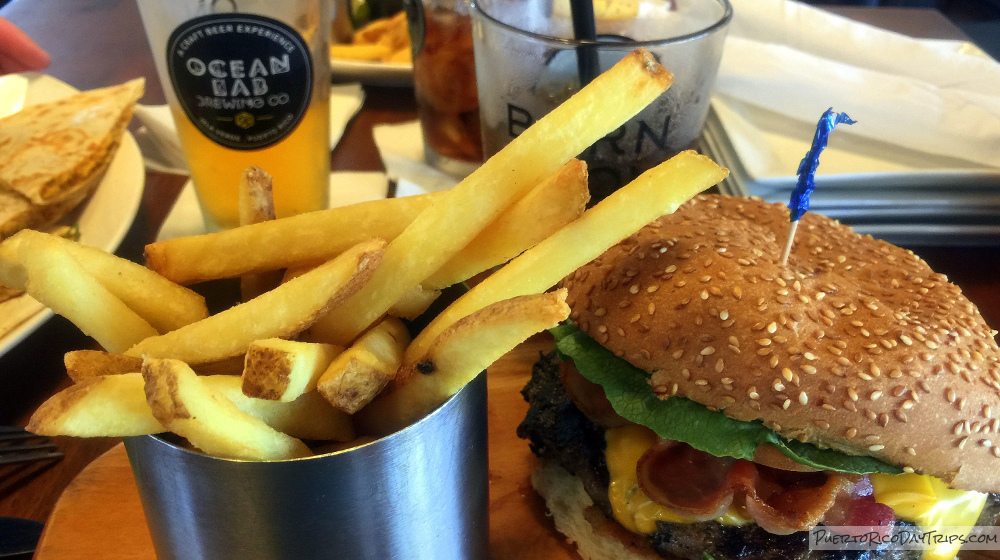 Our Visit
So, we don't drink beer, but my family does. When they come to visit, we put them to work! My brother has traveled the world, and has done a lot of brewery beer tastings. He loved this place. He had 2 flights. The day we went, there were 8 different beers available on tap, so we had 2 repeats. Of course he liked some beers more than others, but he didn't think any were sub-par. He said that is really unusual, since most places make a few types really well, and others not so much. He really enjoyed the IPAs, and the fruit-infused beers (they offered a passion fruit beer, and a blood orange beer). They also had lagers, blondes and ambers.
We have had lunch there a couple of times, and some appetizers. Everything was good, fun, bar food. Enjoyable all around. You have the option of sitting inside in the AC, or outside overlooking the pool.
When we went in early 2018, the brewpub was at pool level, but now they have moved upstairs. The view is even better now! They also bottle their products, and have a store where you can pick some up to go, or purchase some "Born on the Beach" merchandise. If you can't get to the brewery, their beer is available in many supermarkets, bars and stores arund the island.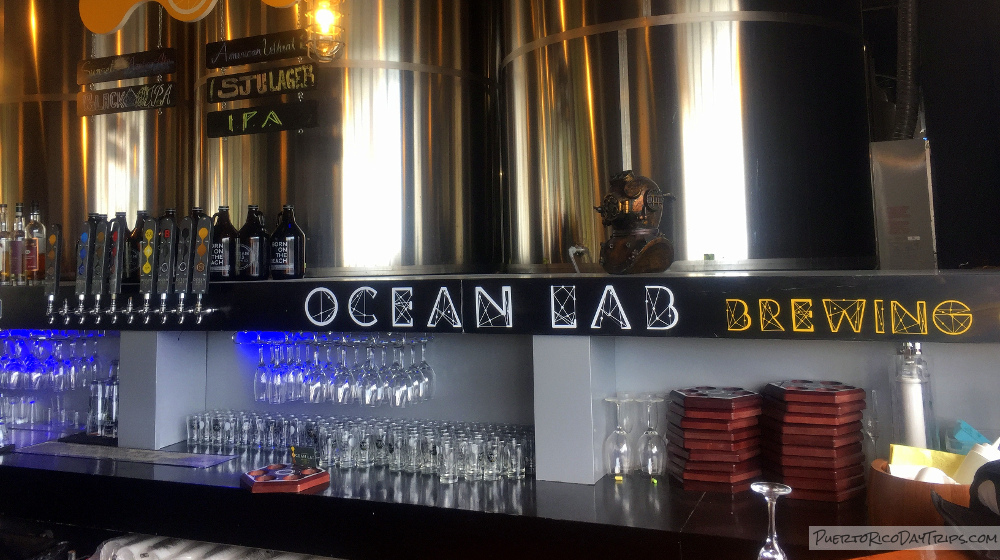 Details
There is a $5 parking fee for the lot at the Vivo Beach Club.
Ocean Lab Brewing is open 7 days/week, from 11am to 10pm (and until 11 Pm on Friday & Saturday).
You can give Ocean Lab Brewing a call at 787.648.5655 for more information.
You can visit the Ocean Lab Brewing Facebook page for more information.
Ocean Lab Brewing is located at Balneario de Carolina on Road 187 KM 2.6 in Carolina. It's adjacent to the Vivo Beach Club. If you are coming from Old San Juan, Condado, or Isla Verde, you can take a taxi or Uber there, or perhaps a bus (watch the time and day of week as the bus schedule is limited).
Click on a placename below to view the location on Google Maps ...
PuertoRicoDayTrips.com assumes no responsibility regarding your safety when participating in the activities described in this article. Please use common sense! If your mother or that little voice in your head tells you that you are about to do something stupid … then don't do it!