Ojo de Agua – A Natural Spring in Vega Baja
Vega Baja has a number of natural , fresh-water springs (called manantials in Spanish). These pretty, crystal-clear pools of water are a wonderful natural resource that are beautiful to look at, and refreshing to cool off in. This one, the Manantial Ojo de Agua, is located right in a neighborhood, and they have kept is as a nice place for people to enjoy themselves.
Vega Baja is located on the north coast of Puerto Rico. The town has interesting topography, and lots of karst (limestone) rocks, from which fresh water springs up. There are a few others in this town you can visit in more "natural" settings, but this one is easily accessible, being just in a neighborhood, just a few blocks off a main road!
Our Visit
We were in Vega Baja doing a few other fun things, so we made a quick stop here to see the Ojo de Agua. It was really nice, with crystal clear water, and just some natural algae growing here and there. There were lots of colorful fish swimming in it. The surrounding area was freshly painted, with a eye-catching mosaics, paintings and Puerto Rican flags. There are now slides and a swing, and a few bars/food stands have opened up around the pool. We were the only ones there first thing in the morning. I have seen pictures of lots of people in there, cooling off from the heat of the day. They also have bathrooms available for $1, and some off street parking for $3.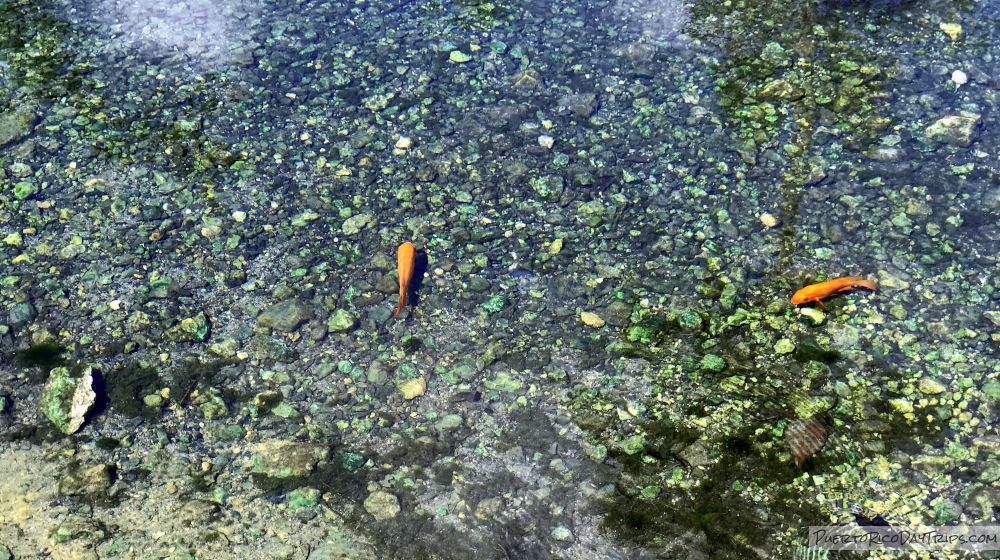 There are sidewalks all around it, some in the shade, so you can bring a chair and watch the kids play. Right by the painted flag, you can see where the water comes up through the rock. I walked into the water. It was cool, but the cement walkway leading in was a bit slippery. So while, it looked accessible, you would really have to take care when wheeling or walking someone in.
It was cute. I hope it stays clean. This is not a must visit spot, but it could be a quick stop if you are in the area.Kids seem to love it, with water slides.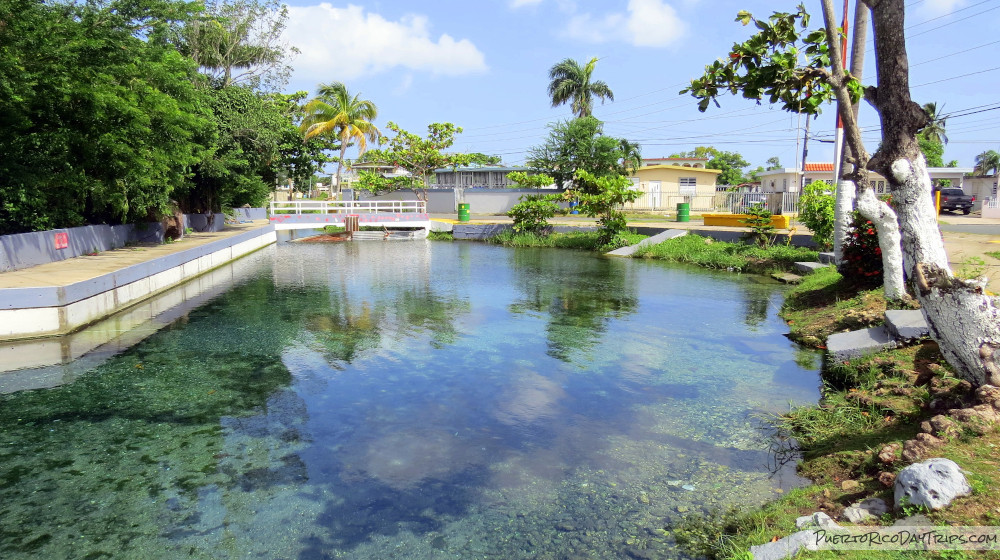 Details
We would recommend visiting this during daylight hours.
From Route 2 in Vega Baja, turn northward onto Calle Hugo Venegas, and follow the road for about a quarter mile. which turns into Calle Amapola. Follow the road for about a quarter mile from Route 2. Note that the name of the road changes to Calle Amapola.
Click on a placename below to view the location on Google Maps ...
PuertoRicoDayTrips.com assumes no responsibility regarding your safety when participating in the activities described in this article. Please use common sense! If your mother or that little voice in your head tells you that you are about to do something stupid … then don't do it!