Step Back in Time with a Night Walking Tour of Old San Juan
1/21- Legends is offering tours. Contact them for info.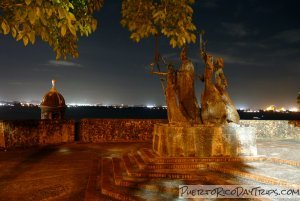 There is something about Old San Juan at night that is really magical. It may be the way the lights cast shadows on the old buildings that make them come to life. It may be knowing that the buildings and cobblestone streets have seen hundreds of years of history. Getting a glimpse of what life must have been like here 200 or 300 years ago gives you a new appreciation for the Old City.
We have been to Old San Juan easily 100 times over the years, and know a good deal about the history of Puerto Rico and the City. But we had family visiting, and wanted them to have the experience, so we decided to try something new.
That's were the Night Tales in Old San Juan walking tour comes into play. This tour is billed as "a night time journey into Spanish Colonial Times". Debbie was our tour guide, and she was a bundle of energy and information. Her narrative took you back in time – as if you were visiting the city hundreds of years ago. Everyone in our group found the tour to be informative and entertaining.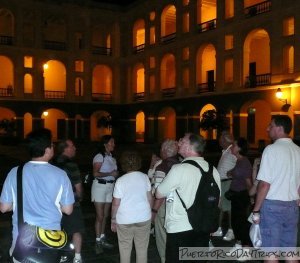 his is a walking tour, and a fast walking tour at that! There is a lot of information, and places of interest, that Debbie wanted to get to, so you had to move along quickly. Once you got to a place that Debbie wanted to talk about, you could sit (most of the time) and catch your breathe as you listened. We made many stops – some inside buildings, some outside. This is a 2 for 1 tour – not only do you get information about the history of the city, you also get an aerobic workout!
Debbie is very passionate about her subject. She really got into telling her stories, so it was fun. She pointed out many places where movies had been filmed in the Old City (which my mother-in-law really liked). I enjoyed learning about the historical preservation codes that property owners must adhere to in order to keep the city historically accurate. She also gave hints on how and where to get the best night time photos of the city (good for my husband – as seen by the great photos in this blog!). But if you stayed behind to take pictures, you had to run to catch up to the group because Debbie had us on our way to the next stop. Hint for photographers: Bring along a tripod, otherwise you'll get blurry photos due the long exposures you need to capture the feeling of the city at night.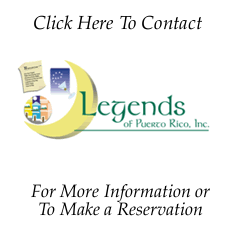 You walk about 2 miles up and down the streets and it takes about 2 hours. It takes place in both good and bad weather (lucky for us that we had a clear night with a full moon). Wear comfortable walking shoes (no high heels, please!). And bring a bottle of water with you. There is a restroom available at the beginning of the tour, and about half way through. The tour starts that the Sheraton Hotel, and finishes at the Cathedral. If you want to go to dinner or a club after the tour, Debbie will recommend places for you. Otherwise, she'll walk with you back to the Sheraton. But you're always free find your own way back.
The cost is $45 per person plus IVU (sales tax), children are a little less. Reservations are required. Call or email for reservations.
If you're happy, let them know it — Don't forget to tip your your bartender, tour guide or trip operator if you enjoyed yourself. Gratuities are appreciated and typically aren't included in the price they charge you.
Tour begin at 6:00pm 7 nights a week.
Tours are not offered on some holidays: call for specifics.
Tours are limited to a maximum of 14 people. However, if not enough people are signed-up, then the tour for that night may be canceled. They may also offer a similar day time tour- check website.
Tours are scheduled for 2 hours, however they may be longer depending on the number of people and how many questions are asked.
You can call 787-605-9060 for more information.
Visit their website for more information.
The tour departs from Plaza Colon in Old San Juan
PuertoRicoDayTrips.com assumes no responsibility regarding your safety when participating in the activities described in this article. Please use common sense! If your mother or that little voice in your head tells you that you are about to do something stupid … then don't do it!