Zip Around Old San Juan on a Segway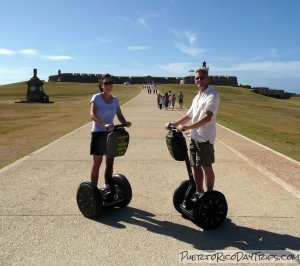 1/21 Segway Tours are open and offering tours!
People always ask about the best way to tour Old San Juan. Should you take a taxi, the free trolley, or just get in your car and drive around, or what? We always tell people that the best way is to walk around the city on your own. The old city isn't really so big that it can't be covered on foot. Besides, you'll miss a lot if you're driving in the streets, and you'll most likely get stuck in traffic and waste a bunch of time. We recently heard about another option … a Segway tour. OK … So you're asking "What the heck is a Segway?" A Segway is a two-wheeled, self-balancing, electric, personal transportation device. Huh? Take a look at the photo. You've probably seen them at the mall or being used by city police. You've probably pointed and laughed at the funny looking machine. Ever since they came out, riding a Segway was one of those things Ray always wanted to do. Kind of geeky, I know! When we would see the security people in the malls riding around on them, we would wonder where we could try them. When we found out about the Segway tours offered right here in Old San Juan, we knew we had to give it a try. They're located next to the ferry terminal on the waterfront. That's real convenient for anyone visiting the old city, especially if you're on a cruise ship that is docked right there. So this past week we had some free time to "play tourist". We contacted Segway Tours of Puerto Rico, made a reservation for their 2-hour tour and off we went to Old San Juan.
The Training
We stopped by their office when we first got to town to say hello and just to make sure we were still "on" for our 3:00pm reservation. When we got there, we met Jose, Natalie and Geraldo who own the operation. Since they were between tours, and we had some time to kill before lunch, we opted to get our Segway training at that time. First, Jose hops on a Segway and starts zipping around in their little office. Forward, backward, turning in tight little circles … he makes it look real easy and fun. Then they explain the Segway, how it works, a little bit about the technology (it has a computer and gyroscopes inside), and how it self-balances and won't let you tip over. Then it's your turn to try. After they put you through the "step on, step off, go forward, go backward, turn left, turn right" drill, they have you navigate through their doorway and out onto the sidewalk, where they have you practice going up and down slopes, over some small bumps, and turning corners. All in all, the training only takes about 10 or 15 minutes. The whole time, one of them is right there by your side while you find your center of balance. At first it is weird and you feel all wobbly on the Segway. But after a few minutes, you feel pretty good about it. It is just kind of odd. It not like a skateboard, or skis, or roller skates. It's like no other transportation device you have ever used. You can turn on a dime, go forward and backward with just a small movement of your body. A slight lean this way or that will move you around town. All you need to be able to do is balance and watch how close you are away from things. Once you find your center of balance, the machine does most of the balancing for you. I honestly felt it was really easy, and getting off was the most "difficult" thing about it. And all that really requires is a slow steady step straight back and down. So now that we were trained "experts", off we went to eat lunch.
Out on the Open Road
After killing some more time in Old San Juan, we returned to their office for our tour, and, as it turned out, the other people on our tour had to cancel, so we got a private tour with Jose. They gave us sunscreen to put on our faces and arms (very important!) and away we went!
Jose was very knowledgeable about the old city, and he is very personable too, so we felt very comfortable with him. Safety is always a concern (for their clients and their Segways), so you travel on less-congested routes and walkways. As I said, I was a little wobbly at first after the training, but after a few minutes of riding during the tour, you forget all about the "how to do it" and it just comes naturally. I think that going through the forward-backward-turn-turn-off-on drill, though it shows you the basics, is unnatural and a bit stressful. Once you're cruising along at 5 MPH your stops and turns are more natural, and not happening in rapid secession.
The 2-Hour Tour
We opted for the two-hour tour, which makes a number of stops at historical places along the route. All along the way, Jose explains you what you are seeing and what it's significance is. We went along the waterfront, and then along the Princess Promenade. We stopped at the Roots Fountain and had our picture taken. Then up through the San Juan Gate to EL Morro. Old San Juan is full of beautiful statues and buildings. You'll pass many of them, such as the Roagtiva and La Forteleza, where Jose explains the who, what where, when & why of what you're looking at. We also made a quick stop at Casa Blanca, to see the gardens. And we went by the cemetery and a number of public squares.
The two-hour tour also includes entrance to El Morro fort and about 30 minutes of a guided walking tour inside (you leave the Segways parked outside the fort). We have been in the fort loads of times, but when you go with a guide, it really adds another dimension to the place. Jose has lots of little known facts, and he points out many easily overlooked things. At many of the stops, Jose will take your picture if you want, so you will have photos to show all your friends. I have to say that riding a Segway is one of those experiences that seems to be universally known, but few have ever tried it. During our tour almost every person we passed commented on the Segway and many people took pictures of us on them. It was an interesting and fun experience and after two hours of sightseeing in hilly and beautiful Old San Juan we hadn't even worked up a sweat! Now that is the way to enjoy the old city!
The Short Tour
The 1 hr tour follows the first part of the route of the two-hour tour. You will see and learn about the old jail, the city wall, the Old San Juan city gate, and many of the lovely statuary along the way. This would be a nice way to try the Segways and learn a little bit about the old city at the same time. They also run this tour after dark, so if you're on a cruise that arrives in port in the late afternoon, you might check these guys out.
The Details
There is a maximum age limit for the tour of 65 years old. The other big issue for this tour is a weight limit. Since you tell the Segway which way to go by shifting your weight, you need to weigh at least 100 pounds so the machine can feel it. Jose did say, for children who weigh less than 100 pounds, they may be able to make a short tour with an attendant walking along side of them to help control the machine. The maximum weight allowed is 260 pounds. You need to be able to stand up for the duration of the tour. And you should wear flat shoes. If you have a knapsack or something like that, you can leave it behind in the office for safe-keeping while you're on the tour.
The two-hour tour is $93 plus IVU (sales tax), per person. The 1 hr tour is $63.00 plus IVU (sales tax), per person.
If you're happy, let them know it — Don't forget to tip your your bartender, tour guide or trip operator if you enjoyed yourself. Gratuities are appreciated and typically aren't included in the price they charge you.
I hear they now have contracts with some cruise lines, so days ships are in port, it may be harder to get a reservation. Also if you are on a cruise ship, you may not be able to book directly.
They run tours 7 days/week. The two-hour tours are scheduled for 10:30am, 1 pm, and maybe a 4:00pm. The 45-minute tours are done through out the day 8:30 am onwards, as long as there are Segways available. They are pretty flexible with the times, and they can do tours later in the evening if requested.
Reservations are required for the two-hour tours. They can take a maximum of 5 riders on each tour with the guide. If you have a larger group, you will have to be split up an put on back-to-back tours. They have 12 Segways now, so they can run tours every hour if demand requires. You can reserve online or call. If don't have a reservation, they're located right at the waterfront, so just pop in and see if they can accommodate your group. They can hold your luggage in their office during the tour.
Allow enough time for the tour itself (45 minutes or 2 hours) and then about another 15-30 minutes (depending on the size of your group) for your training. They ask that you show up at least 15 minutes for your scheduled tour.
You can call them at 787.598.9455 for more information or to make a reservation.
You can get more information or make reservations online on their website www.SegwayToursPR.com
Segway Tours of Puerto Rico is located in Old San Juan on Pier 2, just to the left of the Ferry Terminal (when facing the water). There's an ice cream shop on the corner by their place. You'll see the signs.
Click on a placename below to view the location on Google Maps ...
PuertoRicoDayTrips.com assumes no responsibility regarding your safety when participating in the activities described in this article. Please use common sense! If your mother or that little voice in your head tells you that you are about to do something stupid … then don't do it!