Enjoy Paddleboard & Snorkeling in Old San Juan
When people go to Old San Juan, the first thing that comes to mind for most people is touring the forts and museums, and generally walking around the old city. But now, there are actually quite a few water sports available to enjoy right in Old San Juan.
SUP Action offers a Stand Up Paddleboard (SUP) & Snorkel tour that goes from the San Juan Bay into the Condado Lagoon. SUP is an easy and relaxing way to enjoy this pretty lagoon, and see some of the local sea life. They offer 2-hour tours, so you can enjoy this (and cool off!), and still have plenty of time to check out other stuff in the area.
Our Trip
The meeting point for this tour is right on the waterfront, in the San Juan Bay Marina. That's located just at the bridge that connects Old San Juan to the Puerto Rico mainland — just minutes from the cruise ship piers and hotels in San Juan.
Once you check-in for the tour, they will get you set up with the gear you'll need for your tour — paddle, snorkel gear, and life vest (optional). We decided to do the paddleboard trip because we enjoy that more, but you can opt for a kayak if you prefer.
Once we were geared-up, our guide gave us a quick demonstration of how to hold the paddle, how to stand/balance on the board, and other things you need to know. After that, we just stepped from the dock onto the board, and off we went!
Our guide carried our snorkel gear and some bottles of water on his paddleboard, for safe keeping in case we tipped! But it really is easier than you think, and with the right stance, you can keep your balance without a problem. I enjoy it because you are higher up (as compared with a kayak) and can see the animals in the water better.
It was a windy afternoon, so our guide suggested that, while going under the bridges (pretty cool!), we should kneel on the boards to reduce our wind resistance. I was surprised how clear the water was here, due to the constant influx of water from the ocean.
Low and behold, just as we came out from under the bridge, I looked down and saw a manatee mother and baby swim right under my board! It was so cool. We stayed in that area for a while, watching them swim around and under our boards. Of course, there's no guarantee that you'll see manatees, but they are very common in this lagoon. Our guide said the manatees are used to the kayaks and SUP, and everyone knows not to bother them (they are endangered, after all). They are curious and not afraid, and they get pretty close to you. He said that, in the winter, there are many more of them in the lagoon because the water there is warmer than the ocean. I think this encounter was the highlight of the trip!
After some time watching the manatees, we decided to go under another bridge toward the old Fortín San Antonio and took some photos. Then we went to the swimming area, tied our paddleboards to the swimming area lines, and jumped in for some snorkeling.
There is a natural wave break, where lots of fish hang out along the rocks. A few years ago, man-made reef blocks were installed to try to attract corals and other sealife. If you don't know how to snorkel, the guide will review the process and make sure you are doing OK. While I can't say the snorkeling is amazing, it is interesting. We found a school of blue tangs, and a number of other types of fish.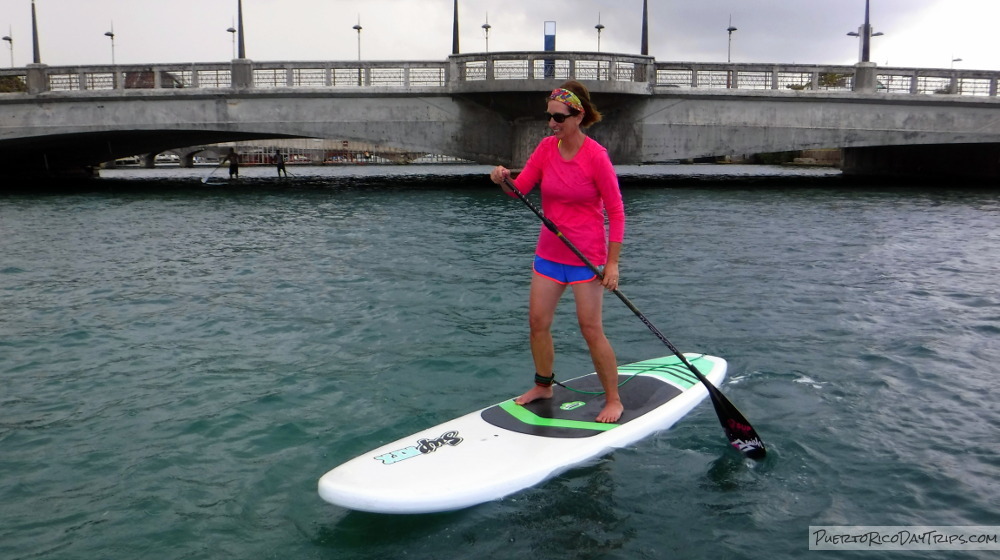 When we finished snorkeling, we got back up on the boards (not too difficult to do!), and took off back into the lagoon. This time, we headed to the east, and ended up going all the way around the lagoon. Throughout the tour, our guide told us about all sorts of things, even the hotels and buildings we were peacefully passing during our trip. The water gets darker on the edges on the far eastern end, due to the mangrove trees, less seawater exchange, and the sea grass on the bottom (as opposed to white sand). Our guide said the manatees like to hang out in the grassy area, but we didn't see anymore on our trip.
There were actually quite a few other people enjoying the lagoon — some other people doing SUP, kayakers, the PR Olympic Rowing Team practicing, and families enjoying the small beach. It was a fun tour. The wind was at our backs on the way back to the shop, so it helped get us back to the dock quickly.
Back at the dock, there is a fresh water rinse shower on the dock, and restrooms with a real shower, and changing area. Those facilities were convenient to help us get ready for our next adventure in Old San Juan!
Normally, when we review an activity that is not free to the public, we pay the admission price out of our own pockets. However, we just want you to know that the guys at SUP Action were kind enough to offer us this trip for free. While we don't feel that this free ride influenced our review one way or the other, we felt that we should tell you, just as a matter of fact.


Details
The 2-hour SUP or kayak tour (with snorkeling) is $ per person.
They offer tours at throughout the day. Thursday- Sunday. Reservations are required.
You can contact SUP Action 787-637-2338 for more information.
You can visit the SUP ACtion facebook page for more information or to book your trip online.
Make sure you have adequate protection from the sun. I recommend a hat, sunglasses, and rash guard shirt to keep the sun off your back and arms.
When you book your tour, tell them if you want a paddleboard or kayak so that they can have the correct gear ready for you when you arrive.
Other companies offering SUP in the lagoon
VIP Adventures webpage
Click on a placename below to view the location on Google Maps ...
PuertoRicoDayTrips.com assumes no responsibility regarding your safety when participating in the activities described in this article. Please use common sense! If your mother or that little voice in your head tells you that you are about to do something stupid … then don't do it!