Everyone Loves an Orchid or Plant Show
will update for 2022 as I see info.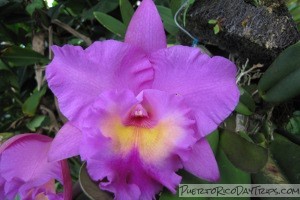 Springtime is the time for flowers and flower shows! Being originally from the north-eastern States, flower shows were always a rite of passage for the beginning of springtime. We're happy that we can continue that tradition here in Puerto Rico.
Orchids are very popular here, so you will see a number of orchid shows all around the island in the spring. If you want to see some real beauties, you can attend a show sponsored by a local orchid society you're visiting the island.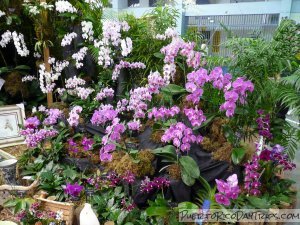 These shows are not as huge as some in the States, but the displays are really nice. It is not just about orchids, there are other types of plants for sale, too. At these shows and festivals, you can usually people selling orchids, heliconias, bromeliads and assorted orchid gardening stuff. There are lots of flowers to be seen and purchased — some common and some very unusual. Some of the plants are grown locally, though many are imported from Hawaii and Thailand.
2022 ORCHID and Plant SHOWS- will update when dates available
presented by the Sociedad Orquidistas del Caribe. At the Plaza Guayama Mall. Free admission.
At the Plaza Centro Mall in Caguas at their Mercado Agrícola. During Mall hours.
Jan 27-30, 2022 At the Plaza del Caribe Mall in Ponce. presented by the Orquedea del Turabo. Free admission.
> Mid Feb: Feb 11-Feb 13 Festival of Orchids in Catano. 9am – 6pm At Bahia Viva waterfront area, by the Residencial Matienzo Cintron.
May 3- May 7 at the Mayaguez Mall, presented by the Sociedad de Orquidistas de Mayaguez.
Mid-Late March March 17-March 20, 2022 at the Caguas Botanical Garden, presented by the Sociedad de Puertorriqueña de Orquidistas. Hours are 9:00am to 6:00pm. admission $2.50 will get you into garden and orchid show. There are usually about 10 large orchid displays, many smaller displays and exhibits and maybe 10 orchid vendors, and a couple vendors of other stuff and other types of plants. The vendors are typically bilingual. There is usually some music and seminars about orchids (in Spanish). We always find something unusual and pretty to buy!
Late April / Early May (usually the week before Mother's Day) presented by the Sociedad de Orquidistas del Este.usually at the Coliseo Municipal Fito Ramos in Fajardo. Free admission. .
a couple days before Mother's Day presented by Orquidistas de Dorado. Dorado Orchid Fair in the town plaza. Open 9am . Free admission.
October 27 to October 30 @ 9am – 6pm Orchid Sale and exhibition- VENTA Y EXHIBICIÓN DE ORQUÍDEAS EN RIO PIEDRAS La Sociedad Puertorriqueña de Orquídeas,Inc. present an educational and beautiful exhibition of orchids. There will be displays and sales of ochids and other ornamental plants, plus supplies. cost $2 per person at Jardin Botanico, Rio Piedras
For More Information
You can contact any of these local orchid growers for more information
Percy Orchids — 787.787.9392 (bilingual)
Orquideas Hoja Dorada — 787.646.5556
E. Orchids — 787.733.1493
Caribe Orchids — 787.602.9787
Orquideas Bernor — 787.237.2701
Note for Tourists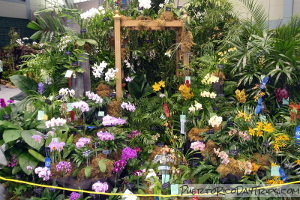 If you stop in at an orchid show, and you find a plant that you simply must have, you can take it home! Since orchids are not potted in soil, the USDA allows the transport of orchids into the US mainland without any problem. So you buy an orchid today, and take it on the plane so you can enjoy a little bit of paradise in your own home!
Click on a placename below to view the location on Google Maps ...
PuertoRicoDayTrips.com assumes no responsibility regarding your safety when participating in the activities described in this article. Please use common sense! If your mother or that little voice in your head tells you that you are about to do something stupid … then don't do it!