Make Candles and Memories in Old San Juan
Candles add fragrance and ambiance to your home, and almost everyone loves them. Now you can make your perfect candle, just the way you like it, at Sip & Paint in Old San Juan. This hands-on, fun, and easy activity requires no experience, and they supply everything you need. You just decide how to make it perfect for yourself, or for a gift. They pour the hot wax while you sip on your favorite cold beverage, as you choose your unique fragrance and color combination! No two candles are the same!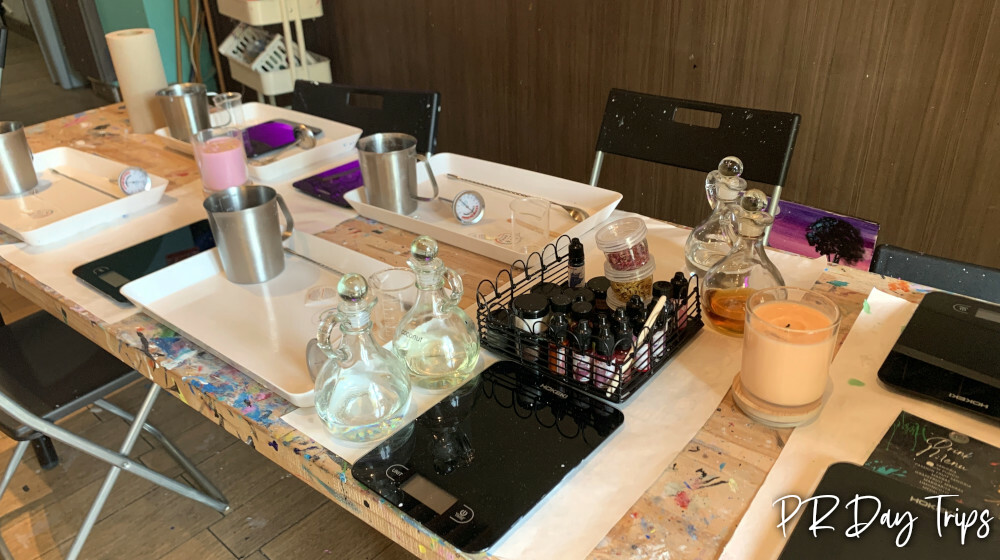 At Paint & Sip, they now offer a Create a Candle and Sip Workshop. It is an interesting experience that lets you make your own custom candle! You start by donning your apron and finding your spot at a worktable, which is all set up with all the materials you will need to create your masterpiece. Then you choose the beverage of your choice from their drink menu. The first drink is included, but you can purchase more if you desire.
Then you can spend some time finding the perfect fragrance for your candle. They have probably 40 different fragrances to choose from. You can choose just one fragrance, or combine 2 if you want! I enjoyed this part a lot. They have so many fragrance choices – fruits, flowers, spices, earthy, herbs, food, among others. I am sure everyone will find a perfect fragrance. Next, you choose the container color, and the color dye you will use to tint your candle's wax. Beyond that, you can add sparkles or decorations to the top of the candle if you want. There are so many ways to personalize your candle!
Your instructor will then bring the melted soy wax and walk you through the steps to making it all into your perfect candle. The process takes only about 45 minutes from start to finish. The candle has to then "set" for at least 1 hour, so you can chill out there, go for a walk around the old city, or grab a bite to eat somewhere. Then you come back and pick up your candle.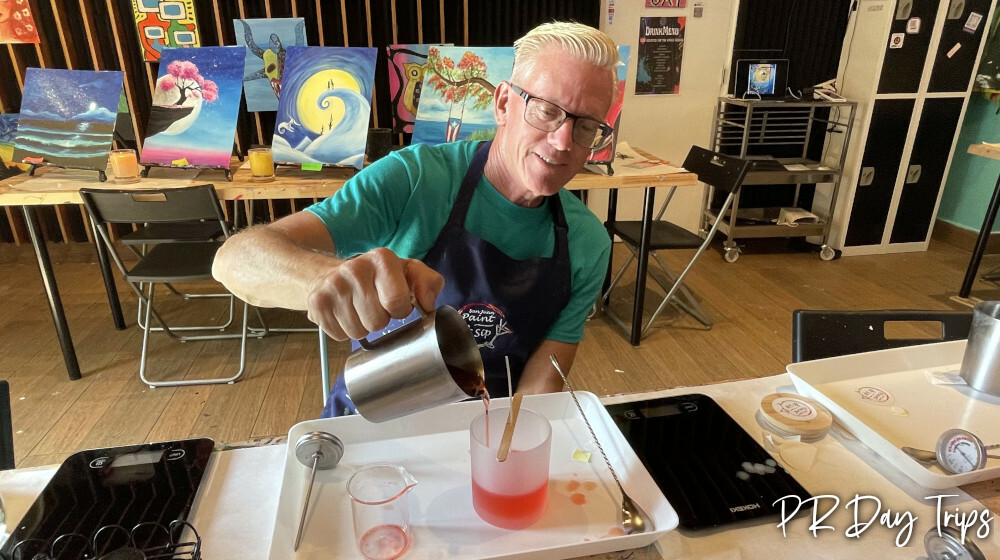 This workshop is great for locals and tourists alike. Imagine making your souvenir "vacation" candle, where you choose scents and colors that remind you of your time in Puerto Rico. Perhaps a piña colada fragrance? Maybe ocean or rain forest colors? Every time you light the candle, it will transport you back to your vacation and serve as a reminder of the wonderful experiences that you had here. This workshop is fun for group of friends to create custom candles together while enjoying drinks, or just come alone and do your own thing!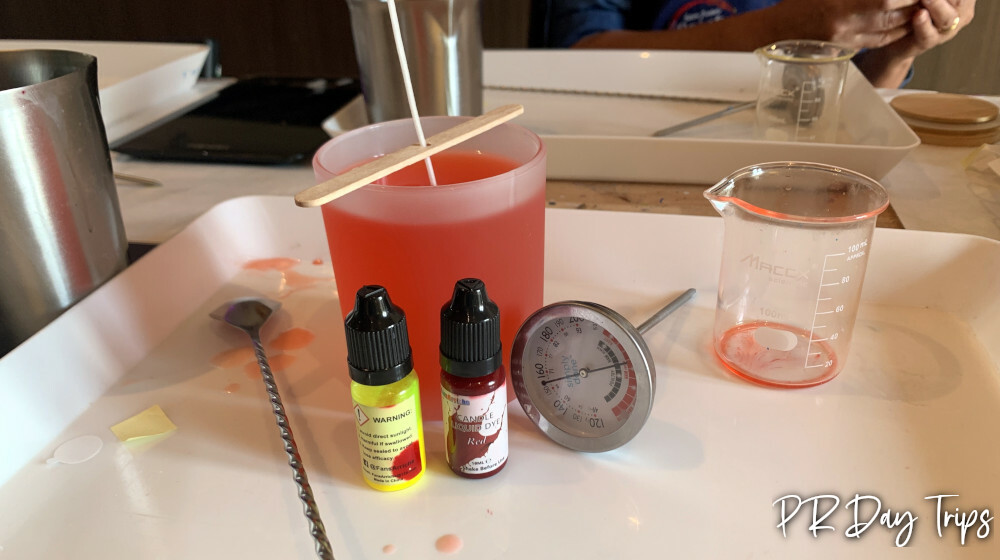 Normally, when we review an activity that is not free to the public, we pay the admission price out of our own pockets. However, we just want you to know that the folks at Paint & Sip were kind enough to offer us this workshop for free. While we don't feel that this free ride influenced our review one way or the other, we felt that we should tell you, just as a matter of fact.


Details
The cost of the workshop is inclusive of all materials, your finished candle, and one drink (both alcoholic and soft drinks are available). Additional drinks (or an unlimited drink package) can be purchased separately.
They offer the candle making workshop a number of times per day, but not every day. Best to check their online class schedule. Reservations are recommended, but not required – you do have the option of just "showing up" for a class and they will fit you in if there is space.
If you are on a cruise, I don't think they allow candles in your room on the ship. I believe the cruiseline will confiscate your candle when you get back onboard, and hold it until end of your cruise (like they do with bottles of alcohol bought in port).
This is a quick workshop – it takes about 35-45 minutes to make your candle. So, by the time you get set up and choose your fragrance, the whole experience might take one hour.
You can contact them at 787-725-1960 for more inforation.
You can visit their Facebook page or website for more information, view their class schedules, or make a reservation.
It is important to NOT light your candle for 24-72 after you make it, in order to make sure the wax is completely set all the way through.
Paint & Sip is located at 200 Calle de la Cruz (right on the Plaza De Armas, next to Supermax) in Old San Juan.
Click on a placename below to view the location on Google Maps ...
PuertoRicoDayTrips.com assumes no responsibility regarding your safety when participating in the activities described in this article. Please use common sense! If your mother or that little voice in your head tells you that you are about to do something stupid … then don't do it!