Glide High Above the Water on a Parasail
Post Maria- July 2018- A&J in Fajardo is not operating, but the companies listed below in Sam Juan and Rincon are working.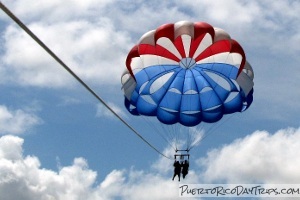 Floating high up in the sky … beneath a parachute … being pulled by a motor boat …
Parasailing is one of those things that, once you see someone doing it, you just want to do yourself. It is amazingly calm and quiet up there, and takes almost no effort on the part of the passenger, so just about anyone can do it. It is an activity that is available all around Puerto Rico, so you've come to the right place if you want to give it a try.
Our Trip
We occasionally get questions from people about parasailing here on the island, because they see it offered in the resort areas. We had gone parasailing many years ago on our honeymoon, but we decided it was time to give it a try here in Puerto Rico so that we could write about it.
We went with A&J Adventures, who operate out of Fajardo, right near the old ferry terminal. There were a total of 4 people on our trip — me and Ray, and a couple of girlfriends out for the afternoon.
After signing the typical liability waivers, we got onto the boat (the hand rails were wobbly 🙁 ), donned our life jackets, and were helped into individual harnesses (around your legs/waist).
We got out onto the water, and waited while they checked the parachute and all the lines. Once they gave the OK, we went up to the large platform on the back of the boat and our harnesses were connected to the parachute. They told us to sit down and … just like that … we were up in the air! That was exciting!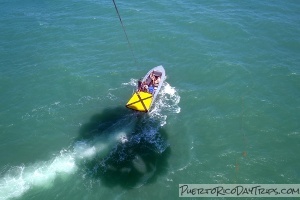 Then, as you go up up up, the boat gets smaller and smaller. We spent about 10-15 minutes up in the air. We had plenty of time to look around and take photos. We got great birds' eye view of the islands, the east coast, the marina, and El Conquistador Resort. Then they slowly reeled us in and back onto the boat.
They send people up in pairs (tandem flights). A&J Adventures took photos of our trip, and we had the option buy the picture card at the end of the trip.
Observations
After the initial swing up and off the boat, the rest of the trip is very calm and relaxing. Another point to mention is that, at least on this trip, you get really high up — like 450 feet. So people who are afraid of heights might not like it.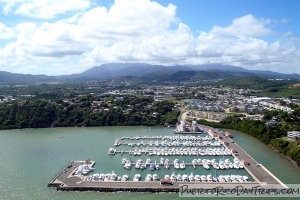 I was surprised that everyone mentioned that they got a little vertigo feeling while they were up there. I am not sure why, and it wasn't enough to spoil the trip, but you might want to take something to prevent that feeling if you're inclined to seasickness.
You need to take everything of value out of you pockets, or make sure anything you do have is firmly attached to your body — because if it falls, it is lost forever to the sea.
On our first parasail experience (years ago) we didn't go as high, but they did dip you into the water and then put you back up. Make sure that, if the company you pick does this "dipping", you don't have anything on your person that can get damaged by the water.
Details — Companies that Offer Parasailing
If anyone knows other companies that offer Parasailing in Puerto Rico, let us know and we will add them to the list.
A&J Adventure in Fajardo and Culebra (Note- not working yet after Maria)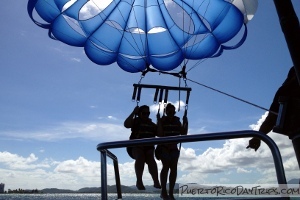 Tours are $69 per person. Check their Facebook page for special offers.
They operate 7 days/week, from 8am to 5pm.
phone: 787-470-5000 or 787-469-6479
web: A&J Adventure on Facebook
email: aj.adventureinc@gmail.com
They are located in Fajardo, to the right (south) of the old ferry terminal.
Watersports Center on the beach in Isla Verde
Parasailing tours are $75 per person for flyers (can be tandem flight- 2 people $150), and $20 per person for observers on boat.
They operate 7 days/week, from 10am to 5pm. Trips at 11am, 12, and 2pm.
phone: 939-969-4510
web: Watersports Center web site
email: kenny@parasailpuertorico.com
They are located on the beach in Isla Verde, behind ESJ Towers.
Flying Fish Parasail in Rincon
Parasailing tours are $65 per person for flyers, can be single or 2 people or 3 people tandem together and $20 per person for observers on boat.
They operate 7 days/week (mid-November to mid-May), from 9am to 5pm. Reservation are recommended.
phone: 787-823-2359
web: Flying Fish Parasail web site
email: fisheye@rinconview.com
PuertoRicoDayTrips.com assumes no responsibility regarding your safety when participating in the activities described in this article. Please use common sense! If your mother or that little voice in your head tells you that you are about to do something stupid … then don't do it!