Kayak and Snorkel Among the Mangroves at La Parguera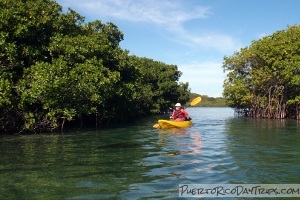 If you are a water enthusiast, a trip to La Parguera area might be just what you are looking for during your visit to Puerto Rico. Located on the southwest coast of the island, La Parguera boasts about 30 tiny mangrove "islands, islets, keys, cays, cayos, or islotes" just 1 to 5 miles off the shore.
Once you get to those mangrove cays, you can swim, snorkel, and ride the currents in the crystal-clear, warm water. Getting there via kayak was a great experience, we went with a guide and it was both fun and educational.
My mother loves to kayak, so we decided to check this out.
Our Trip
Note- the company we went out with is longer doing it, but there are other companies available. But exact tours, prices, routes etc may be different. We met our guide at the small boat ramp on Camino Puerto Viejo, just west of La Parguera. After paperwork, safety gear, and instructions, we set off. We started early as the winds and waves pick up throughout the day.
Our morning paddle out was on almost flat seas. We passed through the marina area, where there are some houses along the waterway, and on some of the mangroves islands. The guide will be able to tell you about the problems and some conservation efforts underway for the area and talk about the wildlife. Then, we did the "open water" part of the trip — maybe about 30 minutes of open-ocean paddling.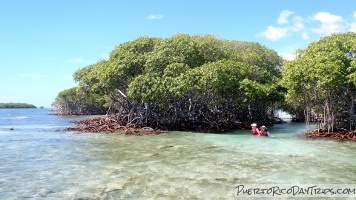 We did a swim/snorkel spot at Caracoles, and we had a great time seeing all the baby fish in the mangrove roots in the channels (sometimes called canals or los canales).
We then headed over to Mata la Gata, where we went ashore and checked out the island, swam in the ocean "pool", and used the restrooms. Next, we set off for Cayo Enrique. We spent time snorkeling among the mangroves, and did some body-rafting on the currents in the mangrove channels.
We then paddled back to where we started in La Parguera. Luckily our return trip was with the current, as the waves and winds had picked up a bit while we were out.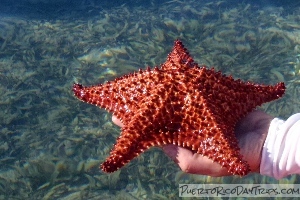 Throughout this whole trip we had encounters with lots of sea birds and sea creatures — large starfish, sea cucumbers, lots of fish, a lobster, and we even watched a local fisherman pull up an octopus. Keep an eye out for dolphins, manatees and turtles — we were hopeful, but didn't see any on our trip.
We learned how these islands are formed, the benefits of the mangrove islands, and a plethora of other nature-related topics. We all had a great time. On average, this trip typically has about 2 hours of paddling, though we got in a little more paddle time.
Thoughts on our Tour
We are all experienced kayakers, so we set right out onto the water — but beginners should get a quick kayaking lesson. The tour may change depending on weather, paddling skills of the participants, etc. So, beginners and youngsters will not go to as many islands as we went to, and they will spend more time swimming and snorkeling around the closer islands.
We were really amazed to see how clear the water was around these mangroves, and that the mangrove roots were teaming with baby tropical fish.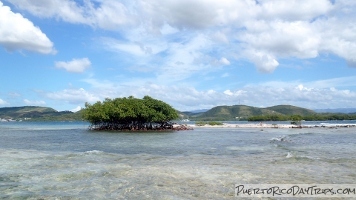 You should wear sun protection gear — sun glasses, hats, sun screen, etc. Bring plenty of drinking water and a snack. Wear hard-soled or water shoes since there is some (broken, dead) coral on the sea floor and some yucky-feeling turtle grass.
Most companies use sit-upon, ocean kayaks. They are lightweight and easy to paddle. He has a couple single kayaks, and lots of doubles. Make sure there is snorkel gear that you can use, or you may have to bring your own gear.
We decided to do a tour with someone who knows the area — though you could just rent kayaks and paddle around the islands on your own. But a 4-hour tour is priced similarly to the price of renting, so why not have a guide? Of course you can also go out to these islands in a motorboat, but kayaking is a great workout, and a wonderful, peaceful outdoor experience.
Details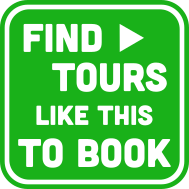 Kayaking Parguera offer this type of tour now, or just rents kayaks by the hour too.
If you're happy, let them know it — Don't forget to tip your your bartender, tour guide or trip operator if you enjoyed yourself. Gratuities are appreciated and typically aren't included in the price they charge you.
Allow about 3.5 hours for this tour.
These kayak companies may also offer a night tour to one of the bio bay lagoons in La Parguera Nature reserve. We didn't do this, but I bet the trip would be amazing — kayaking at night under a star-filled sky.
Some operators that offer kayaking in La Parguera include
Click on a placename below to view the location on Google Maps ...
Activities booked through this page are booked directly with the activity operator. Other than referring you to the activity operator, PuertoRicoDayTrips.com is not involved in the transaction between you and the activity operator. The activity operator is responsible for all aspects of processing bookings for its activities, including cancellations, returns, and any related customer service. PuertoRicoDayTrips.com makes no representations regarding the level of service offered by an activity operator. PuertoRicoDayTrips.com will receive a small referral commission for any activities that you book through this page.
All trademarks, logos and brand names are the property of their respective owners. All company, product and service names used in this website are for identification purposes only. Use of these names, trademarks and brands does not imply endorsement. Photos used to promote tours are the property of the original copyright owners.
PuertoRicoDayTrips.com assumes no responsibility regarding your safety when participating in the activities described in this article. Please use common sense! If your mother or that little voice in your head tells you that you are about to do something stupid … then don't do it!