River Fun at Los Pilones Falls & Charco de los Caballos
The easiest way to get to Los Pilones falls is by walking across private property. Please keep it clean and do not block neighbors driveways when parking. Also, it can be extremely muddy when it has rained.
You gotta love a pretty waterfall that is close to your home. Here in Puerto Rico, once you get out of the city, it is not too difficult to find some beautiful falls. We recently went to Los Pilones Falls and Charco de los Caballos, located just in the next town over from where we live.
The river (Río Canóvanas) is actually a very pretty and interesting river that starts way up in El Yunque, and runs to the sea, with many waterfalls and swimming holes along the way. People have been enjoying this river for hundreds (if not thousands) of years, as evidenced by petroglyphs that we have found in other locations in this river. It was a real nice place to spend some time and cool down.
Sometimes, we find these pretty places in the weirdest ways. I have had the GPS coordinates for these falls for a while now, but we never got around to going. But on a recent volunteer river clean-up, we used the opportunity to not only do a good thing to help clean-up a small piece of Puerto Rico, but also to explore the area with some experienced people that had been there previously.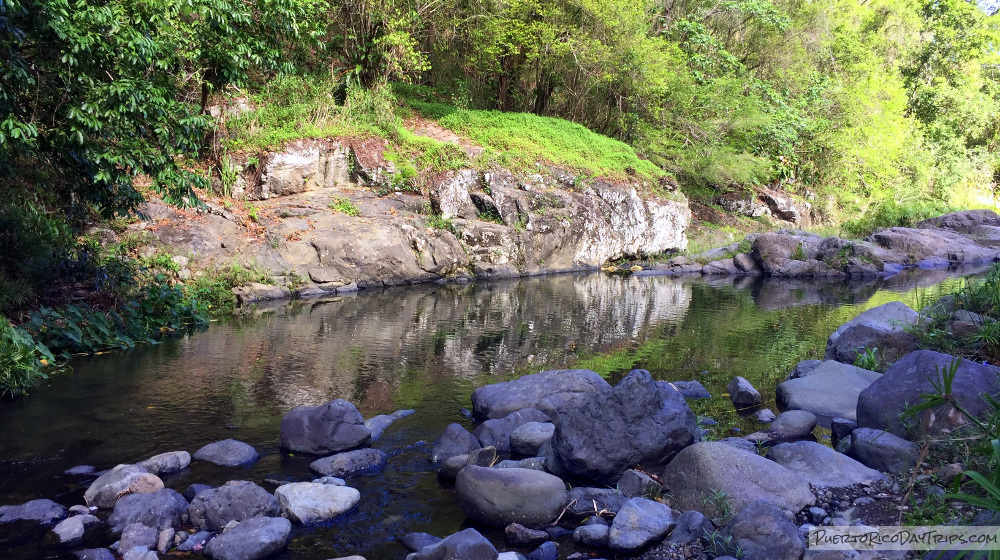 Charco de los Caballos
On our first visit, we met up with the other clean-up volunteers at the parking area for Charco de los Caballos. This natural pool area is a nice size, and it seemed decently deep enough for some people to jump into. Down stream there were some other smaller pools. There is a nice area to have a little picnic or set up some chairs relax and cool down for a few hours. It is short, easy walk from the road, and there is enough off-road parking for a number of cars (by the 2 abandoned houses).
In the summer, and especially on weekends, this is a very popular area with local families. We did our clean-up right at the end of the summer, and it was pretty trashy. So please be aware that you need to take all your trash out with you when you leave (and any other stuff that was left behind by other people) as there is no garbage pickup here.
Los Pilones Waterfall
The waterfall is not as easy to get to. It requires a bit of a walk, but it is a really nice waterfall … well worth the effort. There are 2 options to get to the waterfall. The first option requires at least a 1-hour up-river walk (probably closer to 2 hrs) from the Charco de los Caballos area. If you do this, you will be walking in the river, and scrambling over slippery rocks.
The second option is to follow a path on private property for about a 20-minute walk. This second option is obviously easier, but I'm not sure if it's technically "allowed". So if you choose this option, you're doing it at your own risk. The trailhead of the path is on the right side of the road, just as the road turns left to go up hill (you will see a gate). One big issue here is to not block driveways of the neighbors if you park there. We just left the cars at the Charco de los Caballos area and walked (about 5 minutes) up the road to the start of the path.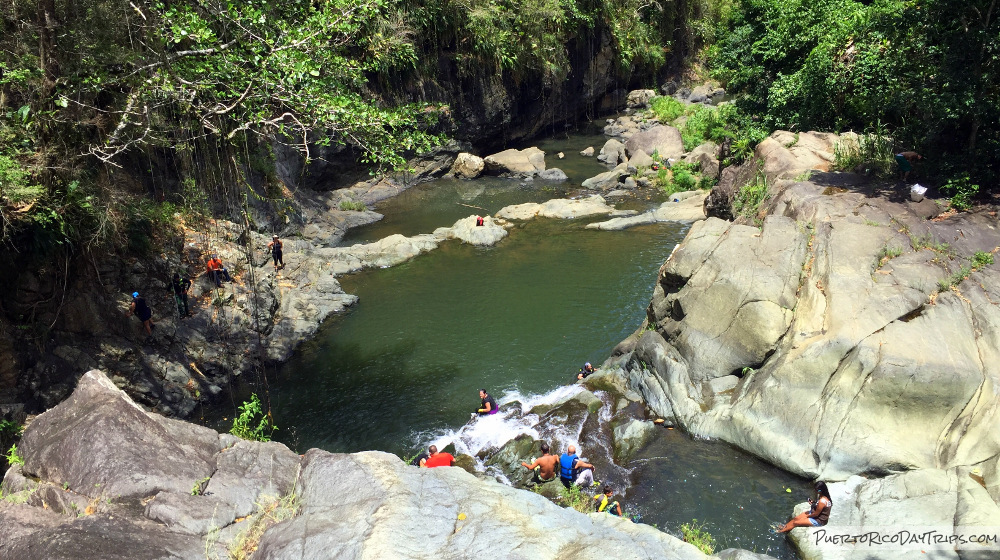 On our first visit in August, the path was well worn and hard to miss. When we returned at the end of September, the weeds had overgrown the path a bit, but it was still pretty obvious. There is one area where you need to cross a stream (a bit tricky), and at the end you need to climb over or around a few rocks. But all in all, all our "older" friends and kids were able to do it without any issues (just a helping hand here and there).
The falls are beautiful, and they almost looks man-made as it is one upper fall that drops into a pool then divides in two for the lower falls. Really pretty. Maybe each set of falls is about 15-20 feet tall. There is a nice deep swimming pool at the base, deep enough in spots for jumping into (if one so desired). We enjoyed a little picnic there and did some additional clean-up on our way out.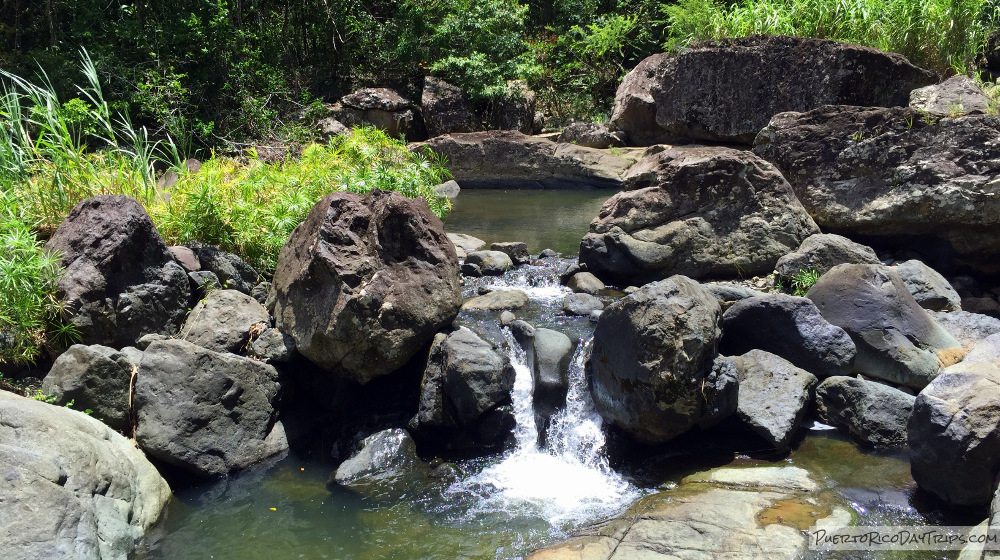 On the way back, you can veer off the path and go down to the river to see an old dam. We assume it had to do with water supply for the area years ago. Not the most amazing thing, but a neat find along the way.
Just as an FYI … I am sure there are more petroglyphs in this river, but we only found some on the rocks in the river as you cross the bridge on the road. They are very basic … mostly faces, but (once again) still an interesting find.
Details
Whenever you are playing in or near a river, be aware of your surroundings. Flash floods can and do occur quite often in the rivers around El Yunque. The Río Canóvanas is no exception.
From Route 3 in Canóvanas, take Carratera 185 south to KM 7.5, where you'll turn left onto the little unnamed road. Follow that road across the brdge, and turn right at the end of the bridge. Pass the church on your right, and then park in the lot near the vacant houses (about 2 houses past the church). That is the parking for Charco de los Caballos. For the waterfall, walk about 5 minutes south along the road, to the point where the road turns to the left and goes uphill. You will see a gate on the curve. The trail is beyond that gate.
Click on a placename below to view the location on Google Maps ...
PuertoRicoDayTrips.com assumes no responsibility regarding your safety when participating in the activities described in this article. Please use common sense! If your mother or that little voice in your head tells you that you are about to do something stupid … then don't do it!