Blend up a Pina Colada for the Taste of Vacation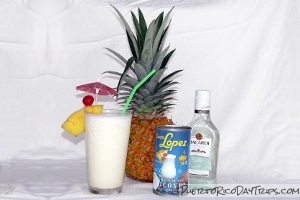 When someone says Piña Colada, you immediately picture a frosty drink with tropical fruit hanging off the edge of the glass. It is cool, delicious, and sweet. It is the "national" drink of Puerto Rico, and is available just about everywhere here — beaches, roadside stands, restaurants, and bars — con ron (with rum) or sin ron (without rum).
Although there is no disagreement that Puerto Rico is the birthplace of the Piña Colada, exactly who invented it is a bit of a controversy. If you are in Old San Juan, you will pass a plaque outside Barrachina's that states that the Piña Colada was invented in their restaurant in 1963 by Ramón Portas Mingot. However, the widely-held belief is that the Caribe Hilton bartender Ramón "Monchito" Marrero was the real creator of the drink in 1954. I don't know which bartender should get the credit, all I know is that the Piña Colada is a hugely popular drink, and it tastes great!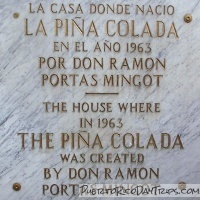 There are a number of variations to the recipe, but all have rum, pineapple juice and coconut. The Spanish name piña colada translates literally to strained pineapple. The original Puerto Rican recipes from both bartenders uses 1 part rum and then 3 parts pineapple juice to 1 part coconut, thus the name emphasis on the pineapple.
You can play around with different recipes until you find your favorite. Personally I like a little more coconut flavor and I also like adding pieces of pineapple to the blender for some chunks — yummy, but that kind of deviates from the colada part of the name!
Piña Colada Recipe
Our favorite recipe is a bit of a deviation from the recipe on the Coco Lopez can (I find their recipe increases the coconut and sweetness factor a bit too much):
4 oz Coco Lopez cream of coconut (not to be confused with coconut milk, or coconut water)
7 oz pineapple juice
3 oz clear rum
2 cups ice
Mix all ingredients in a blender until the ice is crushed. Garnish with cherry and pineapple wedge. This makes two glasses. If you make it a virgin Piña Colada (without the rum) add more ice and/or some water to dilute the sweetness.
So get out your blender and whip yourself up a batch of Piña Coladas and get in a Puerto Rican state of mind! We always supply our guests at Coqui's Hideaway with the fixings for a few batches … just to get their vacation off to a good start!
Remember to drink responsibly, and never drink & drive.
PuertoRicoDayTrips.com assumes no responsibility regarding your safety when participating in the activities described in this article. Please use common sense! If your mother or that little voice in your head tells you that you are about to do something stupid … then don't do it!