Try Some Puerto Rican Moonshine Rum
Reserve your tour before going at the PitoRico web site
Note- their bottles and logo have changed since we did this tour, but the rum is still yummy!
Moonshine, White Lightning, Hooch, Tennessee White Whiskey — call it what you will. Every culture has its own version of people using backyard stills to make high-proof, distilled spirits from locally-grown ingredients … often illegally. Puerto Rico is no exception. Here, people ferment molasses, and distill it to produce "moonshine rum" locally called pitorro or cañita, which is often 85-95-proof (45 or 48% alcohol). But they taste rough and burn something awful going down!
La Destileria Craft Spirits (formally PitoRico Distillery ) produces a brand of legal pitorro, called PitoRico, that is available plain or in various local fruit flavors. Their factory is in Jayuya, and the public is welcome to stop by to see them making it, have a taste of local moonshine or their other artisan spirits, and pick up a few bottles to take back home.
Background
Distilling alcohol is actually a simple process, and it has been practiced around the globe for many thousands of years. There have always been a number of people in Puerto Rico that have backyard stills that make pitorro using local sugar cane and molasses. It is part of traditional Puerto Rican holiday celebrations, especially around Christmas, and is used in local Coquito recipes.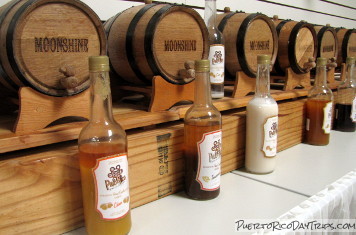 This Puerto Rican tradition and process was the idea that led La Destilería to create their PitoRico line of premium handcrafted rum. They use the same ingredients and old home-brewed recipe of fermenting molasses. But instead of a clandestine backyard still, they have a state-of-the-art distillery, and they produce their rums to meet the regulations required by local and federal agencies.
They have improved upon the "backyard still" process so that their rums taste good, and you can actually enjoy drinking them! Since they don't age their fruit pitorro, it legally can't be labeled as "Puerto Rican Rum". But make no mistake about it, this "premium handcrafted rum" is 100% Boricuan! They now also make aged rums, both clear and gold rums, all delicious.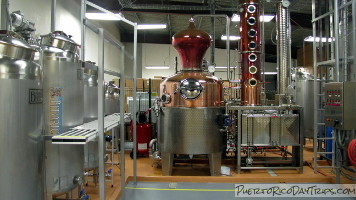 Our Tour
First off, La Destileria is not the easiest place to get to. It's in Jayuya, which is in the mountains pretty much in the middle of island. Reservations are required for the tours, so go online and pick the tour that suites you. Generally, they will talk you through the rum making process. They have a beautiful still, all shiny copper and clean-looking.
Our guide the whole process to us, starting with the fermentation of the molasses and water, the distillation of the alcohol, the "curing" of the alcohol, and the final processing. For their flavored artisanal rums, they blend in local fruit flavors.
Behind the distilling and mixing tanks was an area for bottling, capping, labeling, and packing their rums. At the time we went, they weren't actually producing any rum, so we didn't get to see the factory floor in action.
After hearing about their process, we had a taste of each of their products. The original pitorro that is un-aged and unflavored is "strong" and hard to drink, but it is not really meant to drink straight (and it is probably a bit stronger than the 40% labeled!). It is usually mixed with fruit in a large jug and left to cure for a few months, producing a delicious fruity rum drink.
But they also have different flavors, all made with real locally grown fruits. These are much smoother and yummy, with flavors like passion fruit, coconut, and tamarind. They now also make award winning artisan clear, aged gold, and spiced rums.
They sell all their rums and a few other branded items (shirts, etc) right there. We choose a few bottles to take home for future enjoyment! Their rums are available at most stores locally, and the company tries to be present at most of the local food/drink fairs and shows around the island.
Remember to drink responsibly, and never drink & drive.
Details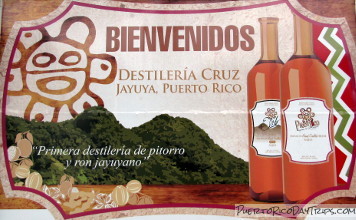 There is a fee for the tours, but it is VERY reasonable. Info on wepage. They offer a few different tour/tasting options and they are available Tues- Sat 12:30- closing. Tasting tours (just pitorro or a whole flight of their rums) take about 20 minutes. The behind the scene tour and tasting takes about 40 mins. Reservations are required, make sure an English-speaking guide is there if that's important to you.
You can call 787-828-1300 for more information.
You can visit the PitoRico web site to choose your tour and time. Also check their PitoRico Facebook page for more information.
The distillery is located at Carretera 141R (Desvio Norte #5141) KM 0.7, Barrio Jayuya Abajo in Jayuya.
There are two ways to get to the distillery from the San Juan area. One is take Route 22 west. Exit onto Road 149 south. Continue on Road 149, until slight right onto Road 533. Continue on Road 533, until slight left onto Calle Guillermo Esteves/PR-141. Take to PR-141R (business route). The distillery will be on the left.
Another way to get there from San Juan is Route 52 south to exit for Route 10 west. Then slight right onto Camino Los Banch. Turn left onto PR-503. Turn right onto Ruta Panorámica/PR-143. Continue onto PR-144. Turn left onto Camino Santa Barbara. Slight right onto PR-141R. The distillery will be on the right.
The PitoRico distillery is about 1 hour 45 minutes from San Juan. It's probably only worth the trip if you'll be in the area for another activity.
Click on a placename below to view the location on Google Maps ...
PuertoRicoDayTrips.com assumes no responsibility regarding your safety when participating in the activities described in this article. Please use common sense! If your mother or that little voice in your head tells you that you are about to do something stupid … then don't do it!