Kayak, SUP, or Snorkel on Calm Water in Fajardo
There is nothing better than enjoying the beautiful water around Fajardo. The water at Playa Ensenada Yegua is usually nice and calm, due to a coral reef, which makes the area perfect for kayaking, stand up paddleboarding (SUP), and even some snorkeling. If you don't have your own gear, there is a company right there on the beach that will rent gear to you. They even offer guided snorkel tours. We recently spent an afternoon checking it out.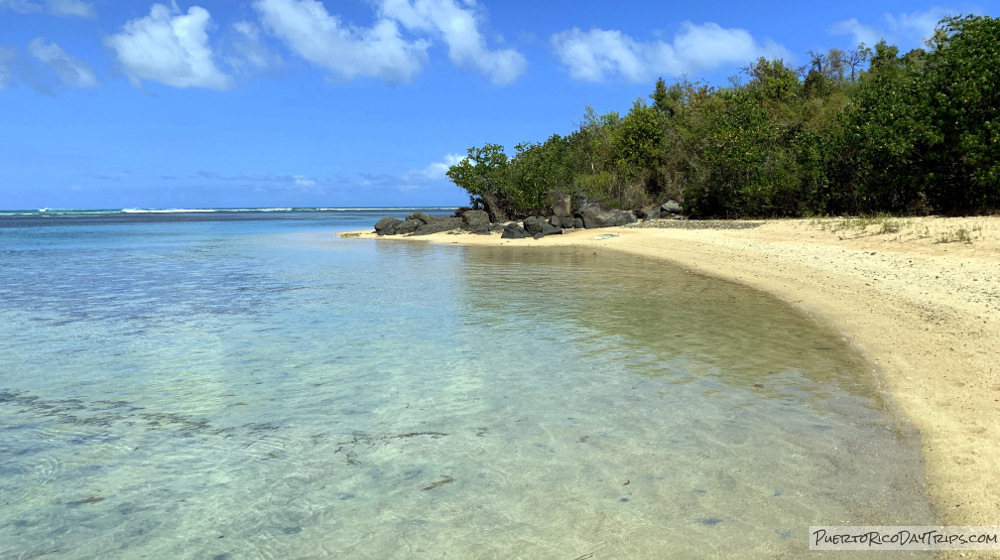 Getting Your Bearings
Playa Ensenada Yegua, in Fajardo, is a favorite with locals. You probably won't hear it called by that name. Most people call it "the beach at Las Cabezas Nature Reserve", "the beach by the malecon", or "the beach by Seven Seas". Regardless, this beach is accessed from Road 987, just east of Balneario Seven Seas. The beach area has a thin strip of sand, but it stretches for miles around the tip of Las Cabezas de San Juan Nature Reserve. There are trees for shade, the sand is soft, the water is crystal clear, and usually calm. Underwater, this is sea grass and some coral reefs, so you could snorkel here. But I will honestly say that, knowing where the reefs are and swimming out to them, can be tricky. It's best to snorkel here with a guide.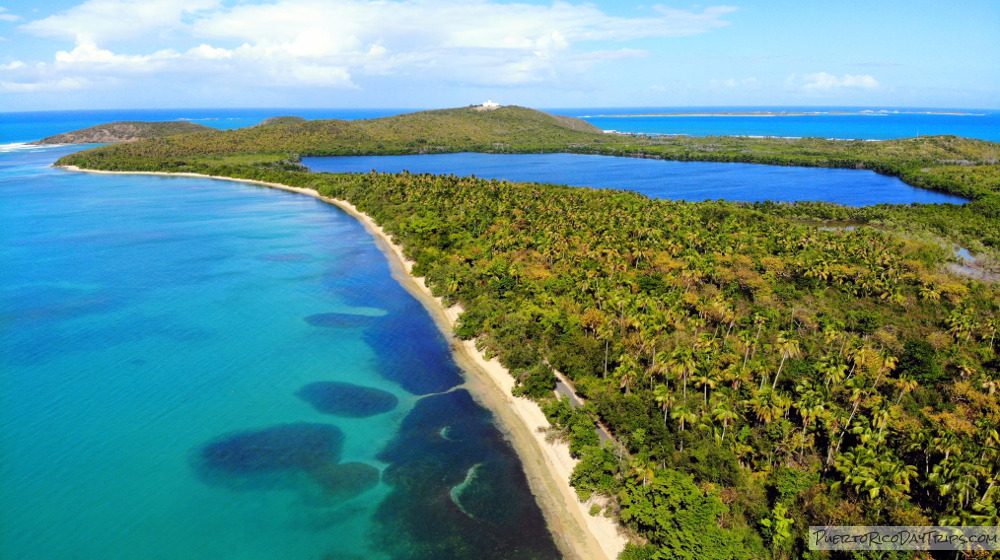 There is a company right at the malecon that offer kayaks and paddle boards for rent, snorkel equipment rentals, and guided snorkel tours. They also have other tours available, and you can contact them to find out about those. This is perfect way to enjoy the Fajardo water if you are active but don't want to be part of the catamaran crowd.
On a tour, you will experience and learn about nature, in an area a little less traveled. We were in the area after walking to La Zanja, so we decided to stay for some fun, rent some kayaks/paddleboards, and try snorkeling.
Pirate Snorkel Shack Fajardo offers guided snorkel tours (with equipment, tour guide / life guard, and flotation devices). They offer paddleboards and kayak rentals. If the weather or water conditions are bad, they may close … check their Facebook page for updates.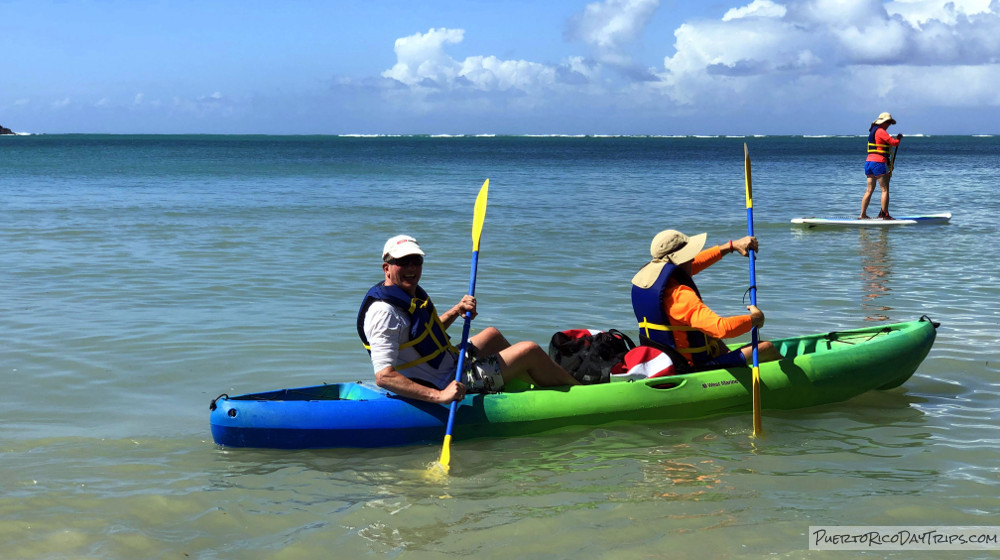 Going Out on the Water
We rented from Pirate Snorkel Shack . We had our own snorkel gear, so the guys had a 2-person kayak, while I did the paddle board. Rentals come with a life jacket, and they gave us a map of the reefs and a fish ID card. They gave us a quick "how to paddle" lesson, and pointed out the general direction to head get to the reef. We paddled out, and that part was very enjoyable. It was a bit of a challenge to find the reef (it looks darker than the surrounding sand in the water). When we found it, the guys got out to snorkel while I held their kayak. It was windy, so I had trouble staying close to them. The wind drifted me away quickly! It was quite a workout for me and them to meet back up!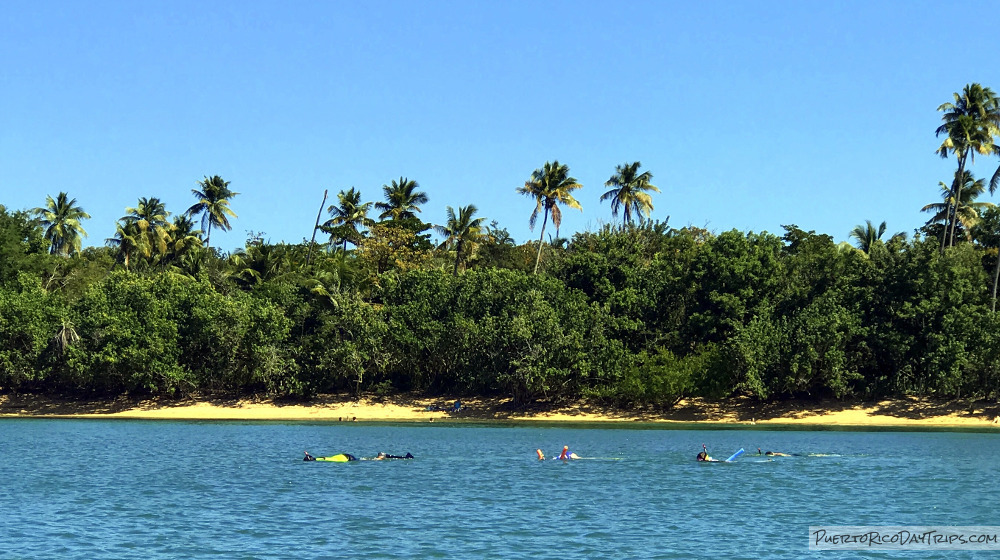 The reef was deep. It was OK … it had some corals and fish. But it was not easy snorkeling. If you want to snorkel, I suggest you do it with a tour guide from the beach! Lesson learned! Or just snorkel from the beach in the sea grass area. That's where you may see things like sea cucumbers, starfish, some fish, and other shelled creatures like conch or Bullnosed Helmets.
But we had a great time paddling, the scenery was beautiful. I believe the company will make a guided paddle tour and teach you about the area, which may be very interesting!
Note that on-street parking can be problematic. If there is no on-street parking, pay to park at Balnerio Seven Seas and walk (short 5-minute walk). There are no facilities at Playa Ensenada Yegua, but there is a restaurant across the street from the malecon where you can get some good food and drinks and patrons can use the restrooms. Additionally, there are restrooms at the balneario.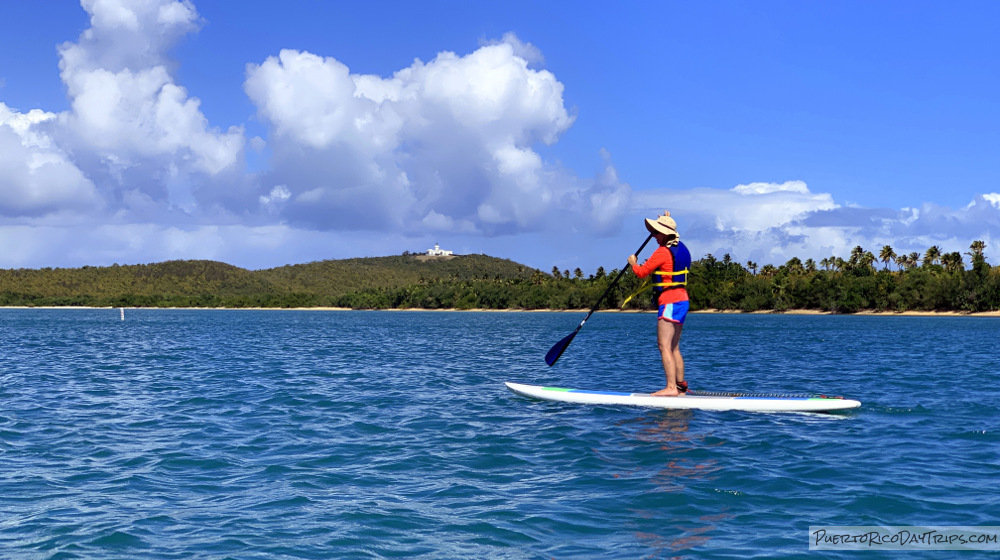 Details
Obviously, dress for the beach and water sports. That means sunblock, sun glasses, towel, and beverages. Stay hydrated! If the water or weather conditions are not good, they close.
Playa Ensenada Yegua is located in Fajardo, about a 1-hour drive from the San Juan area. This beach is accessed from Road 987, just east of Balneario Seven Seas.
Pirate Snorkel Shack Fajardo rents kayaks, paddleboards, snorkel equipment, and they give guided snorkel tours. Additionally, they offer a SUP Yoga class. They are open 7 days/week from 8am to 5pm. Call them 787 556 0104 or check their Facebook page for more info.
Click on a placename below to view the location on Google Maps ...
PuertoRicoDayTrips.com assumes no responsibility regarding your safety when participating in the activities described in this article. Please use common sense! If your mother or that little voice in your head tells you that you are about to do something stupid … then don't do it!